The Walt Disney Co. (Disney) now officially owns large parts of 21st Century Fox (Fox), after the $71.3bn deal closed on Wednesday (20 March). This will see Disney expanding its global reach and content portfolio even further. The Fox film and TV studios, National Geographic, Indian TV giant, Star India and Fox's 30% stake in streaming service, Hulu (taking Disney's stake to 60%) have been added to the Disney portfolio.
Disney CEO and Chairman, Robert Iger described the deal's completion as "an extraordinary and historic moment" and one he pledged would "create significant long-term value for our company and our shareholders". Fox, meanwhile, will become a much smaller business that focuses on news and major live US sports events. It holds onto the Fox News Channel, Fox Business Network, Fox Broadcasting Company, Fox Sports, Fox Television Stations Group, and sports cable networks FS1, FS2, Fox Deportes and Big Ten Network.
Using FY17 data, Disney said in a US Securities and Exchange Commission (SEC) regulatory filing that these new assets could quickly add c. $19.3bn in revenue and $1.6bn in net income p.a. In that fiscal year, Disney reported $55.1bn in revenue and $9.4bn in net income. Disney has also promised $2bn in cost savings from the Fox takeover, with The Hollywood Reporter writing that some industry experts expect between 4,000 and 10,000 dismissals.
Figure 1 below highlights the scale of Disney's (already impressive) media empire before the deal.
Figure 1: The Disney media empire pre-Fox deal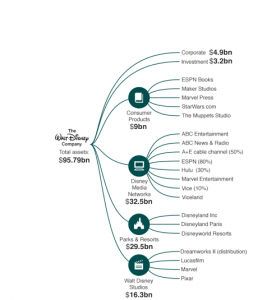 Source: US Securities and Exchange Commission, BBC
Disney is already a behemoth with unprecedented global reach – every day (and most probably even every hour) somewhere in the world, someone is doing something which involves Disney. The company has a reputation for investing in its businesses and it has been making shrewd investment decisions over the past few years with Iger at the helm. He spearheaded the purchase of comics giant Marvel, LucasFilm and Pixar at Disney and since these purchases Disney has done incredible things, releasing hit movies and building lucrative franchises around its properties that extend way beyond only movies and into lucrative theme-park rides, apparel, toys, award-winning Broadway shows, television series, video games etc.
However, with the media landscape changing as technology companies including Netflix and Amazon attract customers to new ways of viewing, Disney is investing heavily in online streaming platforms, as a way to counter a downturn in its pay-TV business and threats from these new rivals. Its purchase of Fox will therefore enable it to enhance its offerings when its own streaming service (Disney+) launches later this year (its sports-focused streaming offering ESPN+ launched in April last year and has proven to be a hit with sports fans).
Figure 2: Disney revenue contribution by division, 1Q19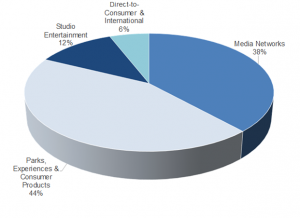 Source: Company data, Anchor
So, while Disney is already a dominant force globally, the Fox acquisition will make it even more competitive and bigger – it is now the most powerful movie studio ever, according to IGN, after effectively ending one of the six major movie studios (20th Century Fox was established in 1935). The Fox acquisition also gives Disney even more content for its streaming service to take on online rivals such as Netflix, providing Disney with an unprecedented number of TV shows and movies. For movie fans, it opens up the Marvel cinema universe to include formerly Fox-controlled Marvel characters including the X-Men, Fantastic Four, Deadpool, etc. If the chart below is anything to go by Disney is also set to now dominate US traditional and cable television.
Figure 3: Viewership by top US TV networks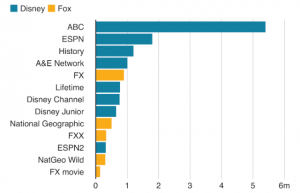 Source: Nielsen data, BBC