Hospitality and gaming Group, Sun International (Sun) had been struggling before COVID-19 hit, with an underperforming gaming component and a loss-making Sun City weighing on the Group's heavily geared balance sheet. However, in 2016 after Value Capital Partners (VCP) bought a c. 20% stake in the Group, things were looking up, with VCP driving a turnaround strategy including a change in the management team, asset disposals to pay down debt, simplifying the complicated Group structure, and a large rights issue to recapitalise Sun's balance sheet.
Then COVID happened and in 2020, Sun (the share price dropped by 69.0% last year) was a major casualty in a local hospitality and tourism industry which has been decimated by the COVID-19 pandemic and the ensuing lockdown restrictions imposed by government. It was only in June 2020, after c. 70 days of not being allowed to trade, that South Africa (SA) transitioned to level 3 of the lockdown and accommodation establishments could accept domestic business travellers. However, leisure travel within the country was still not allowed – restaurants, including those in hotels, were still not permitted to open for service.
While its share price closed June higher, it was volatile for most of the month following a murky R1.5bn bid for a majority stake in the Group by a Chilean company. The offer of R22/share (for a 50.1% stake), valued Sun at c. R3bn, but its two largest shareholders (VCP and Allan Gray) rejected the bid saying it significantly undervalued the business. This resulted in Sun pushing ahead with a proposed R1.2bn capital raise, cutting staff, selling some of its more valuable assets, and shutting two of its properties (Sun Carousel and Naledi) as the local hotel and casino industry continued to grapple with the pandemic. These moves, the company said, would see it through the tough trading conditions locally.
By the end of July 2020, lockdown level 3 regulations were modified, and restaurants were allowed, under strict regulation, to offer a dine-in service accompanied by on-site consumption and sales of alcohol. Conference and meeting venues were also permitted to host conferences, and events for up to 50 people, whilst observing social distancing rules and casino operators could open, albeit restricted to 50% capacity.
In late August, lockdown level 2 was implemented, bringing with it permission to travel between provinces for both business and leisure purposes. Licensed restaurants were allowed to sell alcohol for on-site consumption whilst observing the curfew hours (which would only start at 10pm thus allowing an extra hour to trade). With the announcement that the country was to transition to lockdown level 1 on 20 September 2020, those hotels which had been able to sustain the five-month lockdown welcomed news that regional and international travel to SA would finally be allowed with effect from 1 October 2020 (albeit not for all countries).
By November, Sun said that it was "on the mend", with its SA operations at the centre of its recovery. According to the company, in October 2020 it had achieved 73% of October 2019's total income vs July 2020, when the Group only achieved 33% of total income compared to July 2019. Nevertheless, Sun did say that the effect of the pandemic continued to impact trading due to reduced capacity and despite its local operations showing some recovery.
In March 2021, the Group reported a FY20 (for the year to end December 2020) headline loss of R1.1bn vs a profit of R763bn in FY19, having taken strain from the COVID-19 pandemic. The company said that continuing lockdown restrictions still weighed on activity, but it had been encouraged by its 4Q20 performance. Sun's income from continuing operations almost halved to R6.1bn and operating profit fell c. 75% YoY for FY20. At the time of the results release CEO Anthony Leeming told Business Day that any improvement in trading conditions would depend on the further lifting of restrictions. However, he noted that the Group was confident that it could generate sufficient cash over the next year to reduce debt and was not planning any further disposals. "Cash flows are quite good, at least not horrendous, but there will still be a bit of treading water," Leeming said.
Figure 1: Sun International share price performance, May 2019 to date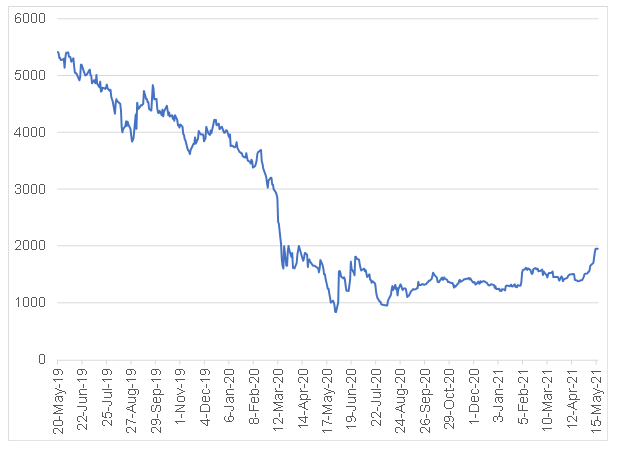 Source: Anchor, IRESS
Sun's share price pre-Covid was R35 and our recon fair value for the company currently stands at R25-R30/share, with upside potential if normality returns sooner than expected. The Group's pre-COVID EBITDA stood at R3.2bn x 6 multiple = R19.2bn less R7.6bn debt = R11.6bn = R44/share. Its FY19 earnings of R763mn equate to a PE multiple of 6.2x. However, the question is how much should investors discount these FY19 earnings, given the continued pressure/stressed balance sheet of the company? Here we note that Sun's 4Q20 performance was very promising, with a R678mn EBITDA. Annualising that amount results in strong numbers. The Group's 4Q20 started well, but from 10 December 2021 it was unfortunately again a disaster as stricter lockdown restrictions returned.
In our view, this shows that cash flow potential for Sun remains under normal conditions. While the Group's net debt of R7bn is too high and will need to be addressed (probably just a slog through), debt repayments have been suspended until June 2021 and discussions with the banks are ongoing. Still, Sun is in a challenging situation re its Times Square Casino in Menlyn, which has just not generated the anticipated revenues. Debt is at R5.4bn on this property, with pre-COVID EBITDA of R440mn, which is not sustainable and beyond this company's debt covenants. A third wave now, with lockdowns, could prove to be a big problem for Sun.
Nevertheless, there is definitely value here and if life returns to normal there is upside, but its debt issues will need to be resolved which could be dilutive for the company (the company is confident that it will not be). While Sun's 4Q20 numbers were very comforting, 2021 is going to be a crucial year for the business.
Gaming stats confirm reasonable trading so far this year, at least during those periods when people were allowed to visit its premises. The rest of the year is uncertain given the anticipated third wave of the pandemic, but Sun has learnt to operate at 60% turnover levels. Sun has taken R600mn-plus out of its cost base and we believe that it can get back to R3bn EBITDA levels when the world returns to normality. The operational management of this business is superb. Management believe they can trade out of their debt levels and there is little chance of the banks spoiling the party, with debt levels expected to be lower at the end of this year – the business continues to generate cash. There is also an insurance payment due which cannot be quantified at this stage.
We think that Sun is a classic recovery stock and its share price could very well increase by between 50% and100%, when normality is in sight. However, we also note that SA is not currently in recovery mode and now might not be the right time to invest, as we expect circumstances to get worse before getting better.
If the company were able to report R3bn EBITDA next year (FY22) and debt was paid down to R5bn, this would equate to a fair value of R50/share at a 6x EBITDA. But there is still a long road to travel to get to that scenario.