Nike reported impressive 1Q20 results on Tuesday (24 September), which saw both revenue and earnings coming in above consensus analyst expectations. Revenue rose 7.2% YoY to $10.66bn vs the Refinitiv consensus analyst forecast of $10.44bn, while earnings came in at USc86/share, above the Refinitiv expectation of USc70/share and 1Q19's USc67/share. China, Nike's investments in e-commerce (its direct-to consumer strategy) and new products all buoyed these results.
Figure 1: Nike 1Q20 sales by region: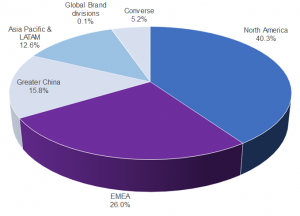 Source: Nike, Anchor
Sales in North America, which accounts for most of Nike's revenue (at c. 40%), rose 4% YoY (excluding any currency changes) to $4.29bn. Nike also saw very strong growth in China despite trade headwinds, with sales in the Greater China region jumping 22% YoY to $1.68bn. Although Nike doesn't own factories in China, it produces c. 25% of its global apparel and footwear in that country. Nike also opened its first House of Innovation store in Shanghai – the store sells one-of-a-kind merchandise and personalised gear. CEO Mark Parker said Nike has now experienced double-digit-percentage growth in the Greater China region every quarter for over five years.
Figure 2: Nike 1Q20 sales by division: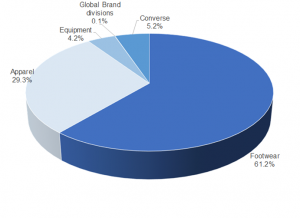 Source: Nike, Anchor
Nike footwear sales were up 11% YoY in 1Q20, while equipment sales also jumped 11% YoY. Apparel sales increased 9% YoY overall. Sales at its Converse subsidiary advanced by 8% YoY. Parker said the firm's international and digital businesses grew 16% and 42% YoY, respectively, while its women's business was helped by sporting events such as the Women's World Cup soccer tournament.
Gross margins rose to 45.7%, as the company has been selling more items at full price. Part of its strategy, known as "Nike Direct," has been to sell more in its own stores and on its website vs in discount outlets.
Parker indicated on the conference call that online sales were up 42% during the quarter, while its women's business grew at a double-digit rate. He noted that Nike had its biggest back-to-school season ever for kids after launching a subscription box for children's sneakers.
In 1Q20, Nike repurchased 11.9mn shares for c. $995mn – this is part of its four-year, $15bn programme which was approved in June 2018.
Looking ahead, for FY20, analysts expect Nike to report EPS in a range of $2.73-$3.00, on sales of $42.09bn.
Nike shares, as of Tuesday's market close, had climbed more than 17% this year. The positive results saw the share price jump by 4.2% on Wednesday (25 September) to $90.81/share and the counter closed Thursday (26 September) at an all-time high of $92.17/share.