Chinese tourists are big spenders and if these tourists curtail their travel (a time when people are more likely to spend), it will negatively impact demand in duty-free shopping and in turn in luxury goods. China now also accounts for more than one-third of the total value of luxury goods purchases, according to The Financial Times (FT). This means that global luxury goods shares (including Richemont, LVMH, Kering etc.) are in the crosshairs of the virus as one of the sectors being most exposed to a drop-off in Chinese demand due to the Wuhan Flu. Royal Bank of Canada (RBC) estimates that a 10% drop in 1H20 Chinese consumption would translate into a 2% reduction in the revenue of luxury goods firms, and a c. 4% impact on annual profits.
We note though that it is obviously relatively tricky to forecast what might happen to sales given that the situation is recent and unfolding, but we highlight the following:
Between November 2002 and April 2003, during the peak of the SARS pandemic in Asia, the luxury goods sector fell by 20%.
The luxury goods sector currently trades at a 70% premium to the MSCI Europe Index – well above the historical average of a 45% premium.
In the sector itself, when looking at its exposure to the Chinese consumer and the travel/tourist factor, Richemont measures high up the fear factor in both of these categories!
Figure 1: The luxury goods sector – exposure to the Chinese consumer (as % of total sales)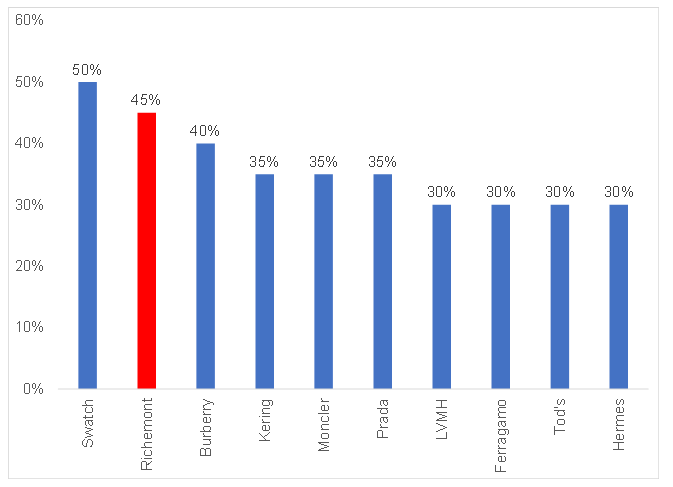 Source: UBS, Anchor.
Figure 2: The luxury goods sector – exposure to the tourism/travel (as % of total sales)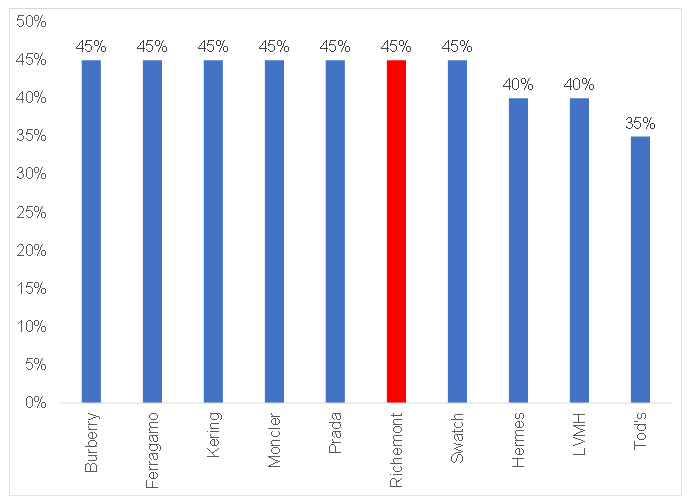 Source: UBS, Anchor.
As stated earlier, it is difficult to make fundamental predictions relating to this latest coronavirus, with some investment houses being of the view that it may be a buying opportunity. If this is indeed the case, we note that (a) it's a brave bet in the current environment; and (b) from a fundamental point of view, we remain of the view that Richemont was already fairly valued going into news of the virus breaking and thus any recovery in the share price may be limited.