Mr Price released solid FY21 results for the 53 weeks ended 3 April 2021 on Thursday (27 May). These results beat consensus analyst expectations across most metrics. The Group's operational performance was driven by market share gains and a stronger second-half performance. We think the positive share price reaction (the share closed Thursday c. 11.7% higher), was driven by the solid result and, in our view, the company's newly outlined strategy during its earnings call, which was positively received by the market. According to management, Mr Price intends being the best value retailer in Africa across all retail segments by way of market cap valuation. It has identified six strategic pillars to help it achieve this objective. Mr Price also said that it plans to consistently, and significantly improve its earnings growth over the next few years. The company said that it will be looking to pursue growth opportunities in the aspirational value segment in South Africa (SA) across its existing retail sectors. The share is trading at a 12M FWD P/E of 19.2x, slightly higher than its historical average of 17.9x.
Figure 1: Mr Price 12M fwd P/E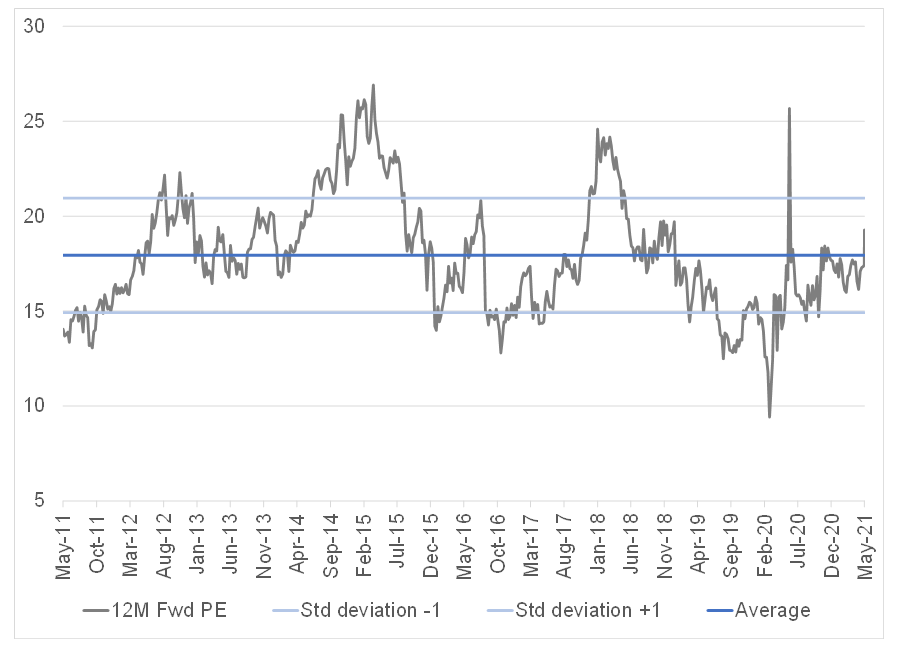 Source: Anchor, Bloomberg
FY21 financial highlights
FY21 Group revenue declined 0.6% YoY from R22.9bn to R22.8bn. On a 52-week comparative basis, Group revenue was down 3% YoY. The company's revenue performance during the past fiscal year was driven by a stronger second-half performance and market share gains across its business segments.
Mr Price's gross profit margin (on a 52-week comparison) increased by 1.3%, from 41.2% to 42.5%, driven by a strong 2H21 performance. Retail sales in 2H21 experienced very good market share gains and merchandise was sold at higher margins.
HEPS increased by 2% YoY to ZAc1,067.9.
Total diluted HEPS rose 1.9% YoY to ZAc1,049.0, from ZAc1,029.4, but declined 2.8% YoY on a 52-week comparable basis.
The balance sheet and cash generation remained solid – cash generation was exceptional, with cash levels at R4.9bn after it acquired Power Fashion.
The Group's online sales soared 64.1% YoY – almost doubling its contribution to 2.4% of total Group sales.
ROE stood at 30%.
Mr Price declared a final dividend of ZAc462.7/share, bringing its annual FY21 dividend to ZAc672.8/share – up 116.1% YoY. No final dividend was paid in FY21 and the 1H21 dividend was ZAc311.4.
Segmental overview
Mr Price: FY21 retail sales declined by 3.4% YoY, but saw strong growth of 8.4% in 2H21. The second-half performance was driven by market share gains and sales at higher margins.
Mr Price Sport: Retail sales here fell by 10% during the period, driven by negative COVID-19 effects on the back of seasonal sports, gym, and school closures. Overall, growth in 2H21 was mostly subdued.
Miladys: Retail sales dropped by 20.1% YoY, also driven by negative COVID-19 effects because of customers' behavioural changes.
Mr Price Home and Sheet street recorded retail sales increases of 3.5% and 5.2% YoY, respectively, on the back of an exceptionally strong second-half performance. These two segments also benefitted immensely from the home improvement trends driven by the work-from-home (WFH) phenomenon.
Mr Price Money's performance was mostly subdued because of a weak credit environment and lower account approvals. Meanwhile, its telecoms segment saw double-digit growth but this was unable to offset the negative decline in Mr Price Money's other sub-segments
Figure 2: Mr Price contribution and growth by operating segment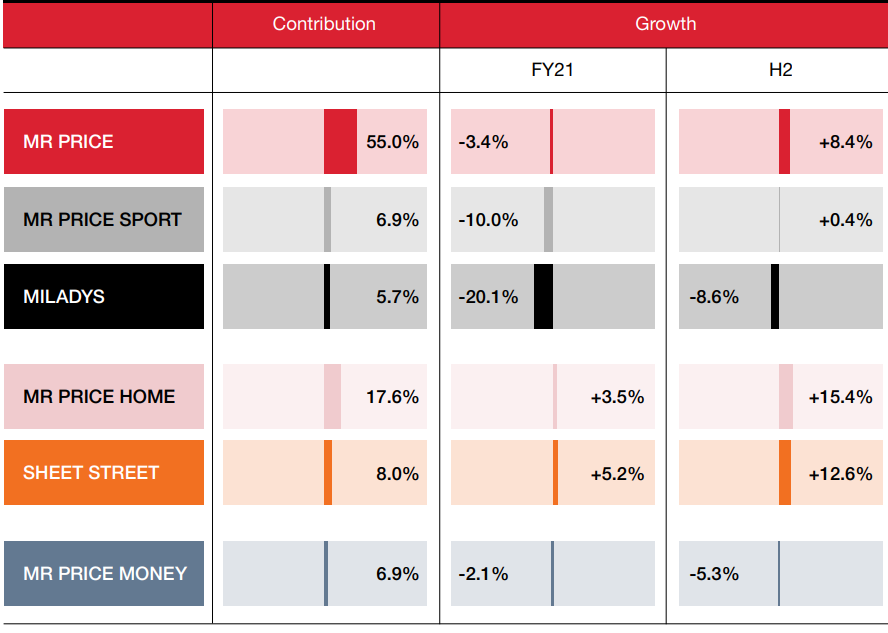 Source: Mr Price
Newly outlined vision and strategy
Key takeaways
Mr Price's objective is to be the best value retailer in Africa, and it said that it will focus on earnings growth going forward. The retailer wants to heavily invest in consistent earnings performance over the long term and improve its rating, thus progress on growth and important financial metrics will be constantly monitored.
There will also be an increased focus on Environmental, Social, and Governance (ESG) criteria and communication with investors.
Mr Price's dividend payout ratio will remain unchanged and special dividends are unlikely.
The company also said that its e-commerce strategy will be finalised in FY22.
Growth opportunities
Mr Price has launched three interesting new categories – mrpBaby, mrpSchoolgear, and mrp&co (a type of gifting store that will compete with Cotton On's Typo stores).
The company said that it will also look at pursuing opportunities within the aspirational value segments across its retailing segments, including an apparel opportunity.
The Yuppiechef acquisition falls into this aspirational value segment, but in the homeware sector.
Figure 3: Mr Price – opportunities for growth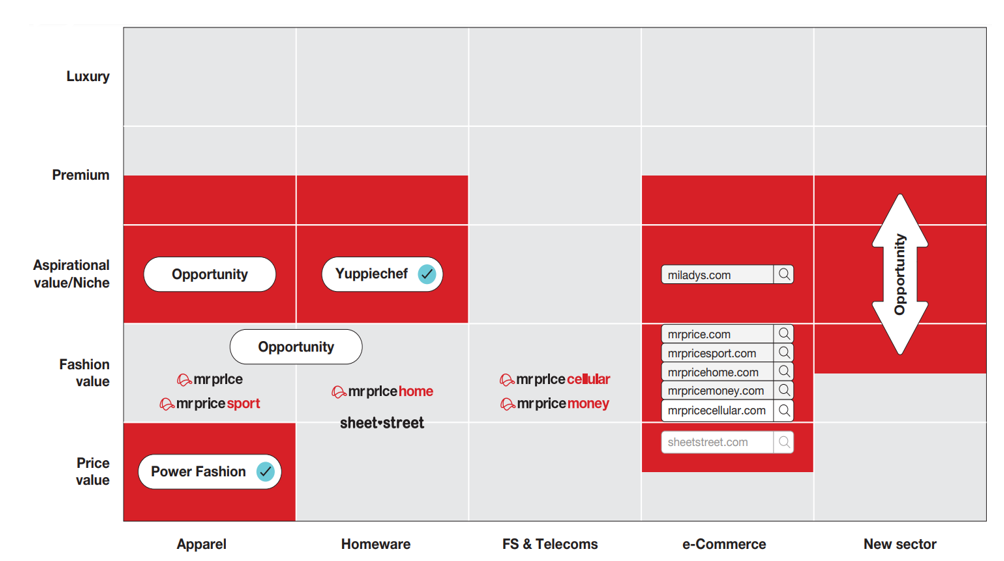 Source: Mr Price
Below we provide an update on Mr Price's recent acquisitions. We expect long-term earnings accretion from Power Fashion and Yuppiechef.
Yuppiechef
Management has submitted their competition commission documentation and we expect the acquisition to be finalised in August 2021.
The plan for Yuppiechef is to introduce an aspirational value offering in the homeware space that will complement the Mr Price Home and Sheet Street segments.
Power Fashion
Power Fashion's acquisition was finalised on 1 April 2021, and therefore these results do not include Power Fashion.
In our view, the Power Fashion acquisition can provide exceptional growth over the next few years. Power Fashion currently has 170 stores and management has previously indicated that they believe that they can grow Power Fashion's store footprint to 1,800 stores.
Mr Price has appointed a senior managing director from Mr Price Group to head up Power Fashion and we think that this is a very positive strategic move by the company.
Outlook
Mr Price will focus on implementing its new strategy and finalising its e-commerce strategy in FY22. Although its post year-end operational performance has been strong, when compared to pre-pandemic levels, the possibility of a third wave of the pandemic, and the end of temporary COVID-19 relief measures by government, present a level of uncertainty over the near term.
Conclusion
We think Mr Price has a good business model and it has been one of the best run discretionary retail companies listed on the JSE, with very good cash generation abilities. We also believe that the Group's management team are disciplined capital allocators. We find the recent Power Fashion and Yuppiechef acquisitions to be exciting, and we expect earnings accretion from these acquisitions in the long term. In our view, the company will continue to produce exceptional future return metrics and the share price reaction on the day of this past week's results release is reflective of the good operational momentum ahead. We would be buyers of the share.