Home Depot reported 3Q19 results on Tuesday (19 November), which topped consensus analysts' forecasts for earnings although revenue fell short of expectations. In addition, the firm cut its FY19 revenue forecast and now expects same-store sales to be lower for the financial year. Revenue of $27.22bn was up 3.5% YoY, marginally missing quarterly Refinitiv estimates of $27.53bn, with the company blaming this on its spending on improvements to its IT systems, stores and supply chain. Meanwhile, EPS at $2.53 was slightly above 3Q18's $2.51 and Refinitiv consensus estimates of $2.52. Comparative same-store sales growth of 3.6% was also below estimates of 4.6% and down from 4.8% in 3Q18, while sales at US stores open at least 12 months (more than 90% of Home Depot's revenue comes from its home market) rose 3.8% YoY – consensus analyst forecasts were expecting a 4.7% YoY gain. The average ticket size rose 1.9% YoY to $66.36 (higher than in 3Q18), while customer transactions were up 1.5% YoY. Sales per square foot increased to $449.17 from the year-earlier period.
Figure 1: Home Depot domestic same-store sales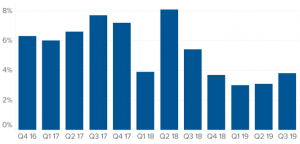 Source: CNBC
Sales from professional customers again outpaced do-it-yourself shoppers, as the retailer continued to capitalise on a strong US repair-and-remodel market. Online sales rose 22% YoY, with over 50% of orders picked up in stores, indicating the boxes continue to resonate with end users (Home Depot added automated lockers in stores for shoppers who want to pick up their orders rather than wait for them to be delivered). Both comp ticket and transactions rose by 1.8% YoY, with big ticket comp transactions jumping 4.8% YoY. We continue to foresee elevated spending on technology initiatives to protect the firm's brand against competitors such as smaller rival Lowe's, which could keep operating margins below 15% until FY23. However, CEO Craig Menear said on the earnings call that more work needs to be done to improve its digital platforms, noting that the process "has proven to be more complex than originally anticipated,". As an example, Home Depot's B2B website, which mostly services professional contractor customers, still requires underlying technical work before Home Depot can move forward with additional elements for the site. According to Jefferies, c. 45% of its business comes from professional customers.
Overall, these results were a little disappointing for us, especially considering some of the positives seen in US housing, home improvements news and a partial recovery in lumber prices since Home Depot's last set of results.
Looking ahead, the company said that "the marriage of its online and brick-and-mortar businesses" was not yet generating as much revenue as it had expected, which prompted Home Depot to cut its FY19 sales forecast for the second time this year. The firm has now guided for full-year sales growth of 1.8% YoY – down from 2.3% YoY previously. The FY19 EPS forecast of $10.03, was also below prior consensus forecasts of $10.13. FY19 comparative sales growth of 3.5% YoY was also lowered from the firm's previous guidance of 4.0% YoY.
Home Depot is currently trading a PE of 23.3x and a 12-month forward PE of 22.2x. The dividend yield is 2.1%.
Prior to these results, Home Depot's share price was up c. 40% and hit an all-time high on Monday (18 November), as investors shrugged off the company's earlier warnings for slower top-line growth. However, following these results, the share price closed Tuesday down 5.4% on the day.
Figure 2: Home Depot metrics, 5-year history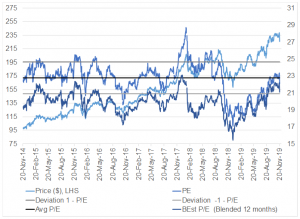 Source: Bloomberg, Anchor.