Figure 1: ULTA Beauty metrics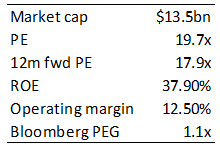 Source: Bloomberg, Anchor
Above data as at 6 December 2019.
ULTA Beauty reported 3Q19 results on Thursday (5 December), which surprised on the upside and pushed the share price up c. 10% in after-market trading (on Friday the share closed 11.1% higher). Although revenue marginally missed forecasts (-0.5%), earnings beat expectations by 5.8% and the firm's full-year guidance was refined. EPS came in at $2.25 vs $2.18 in 3Q18 and a $2.13 Refinitiv consensus analyst estimate, while revenue stood at $1.68bn (+7.7% YoY) vs a Refinitiv consensus estimate of $1.69bn and from $1.56bn in the same period a year ago. Net sales increased to $1.68bn and although this narrowly missed consensus expectations of $1.69bn, it represented a 7.9% YoY increase.
The 3Q19 gross margin was at 37.1% vs 36.7% in 3Q18 and a 36.8% consensus analyst estimate. Comparable same-store sales growth increased by 3.2% YoY, which was attributable to 2.3% YoY customer transaction growth and a 0.9% rise in average ticket size. The gross profit margin recorded a 40-bpt increase to 37.1% due to improved marketing and merchandising and controlling fixed-store costs. Increased expenditure in growing the business, together with increased labour costs, pushed sales, general & administration (SG&A) costs higher to 26.7% of net sales vs 25.3% of net sales in the comparable period of 2018.
ULTA's total locations rose 2.3% to 1,241 (28 net new stores, 2 relocated and 3 remodeled). The company highlighted a $0.02 benefit from federal income tax credits. ULTA has a share repurchase programme in place and bought 529,404 shares during the quarter under review, bringing the fiscal YTD total to 1,639,438 shares (c. 2.5% of shares in issue).
CEO Mary Dillon commented on the earnings call that the firm's "… differentiated model is winning in the marketplace,". She added that the team "… delivered another quarter of solid top-line performance, gross margin expansion, and EPS growth, despite the current challenges facing the US cosmetics category. We continue to gain market share across all major beauty categories, and we are extending our leadership position by creating stronger connections with our guests and engaging with them in better and more exciting ways."
Revenue break down
In terms of revenue, Cosmetics accounted for 51% (down 2% YoY), Skincare, bath and fragrance for 21% (up 2% YoY), Haircare and styling for 18%, Services for 6% and ULTA's Other segment for 4% of the total. We note that e-commerce was not broken out into any specific disclosure.
Demand for celebrity brands (such as Kylie Jenner and James Charles) were high. The company has a relationship with both Jenner and Coty and mentioned on the conference call that it does not see a disruption with the sale of Jenner Cosmetics to Coty (however we note that no details were given yet on the potential implications). Jennifer Lopez is also launching a new fragrance in 4Q19, which ULTA has secured the exclusive rights to in the US.
On the earnings call, Dillion highlighted the continuing slowdown in the makeup category, a trend that has been in place for a few years and is expected to be around for a while longer. That said there has been an rise in the natural look space. Trends continue to evolve based on innovation, fashion and influencers. Demographic trends have been favourable, offsetting the makeup category. ULTA has seen an increase in the skincare category, taking advantage of this trend saw the company add over 30 new skincare brands across mass and prestige. Skincare fragrance and hair are also expanding categories. Management do seem very proactive in supporting the growth categories.
The company has a strong brand and it continues to run promotional campaigns staying front of mind. Embracing the millennial generation, ULTA ran a TikTok campaign to launch the new range by Millie Bobby Brown. The Ultamate Rewards programme, which has 33.9mn active members (+11% YoY), continues to be a driver. Members represent c. 95% of total revenue. ULTA is also expanding its rewards programme with a credit card programme, which saw strong growth in the quarter. New and exclusive product launches delivered c. 25% of total 3Q19 comps, mainly driven by skincare and haircare.
The company's balance sheet remains strong and ULTA had $208.8mn in cash and cash equivalents at the end of the quarter and is free cash flow positive.
Guidance
Looking ahead to FY19, ULTA narrowed its FY19 earning guidance to between $11.93 to $12.03/share (an 8.7%-9.6% YoY increase) vs a previous forecast of $11.86-$12.06/share. ULTA guided for FY19 sales to rise by 10% YoY, comparable sales by 4.7%-5.0% YoY and e-commerce comparable sales by 20.0%-30.0% higher YoY. EPS guidance includes additional share repurchases (approx. 2.7%).
Full-year capital expenditure is expected between $305mn and $315mn – down markedly from prior guidance of $340mn-$350mn. The reduction in capex is due to a delay in opening the fast fulfilment centre to 2021, but continues to build international capabilities. ULTA said it will provide more detail on its Canadian expansion in 2020. 4Q19 will see the launch of two prestige brands, one by Laura Mercier and the other by Karissa Bodnar, the latter being vegan, cruelty-free and a natural product (a big trend in 2019 and into 2020).
ULTA is extremely attractively priced on a trailing PE of 19.7x and 12-month forward PE of 17.9x, well below the historical average of 33.4x. ROE is at 37.9%. The company does not pay dividends.
Although the share price is off its highs achieved before the 2Q19 earning release, we believe that this results release will help restore some confidence in the business, management and future prospects in the beauty and self-care space. However, ULTA will continue to experience headwinds in the cosmetics category, and we will need to closely monitor management reaction when this happens.