Figure 1: Rand vs US dollar gauge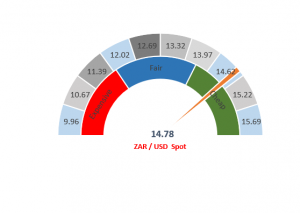 Source: Anchor
The rand weakened last week in reaction to the political machinations happening at Luthuli House (see our report entitled Bonds: Impervious to the ANC's Game of Thrones for more detail on this). Since our last Anchor rand view note (entitled Anchor rand view: The rand weakens as Trump reignites trade war), the US dollar has weakened slightly in response to poor US jobs numbers that were reported on Friday (7 June) – May non-farm payrolls decelerated strongly, increasing by just 75,000, vs consensus expectations of a 180,000 gain. The soft US jobs numbers data have increased market conviction that the US Federal Reserve (Fed) is likely to cut rates, weakening the dollar in the process. The weaker dollar has looked like a mini rand recovery to South Africans, although much of the political risk premium that was created last week remains in the local currency. The disappointing domestic GDP numbers of a 3.2% contraction for 1Q19 will also keep the rand on the back foot for a while.
The rand is trading at R14.78/$1 this morning (11 June), which remains outside our fair range. As we stated in our note of 7 June (mentioned above), we do not think that the damage that was done will repair itself overnight. The rand might even remain outside of range for a while as markets digest the South African situation and look for tangible evidence that President Cyril Ramaphosa's New Dawn is taking hold.
We are slightly underweight the US dollar at the moment and we will remain so, although rand recovery will likely be gradual.
Figure 2: Actual ZAR/$ vs rand PPP model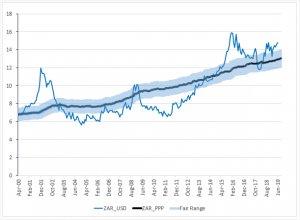 Source: Bloomberg, Anchor