Figure 1: Rand vs US dollar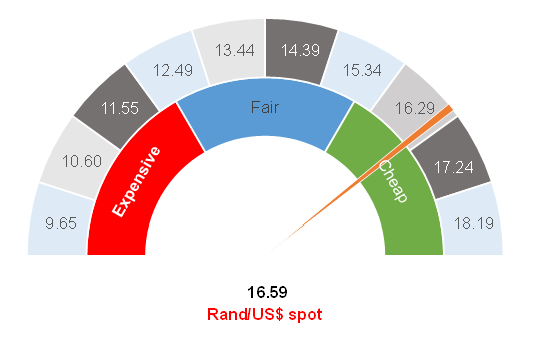 Source: Anchor
The second half of September was characterised by a stronger US dollar, which looks like rand weakness from our vantage point. However, for once, the weaker rand was driven by global factors rather than domestic. These include:
Market disappointment after the US Federal Reserve (Fed) meeting saw no further stimulus measures being announced.
The 2020 US Presidential Election is fast approaching and it is likely to be an acrimonious election, with some concerns around the smooth transition of power should current US President Donald Trump, who has declined to say he will accept the election results, lose.
Europe is also experiencing a second wave of COVID-19 infections and we have seen some lockdown regulations being strengthened rather than relaxed.
Overall, the delayed stimulus, questions around its eventual size, and a resurgence of the pandemic in Europe have ended the trend of a weaker dollar that was benefitting the rand. This, coupled with risk-off sentiment, has seen the local currency weaken rather rapidly to around R17.10 vs the US dollar.
On the domestic front, there has been some better news, with increased consequences for corruption. This week several politicians were arrested (although we still await any high profile arrests), and the ANC has said it will repay what looks to be a fair price for an ANC delegation hitching a ride to Zimbabwe on an official SA Air Force (SAAF) flight. We also see the Zondo Commission starting to apply pressure on former president Jacob Zuma to appear before the commission.
On the economic front, we note the announcement of a tender for 12,000MW of electricity and a briefing (albeit poorly done) from ICASA on the spectrum auction. All of the above mentioned are small movements in the right direction. While not enough has been done yet and we remain concerned about South Africa (SA), the trend of recent events does seem slightly more positive. While the path ahead remains fraught with danger, it does appear that SA has taken the first necessary steps.
In this regard, we also saw some strong recovery in the rand to R16.59 vs the US dollar on 30 September. We remain of the view that the trend is a volatile strengthening of the rand. We fully expect that October will be a particularly volatile month as we head into the US Presidential Election and SA's Medium Term Budget Policy Statement (MTBPS) from the Minister of Finance Tito Mboweni at the end of the month. We have retained our currency hedges and we continue to believe that we will start taking money out of the country again when the rand is trading below R16.50/$1. We will take a phased approach as we maintain the view that we expect the rand to strengthen to below R16.00/$1 over time.
Figure 2: Actual rand/$ vs rand PPP model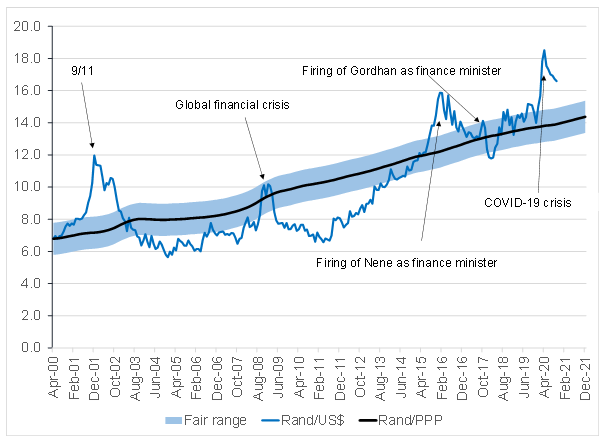 Source: Anchor