The threat of disruption
Investors by now have become accustomed to one constant: change. Not predictable, incremental evolution – but rather violent and jarring disruption. Innovators continue to smash down seemingly insurmountable barriers to entry which, in the absence of foresight, renders the corporate establishment more vulnerable than ever to Goliath's fate.
The media industry currently finds itself in the midst of such transformation, with consumers driving change from the bottom up through shifting consumption habits. TV programming schedules have been usurped by on-demand content, and streaming technology has connected content creators directly to global audiences – outflanking the previously all-powerful TV networks and distributors in the most brutally undramatic fashion.
Disney, as one of the world's largest producers and distributors of TV entertainment and sports content, has naturally been impacted. Disney's Media Networks division accounts for almost half (47%) of the Group's operating profits and, until now, has depended on the US' large TV networks for distribution. Naturally, this leaves the Group vulnerable to displacement by on-demand Direct-ToConsumer (DTC) providers (the most obvious example of which is Netflix).
Figure 1: Disney divisional EBIT contribution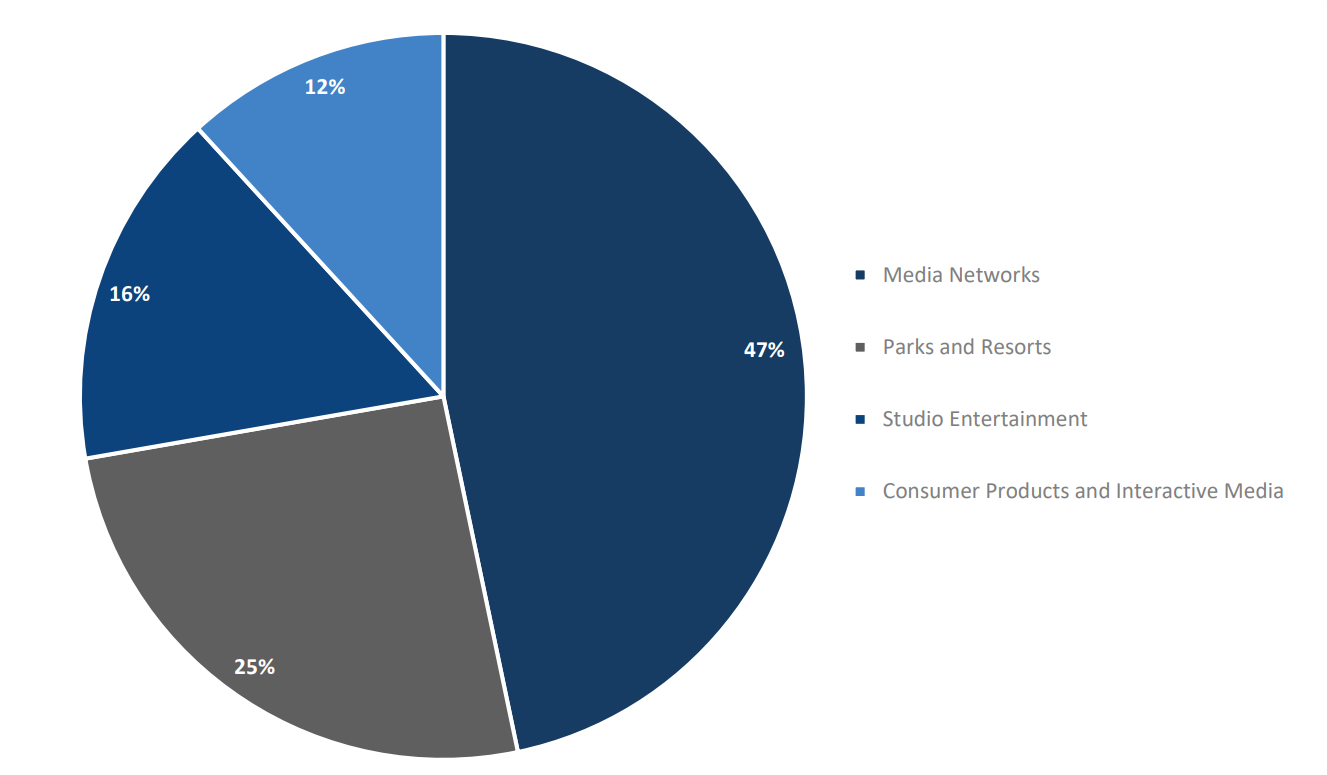 Disney's highly necessary and arguably overdue opening gambit in this game will be the launch of an ESPN streaming service in mid-2018, followed by a Disneybranded streaming service in 2019. In what will surely be the toughest test of management's prowess yet, the company will need to balance the disintermediation of its largest customers with the introduction of its on-demand DTC streaming business model.
Against this backdrop of uncertainty, Disney's share has derated and currently trades at just 13.7x estimated forward earnings – the lowest multiple in over 6 years. This stands in stark contrast to the Group's return on equity profile, which has steadily improved from 13.5% in 2011 (the last time Disney traded on this P/E multiple) to over 25% as of FY17. (see Figure 2 below).
We believe management will execute successfully on a global DTC strategy that will leave Disney well-positioned to leverage the next generational shift in global consumer behaviour. Hence, we view the current rating as a rare and exceptional opportunity for investors to gain exposure to a world-class media business at a material discount to fair value.
Figure 2: Disney's 12m Fwd P/E vs return on equity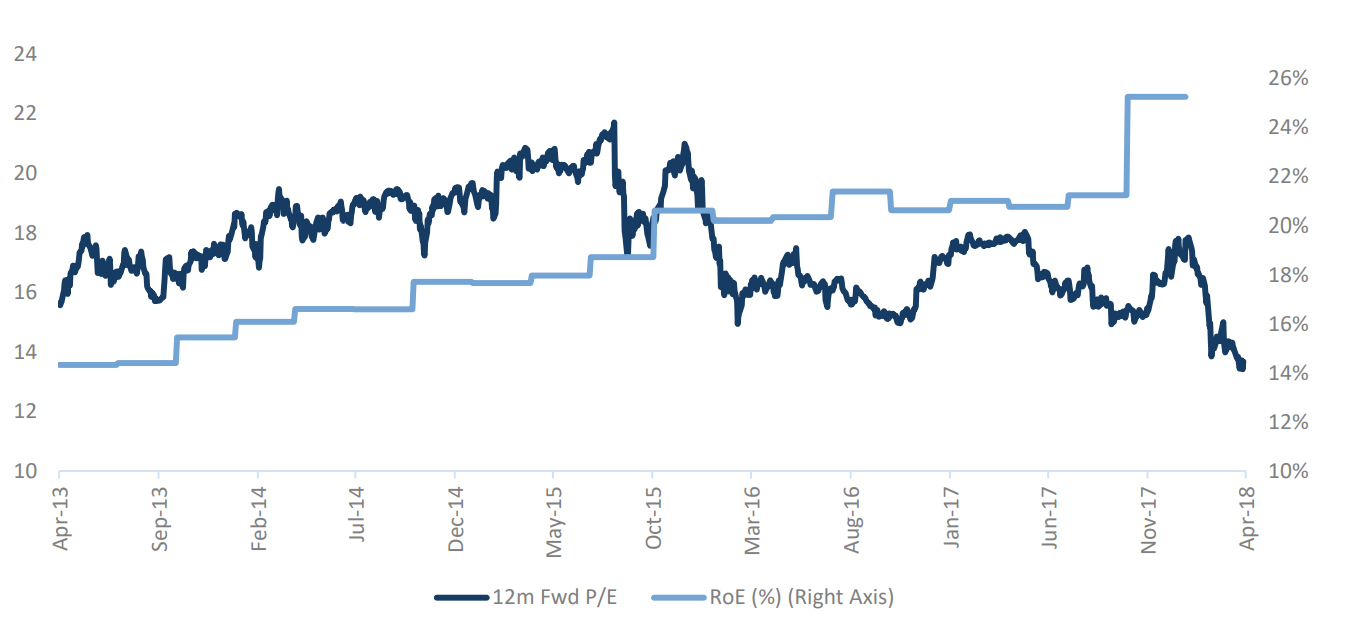 The obsession with subscriber numbers
Few companies have been more successful at leveraging investors' myopic focus on headline-grabbing growth metrics as Netflix. The streaming service's admittedly impressive 5-year CAGR of 35% in global subscribers has seen the share trade up to a forward earnings multiple of over 80x (an irrational valuation, in our view).
It is the market's same obsession with subscriber growth, then, that has weighed on Disney's valuation. ESPN, arguably the crown jewel of Disney's media assets, has seen consistent subscriber declines since 2011. ESPN's subscriber erosion has become a favoured focal point of the financial media after each quarterly Disney earnings report – with the statistic often quoted as confirmatory evidence of the migration of consumers from traditional cable TV networks to streaming services.
Given that ESPN has achieved full market saturation among traditional TV networks (+/- 95% penetration), it isn't surprising to see the sports network's subscribers move in tandem with cable TV subscribers as "cord cutting" (the term given to the adoption of streaming services in lieu of cable TV) gains momentum.
Of course, subscriber numbers are but one of two drivers of revenue growth – with the other being the fees earned per subscriber. Against an average annual decline of 1.3% in subscribers since the peak in 2011, ESPN has achieved a 7% CAGR in affiliate fees earned per subscriber over the same period (see Figure 3 below). The result is a revenue CAGR of 5% over the same period – hardly a business in decline.
Also interestingly, ESPN's affiliate fees per subscriber compare favourably with the subs charged by several established streaming services (e.g. Netflix, Amazon Prime – see Figure 4) – which we believe presents opportunity for ESPN to achieve a materially higher average fee per subscriber through its forthcoming DTC streaming service.
Figure 3: ESPN subscribers vs affiliate revenue per subscriber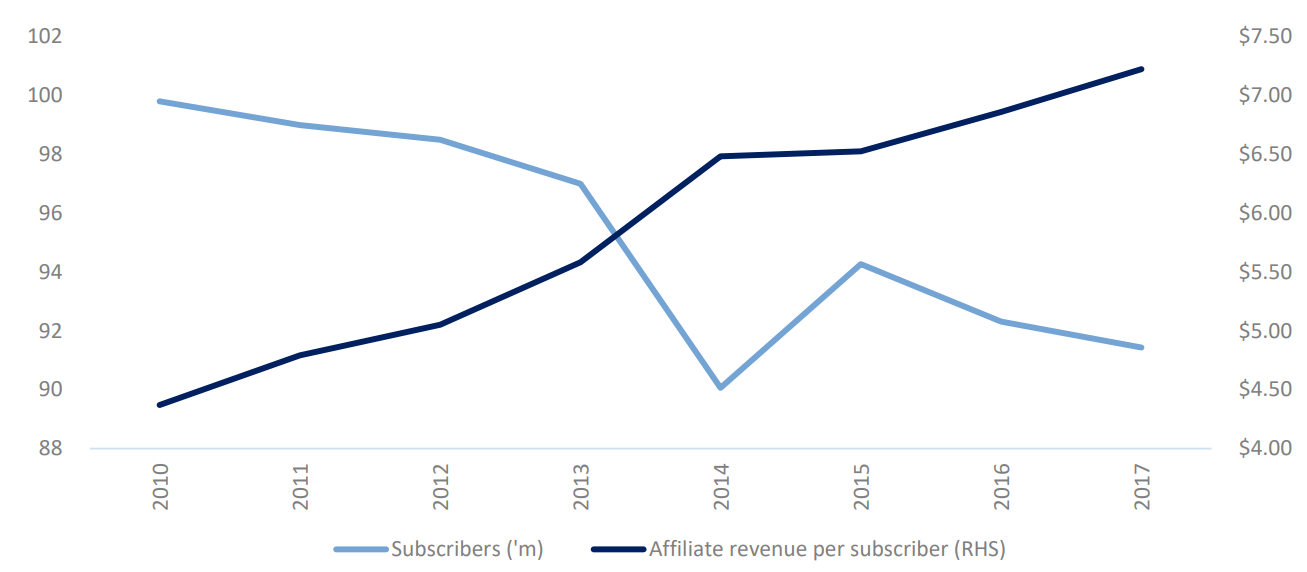 Figure 4: Cost of existing streaming services vs ESPN's existing revenue per subscriber (scope for growth!)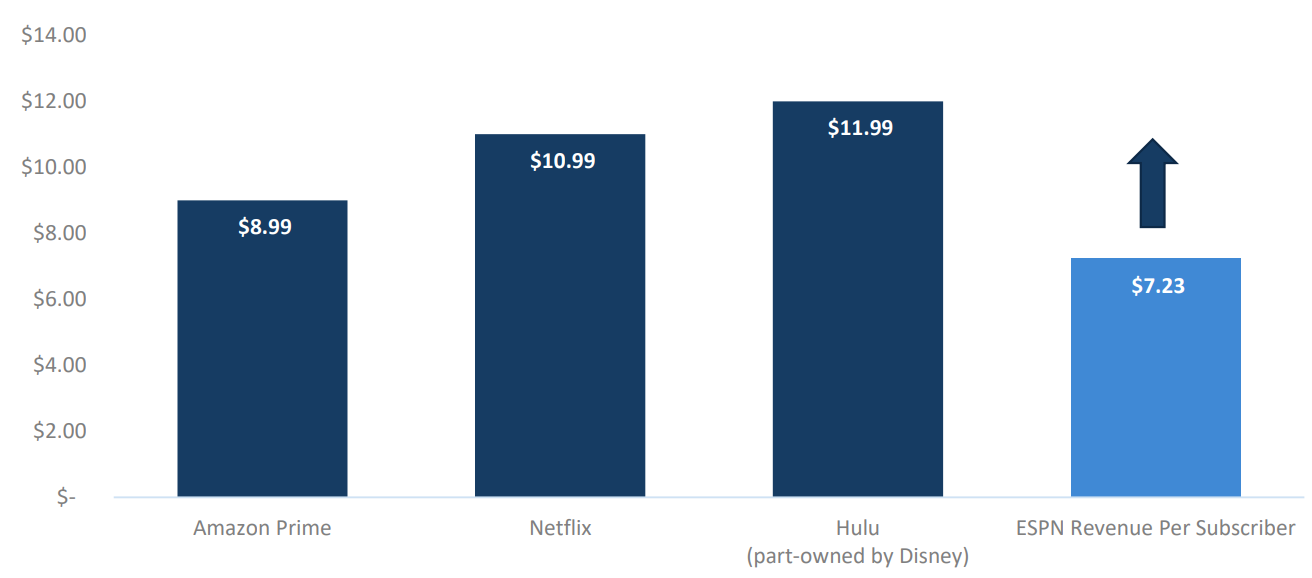 The strategic importance of Disney's acquisition of Fox
Beyond earnings growth, the 21st Century Fox (Fox) deal is a critically important development for Disney. As the media market shifts to a largely DTC model, the key differentiator between competitors will not be technology – but rather CONTENT. The acquisition of Fox creates what we believe is the most valuable and comprehensive content portfolio in the industry – spanning the TV, film and sports categories on a global scale.
The brands and franchises now controlled by the Group will mean Disney can build a truly global multi-category DTC offering that will be incredibly challenging to match (see Figure 5).
Figure 5: Disney's mind-boggling entertainment and sports content portfolio post the Fox acquisition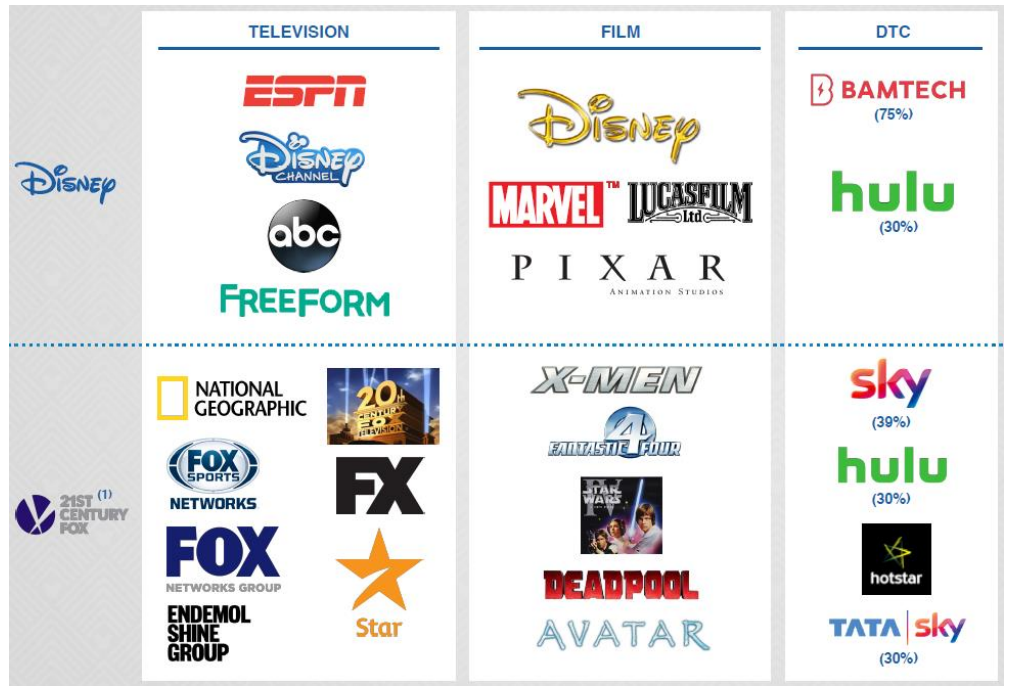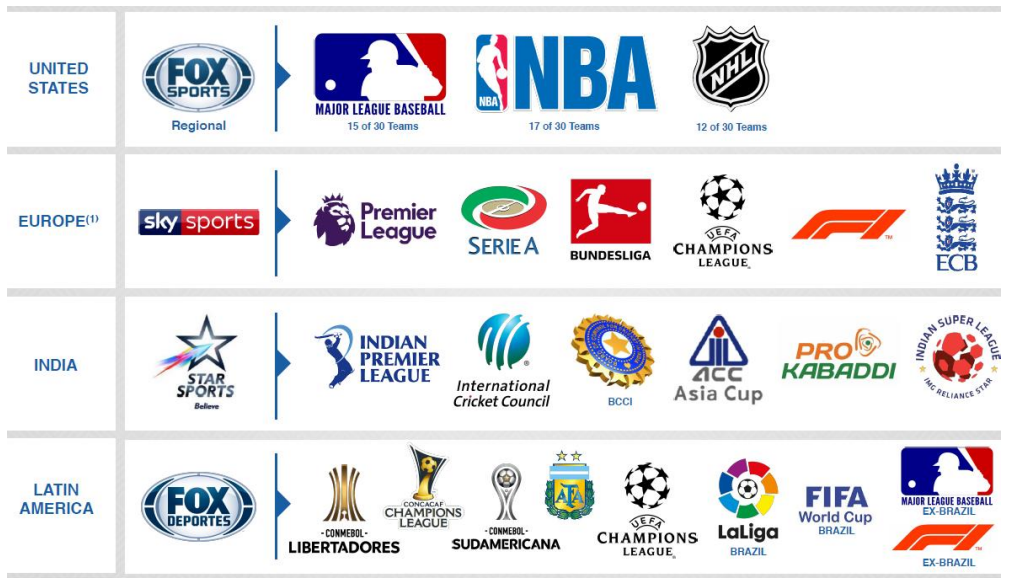 Significantly, Disney has also announced the reorganisation of the company's leadership around the newly-identified four core segments of the business, namely:
Direct-to-consumer and international. A newly-created segment headed by Disney's current chief strategy officer, Kevin Mayer. This segment will house the forthcoming streaming services, and highlights the importance of the Group's DTC strategy to management. It also gives investors a clue as to how significant management expect the DTC business to become in the context of the Group.
Parks, experiences & consumer products. A highly profitable segment that leverages the flywheel effect of Disney's masterful content creation into theme parks and consumer products.
Media networks. The traditional TV business, minus the international operations that now fall under the DTC & International segment.
Studio entertainment. Disney's film production business, which needs little adjustment. Disney's family of studios own 7 of the top 12 all-time box office spots.
The Fox deal by the numbers
Disney's acquisition of Fox represents the third-largest media deal by transaction value in US history, with a total enterprise value of US$66.1bn (as at announcement date). Disney will issue 513mn shares (33% of DIS shares in issue), and assume US$13.7bn in net debt obligations in settlement of the deal.
Disney management expect the deal to close within 12–18 months from the announcement date, and have guided to earnings accretion in the 2nd financial year after the close date.
The synergies that have been identified by Disney management are significant, amounting to US$2bn at an EBITDA level. This represents over 42% of Fox management's estimated FY18 EBITDA, and Disney has guided that the synergies can be realised within 24 months of the deal closing. The implied EV / EBITDA multiple of the deal then seems relatively undemanding at 8.3x (as compared to typical deal multiples of 12–13x) in this sector.
The pro-forma leverage of Disney in a post-Fox deal world (assuming Fox's acquisition of the remainder of Sky also goes through) will be considerable at 2.9x net debt: EBITDA. As per Disney's guidance, we expect this to normalise to between 1.0–1.5x within 24 months of the deal closing.
Given that a significant number of Disney shares will be issued to fund the Fox transaction (515mn additional shares on 1,500mn shares currently in issue), Disney management have also made the decision to embark on a significant share repurchase programme.
Disney intends to repurchase US$10bn in stock over the next 12 months, representing 6.7% of the company's current shares in issue. A further US$10bn will then be repurchased after the Fox deal closes – bringing total share repurchases to over 13% of Disney's shares in issue (assuming a DIS share price of US$100).
In modelling the pro-forma impact of the deal, we have assumed that Fox's acquisition of the remainder of Sky is successfully concluded (regulatory approval remains the last hurdle). The resultant earnings accretion is material in year 2 post close date (we estimate FY21) – adding 13% to the market's previous estimates of Disney's earnings (see Figure 6).
Figure 6: Pro-forma impact of Fox acquisition on Disney earnings forecasts

An extreme valuation
Disney's valuation has now reached what we would consider an extremity, with the 12m fwd P/E ratio of 13.7x sitting at more than two standard deviations below the five-year mean (see Figure 7).
Figure 7: DIS forward rating now at extreme level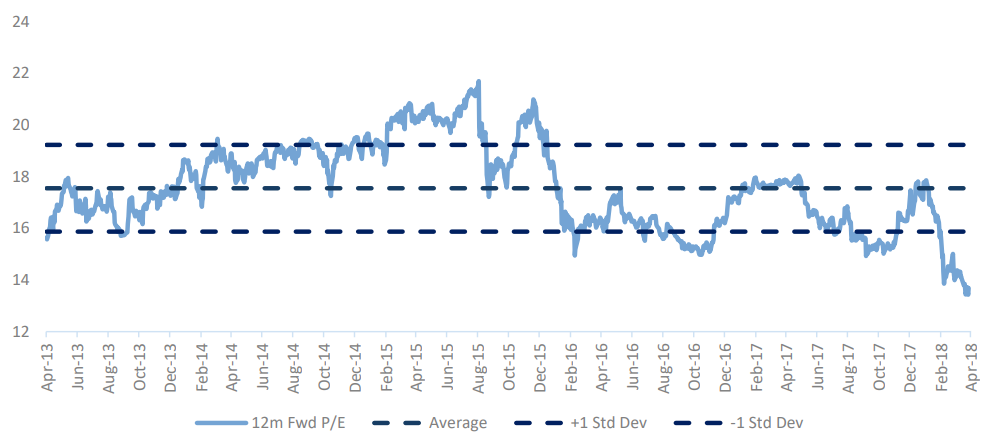 We feel this is attributable to two primary reasons:
The market is concerned that Disney will be left behind. There is no doubt that consumers will continue to switch away from relatively expensive, one-size-fits-all cable TV services to more affordable, on-demand streaming services. We believe the market is unconvinced that Disney will successfully execute on this front, which has weighed on the share's rating as ESPN's subscriber numbers have continued to drift lower. 

We remain convinced that Disney's somewhat late adoption of a DTC platform and business model has been a necessary consequence of balancing the disintermediation of the Group's  existing cable TV network customer base, while adapting to shifting consumer behaviour.  

Additionally, we believe the adoption of DTC technology is of secondary importance next to the quality of the service's content portfolio. Given the breathtaking content portfolio created through the Fox transaction (see Figure 5), we believe Disney now has devastating pulling power to attract a global customer base to its forthcoming DTC services.
A relatively high level of balance-sheet leverage. After the Disney-Fox and Fox-Sky deals are completed, the Group's pro-forma balance sheet leverage will sit at 2.9x net debt : EBITDA. This is well north of even the highest levels of leverage that Disney has taken on in recent history, and we believe this will weigh on the share's rating in the short term.
Management have expressed confidence that leverage will return to normalised levels (we estimate between 1.0–1.5x net debt: EBITDA within 24 months of the Fox transaction's closing date. Given the high level of cash generation of the newly-formed group, we believe this goal is achievable.
Conclusion: a rare opportunity
In our view, Disney, on a forward P/E of just 13.7x, presents a compelling opportunity for investors to gain exposure to one of the world's truly timeless businesses and brands at a material discount to fair value.
The company boasts an exceptional calibre of management, with Bob Iger pleasingly committing to see the Fox deal through its multi-year integration (despite a well-flagged impending retirement).
While the recent departure of Sheryl Sandberg (COO, Facebook) and Jack Dorsey (CEO, Twitter) from the Disney board, due to potential conflicts of interest, can certainly be read as an impending competitive threat from Silicon Valley to Disney – we also believe this is a firm acknowledgement that Disney will remain a worthy opponent in the battle for consumer's leisure time and spend.
In our view, Disney remains one of the few businesses that investors can buy and "forget about" – safe in the knowledge that the model will remain relevant and generate healthy returns through time. Given today's entry-point, investors would be off to a great start with a prospective 12m total return of over 35%.
Figure 8: Disney earnings forecast and valuation