Overall, the local market's January performance disappointed, with the FTSE JSE All Share Index ending the month virtually unchanged (+0.002% MoM), although the index did close at a record-high of 61,684.77 on 25 January. Stronger commodity prices, including gold soaring by 4.2% in January (and reaching a 12-month high at one stage) and the platinum price bursting through the $1,000/oz level, saw the Resi-10 end the month 3.6% higher. However, industrials carved out only a 0.1% MoM gain, and financials, dragged lower by the fallout from the Viceroy report on Capitec, ended January 2.3% in the red. Although Steinhoff clawed back some of its significant losses in December, the parliamentary enquiry kicking off and news that former CEO Markus Jooste had been reported to the Hawks, weighed on the share price. Market heavyweight, Naspers, which accounts for c. 20%- plus of the JSE's total market cap, also had a less than stellar January – down 2.0% MoM.
The rand continued its winning streak following the December election of Cyril Ramaphosa as ANC president and a weaker dollar, with the local currency rising 4.3% MoM against the greenback. On the political front, the year started off on a high note as law enforcement agencies in SA seem to have finally started their respective investigations into rampant government corruption. Ramaphosa (and the SA delegation) wooed investors at the World Economic Forum in Davos, with the Deputy President returning to the country last week with what he termed "a bag full of investment commitments", according to Fin24. This as SA government officials seemed to impress international investors with talk of ending corruption, repairing state-owned enterprises (SOEs) and promoting economic growth. While an official exit plan for beleaguered President Jacob Zuma hasn't been formalised yet, News 24 reported at the end of January that the ANC's national working committee (NWC) had instructed the party's top-6 officials to tell Zuma to step down before the State of the Nation Address (SONA) on 8 February.
On the SA economic front, 4Q17 consumer confidence remained gloomy as the FNB/Bureau of Economic Research (BER) Consumer Confidence Index (CCI), came in at -8. However, we note that this survey was recorded prior to the ANC elective conference. Consumer price inflation (CPI) data showed that average annual CPI for 2017 remained within the SA Reserve Bank's (SARB's) 3%-6% target band, coming in at 5.3%. December inflation was 4.7% YoY, up from the 4.6% reported in November, with a MoM rise of 0.5%. The biggest contributors to monthly inflation were food and non-alcoholic beverages, housing, utilities and transport. At its first meeting of 2018, the SARB's Monetary Policy Committee (MPC) left the benchmark repo rate unchanged at 6.75%, although this decision was not unanimous with one of the 6 MPC members voting in favour of a rate cut. Finally, the latest Stats SA data revealed that retail trade sales had increased by an impressive 8.2% YoY to R94.67bn in November 2017, giving a much-needed bump to retail counters.
PSG Group
PSG Group was a direct casualty of the controversial Viceroy report released on Capitec during January. During the month, a bookbuild was conducted to place 29.5m PSG shares held by Steinhoff at R240/share (at the time, sum of the parts [SOTP] value was R295/share). We participated in this bookbuild given the attractive discount to SOTP, as well as the Steinhoff shareholding overhang being removed, with the position initially yielding profits. Subsequent to this, Viceroy's research report on Capitec was released, alleging amongst other things, over-inflation of the group's loan book (due to under-provisioning of loan losses, rolling of non-performing loans etc) and aggressive lending practices. We believe that while the unsecured lending business model inherently involves granting of high-yield loans to a riskier client base, Capitec has conducted its in a conservative manner and has been transparent in its financial reporting. Furthermore, Viceroy's assertion that Capitec is no different to ABIL fails to take account of its depositor funding advantage, as well as a transactional banking franchise of meaningful scale (which ABIL never possessed). Consequently, we do not subscribe to Viceroy's thesis on the company. Nevertheless, Capitec sold off by 15% between the release of the report and month-end, while PSG slumped 13%. The latter's move is interesting in that Capitec only accounts for c.53% of PSG's sum of the parts value, and hence logic would suggest that it should only have suffered roughly half of the draw-down experienced by Capitec. This has opened up a much larger than usual discount to sum of the parts which we view as an attractive entry point into PSG's portfolio of assets at a 15% discount to sum of the parts.
While we believe Viceroy's research on Capitec was inflammatory, irresponsible and flawed, we think a key reason as to why the stock sold off to the extent it did is that Viceroy chose to target a bank which can be viewed as a systemic institution and inherently relies on the confidence of its customers and depositors. The extent of the allegations are such that our greater fear was that Capitec may suffer a run on its deposits due to the extent of the publicity the report garnered, but we believe the group's handling of the situation has been exemplary and the passage of time de-risks the chances of a meaningful run. At the time of writing, it appears that depositor activity has been fairly normal.
Figure 1: PSG sum of the parts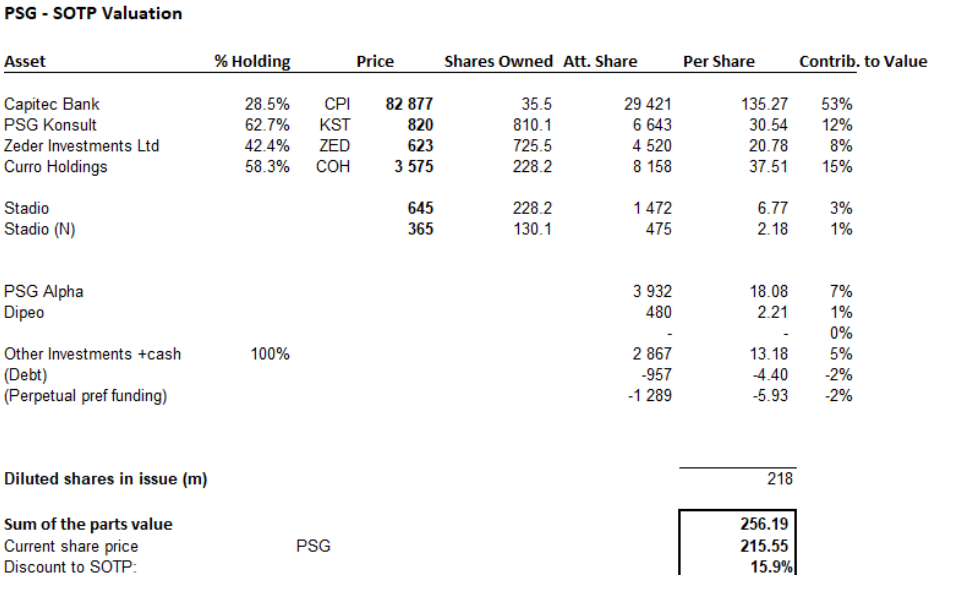 Firstrand
Firstrand remains a cornerstone of our domestic equity portfolios, with best of breed management and business mix which translates through to industry leading returns on equity. With recent political developments resulting in increased optimism around the future of the economy we think a bank like Firstrand is well placed to reap the benefits. The sharp upward moves in domestically focusses stocks on the JSE in mid to late December resulted in an element of profit taking during the month of January, however we are of the view that more upside remains if one is to believe that there will be a significant recovery in the economy. Recent commentary from various management teams suggests that on the ground conditions are improving and if this optimism gathers momentum the SA banks will be very well placed to outperform.