Listings are fairly few and far between on the JSE lately, particularly where companies are coming to market with enterprise values (EVs) of c. R10bn. One such initial public offering (IPO) coming to market in early May is Libstar.
What is Libstar?
Libstar is a food sector entry which has a portfolio of 27 businesses, aggregating a multi-brand, multi-channel strategy. This results in a company that:
Is the fifth-largest food producer in South Africa (SA);
That sits between a brand company (such as Tiger Brands) and a food manufacturer (such as RCL Foods). Approximately 40% of the company's sales are private label in nature, supplying customers such as Woolworths, Spar and Pick n Pay.
Libstar cites itself as a provider of "solutions." What this means is that in some instances large customers, such as Woolworths, will outsource not only the procurement of food and grocery products, but its stocking strategy and the presentation of the product on the shelves. An example of this, again in Woolworths, is that the entire range of Italian pasta and associated product is supplied and packed by Libstar. In most Woolies stores, 40% of the grocery range available for purchase is Libstar product.
The main driver of the Libstar story and investment thesis is its focus on private label and dealer owned brands (DOB), in conjunction with some owned and licensed brands and principal brands. Locally, private label has been gaining significant traction among food retailers in the past five years, and currently enjoys a penetration rate of 15% of sales. Common wisdom is that this level will continue to rise, but it should be noted that it is currently already at US levels. The UK, however, is much higher, at 30%.
Figure 1: Libstar revenue split by product type: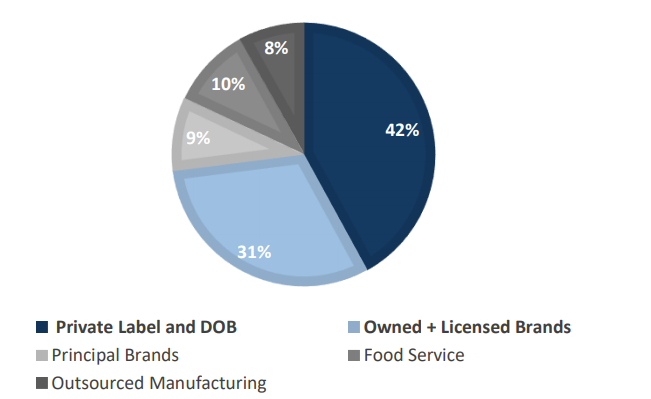 The key SA retailers (Woolworths, Pick n Pay, Spar etc.) comprise over half of Libstar's revenues. Other customer segments are Food Service, Industrial and Export (see Figure 2 below). The Group's key food-service contract resides within its Finlar subsidiary, which supplies chicken and beef patties to McDonald's SA and has done so since the company's entry into the local market in 1994. This is not likely to be a strong growth business given the high level of McDonalds penetration in SA but it is nicely cash generative.
Figure 2: Libstar revenue segmentation by customer type: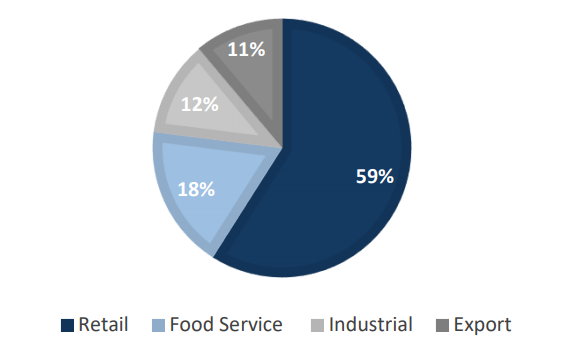 The Retail segment products are household names and the 59% of revenue from this division is allocated amongst them on the basis presented below:
Figure 3: Retail segment customer revenue breakdown: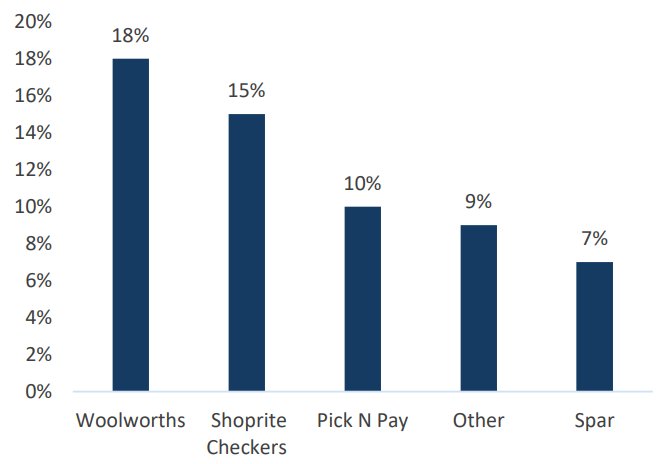 The key SA retailers (Woolworths, Pick n Pay, Spar etc.) comprise over half of Libstar's revenues. Other customer segments are Food Service, Industrial and Export (see Figure 2 below). The Group's key food-service contract resides within its Finlar subsidiary, which supplies chicken and beef patties to McDonald's SA and has done so since the company's entry into the local market in 1994. This is not likely to be a strong growth business given the high level of McDonalds penetration in SA but it is nicely cash generative.
Major products and businesses
The two major product category descriptions that account for close to 80% of EBITDA are Perishables (mainly cheese, meat/chicken, mushrooms) at 44% of EBITDA and Ambient Groceries (a wide range but particularly herbs and spices, sauces / dressings and condiments) at 35%. The bulk of the remainder of profit generation comes from Baking, Snacks & Confectionary, Home & Personal Care and Other.
The largest individual businesses are:
Lancewood – SA's leading natural cheese brand.
Finlar – a supplier of processed meat and chicken; also a large McDonald's SA (sole supplier) contract for patty supply nationwide;
Cape Herbs & Spice – Exporter with a small SA business.
Rialto – An importer of high-end private label and branded foods. Examples of the principal brands it represents in SA are Tabasco and Kikkoman
Denny – SA's leading fresh mushroom supplier. This business was acquired from RMB Private Equity in 2015, having previously been owned by AVI Limited. This has been Libstar's largest acquisition to date, at R703mn. Given that AVI – an astute capital allocator – sold this business, we are unconvinced of its quality as an asset and, indeed, the business has already experienced a sharp profit decline (in FY16) on the back of a disease outbreak. We understand AVI did not see the ability to create brand equity within this space.
Ambassador – A fast-growing nut and snackbar supplier.
Amaro – A specialist baker.
Growth and margins
Libstar has a very impressive track record of top-line growth, based on a highly acquisitive strategy pursued, and also on good organic growth within major categories. Perishables, driven largely by Lancewood and rapid market share gains in the SA cheese market, enjoyed 30% YoY growth in 2015 and 2016, slowing to 15% YoY in 2017, due to slowing offtake from County Foods (Astral Foods) – Finlar's third-largest customer. This segment is forecast to grow at 30% YoY in 2018 and then settle at 12% growth for the following two years. At the Group level, 2018 top-line growth is expected to be 20% YoY and then settle at 10% for 2019 and 2020, according to JP Morgan Research. Importantly, these forecasts do not factor in any growth as a result of acquisitions (see Figure 4 below).
EBITDA margins have been relatively stable at between 9- 10% in the past three years. It would seem that there is some scope for margin enhancement, particularly at Denny where, with a 60% market share in fresh mushrooms, management believe there is significant opportunity in value-add mushroom categories (patties, sauces etc.). However, as mentioned above, this strategy has yet to be proven, AVI Limited were not able to extract value from this business and believed that fresh mushrooms lacked brand equity and the ability to differentiate. Libstar has guided to a medium-term EBITDA margin at a Group level of 12- 12.5%, which is materially higher than the ~10% likely to be achieved in FY18. JP Morgan's earnings projections imply an EBITDA margin of 11% by FY20, suggesting a more conservative approach to margin accretion.
Listing details and valuation
One of the joint book-runners in the listing, SBG Securities, estimated a valuation range for Libstar's equity of between R8.9-R11.7bn in a pre-listing research document, with the mid-point implying a 12-month forward P/E multiple of 17x. While food sector stocks trade on average around this level, we believe the market valuation will likely settle well south of this valuation level. While the Group has a compelling growth story over the next couple of years, we believe there are also significant longer-term business risks associated with the private label aspect of Libstar's business model. The company is looking to raise R1.5bn in primary issuance, and this is earmarked to pay down debt (R700mn) and an R800mn dividend payment to the current shareholders. This will bring the net debt / EBITDA ratio down to c. 1.1x by FY18 and leaves some latitude to make early acquisitions.
The joint bookrunners – JP Morgan and SBG – are both forecasting strong earnings growth for Libstar in the coming years. The company delivered adjusted earnings (examortisation of intangibles of R141mn) of R376mn in FY17; JP Morgan and SBG Securities' earnings forecasts are presented in the table below:
Figure 4: Libstar earnings estimates: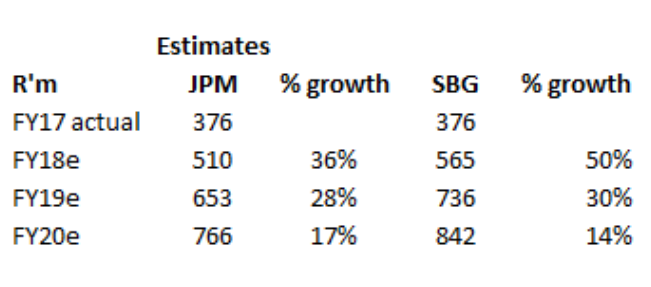 It should be noted that the very high earnings growth projected for FY18 is, to a large extent, a function of the mechanics of the fresh capital raise, where we estimate the impact of interest savings on the R700mn capital raise proceeds applied against debt accounts for almost half of earnings growth (17%) expected by JP Morgan in FY18. Because the savings are only in effect for roughly half the fiscal year, the effect of this continues to flow into FY19 as the interest savings annualise. While the earnings projections of JP Morgan and SBG do not incorporate the impact of further M&A, we highlight that the assumed organic revenue growth of more than 10% p.a. from FY18- 20 – while actually below that achieved in the past five years – appears not to factor in much margin of error and could prove aggressive given that SA's private label penetration has already risen rapidly in recent years and is no longer low by global standards.
What of the potential M&A impact? Post the listing capital raise, Libstar's balance sheet at ~1x debt: EBITDA will be relatively unlevered, and the company has guided that it is aiming for a dividend policy of 30-40% payout. The latter seems conservative in the context of the balance sheet, and the feedback we have had from JP Morgan is that the company intends to be acquisitive. We have mixed feelings about this message – while it should add to earnings growth, it could also be interpreted as a desire to diversify away the risk associated with private label manufacturing (more about that below). If deals are concluded at ranges of 3x-5x EBITDA (similar to historical Libstar deals, according to JP Morgan), the Group could have the ability to add 25% to its headline earnings if it chose to gear its balance sheet back up to 2x debt to EBITDA.
The company plans to list in mid-May and the books are due to open on 25 April and close on 4 May. The major seller is Abraaj, a private equity company based in Dubai. The current ownership structure is shown in Figure 5 below.
Figure 5: Libstar ownership structure: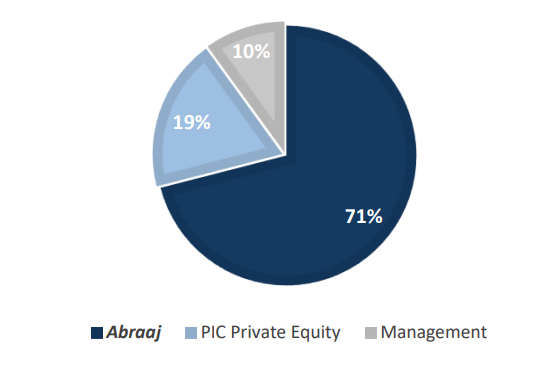 To the extent that these sellers each sell 45% of their stake, as well as the primary raise of R1.5bn, the new ownership structure would look as follows:
Figure 6: Libstar ownership structure post-IPO (all stakeholders sell 45%):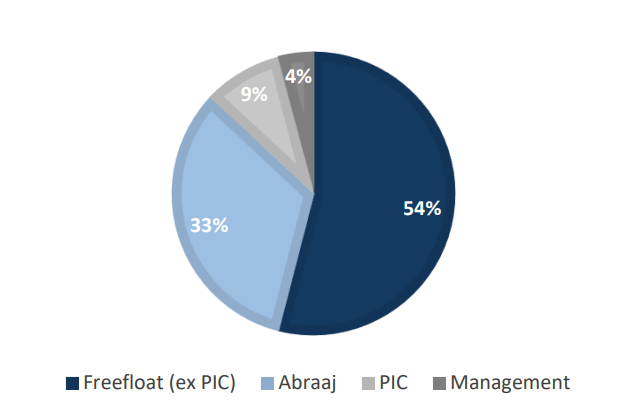 It is possible that Abraaj will sell more of its stake, with some market commentators forecasting up to 80%. This would increase the free float to 75%.
Private label maturity: The key risk to the investment thesis
The key risk to highlight is that once retailers have reached their desired level of private label penetration, they will likely apply significant price and margin pressure on their contract manufacturers in order to extract margin for themselves. In essence, the balance of power shifts sharply in favour of the brand owner. By contrast, when private label penetration is still ramping up (as it currently is) and available contract manufacturing capacity is short of potential requirements, the balance of power is more evenly spread than its natural steady-state situation would be. In essence, contract manufacturing – once maturity is reached – is not an attractive business model in which to be, with the bulk of margins and returns being earned by the brand owner. We find it notable that both Tiger Brands and AVI have tended to steer clear of the contract manufacturing opportunity for private label in SA.
Conclusion
Libstar occupies an interesting space between that of the branded-food producers such as Tiger Brands and those companies with more cyclical exposure such as Rhodes Foods Group (a heavy export component; margins highly dependent on fruit-farming yields). Its private label exposure makes it fairly unique in this grouping and is likely to drive above-average organic revenue and earnings growth compared to its peers for the next couple of years. In addition, it is still at a size where M&A can materially move the needle on overall growth. These factors would tend to argue for a premium rating compared to the peer group. However, we do have our concerns about what the economics of private label manufacturing could look like once maturity has been reached in SA. We suspect this could argue for a discount valuation rating in time, as the retailers ultimately hold all the power over contract manufacturers. We would consider participating in the listing at an equity valuation range of ~R7.5-R8.5bn, a 12- month forward 14x P/E multiple at the mid-point of this range. Given the influence of changing capital structure on the evolution of earnings over the next 2 years, we believe EV/EBITDA is a more appropriate valuation yardstick. On this basis, the mid-point of the above range implies just less than 9x FY18 EBITDA, or 8x EBITDA on a 12-month rolling basis. This compares to the existing listed peer group as follows:
Figure 7: EV/EBITDA – Libstar's JSE-listed peer group

While this is well less than most SA peers, we believe the lack of a listed operating track record and the need for new investors to be "incentivised" into a new listing argues in favour of a discounted entry point into the company.