Under new offshore investment limits, South Africans investing in their pension are permitted to allocate up to 30% (previously 25%) of their portfolio towards offshore securities. Further, savers may invest an additional 10% in any other African-country assets (previously 5%).
The cloud of uncertainty that has shrouded South Africa in recent times (credit rating downgrades, a poorly received Medium Term Budget Policy Statement [MTBPS] in 2017 and political risk) has led to a natural pessimism towards the country and its assets. As a result, it has been obvious that most investors would want to maximise their offshore exposure.
However, the dark clouds have dissipated somewhat recently. This follows Cyril Ramaphosa's victory during the December 2017 ANC elective conference, the better-than-expected budget in February 2018 and the recent unexpected credit rating "upgrade" by Moody's from a negative to a stable outlook.
The recovery of positive sentiment in South Africa provides an opportunity for investment managers to rethink their strategic asset allocation positioning – particularly their offshore allocation. What seemed an obvious investment decision as recently as three months ago may not be that obvious right now.
Previous research in South Africa – at the time when the offshore allowance was capped at 25% – showed that it was optimal for investors to fully utilise their offshore allowance (Bradfield, Munro, Silberman & Hendricks, 2010). Looking at the new offshore investment limits, this article considers an optimal offshore allocation for a rand-based investor for three of the most commonly used balanced asset-allocation portfolios, namely low equity (stable), medium-equity (moderate) and high equity (growth) balanced portfolios.
We begin by considering the strategic role of an offshore allocation in a balanced portfolio. We use the mean variance efficient frontier framework (i.e. we calculate the asset allocation with the lowest volatility that achieves the targeted return based on historic data) to explore portfolio enhancement characteristics of foreign investment from a South African investor's perspective.
Informally stated, the efficient frontier framework considers a set of portfolios along the risk spectrum (i.e. ranging from low-to high-equity allocation), such that each portfolio gives the best return for each level of targeted risk considered.
To simplify, we consider only the four major asset classes, namely the JSE Top-40 Index (SA equities), the JSE All Bond Index (bonds), the STeFi (money markets) and the MSCI World Equity Index (global equities).
For the scope of this analysis, we have excluded investments into Africa, alternative investments such as hedge funds and listed property since most balanced portfolios hold only a limited portion of these assets. We do, however, also believe that these asset classes have merit and will improve portfolio outcomes.
Figure 1: Comparison of efficient frontiers – Impact of an offshore allocation: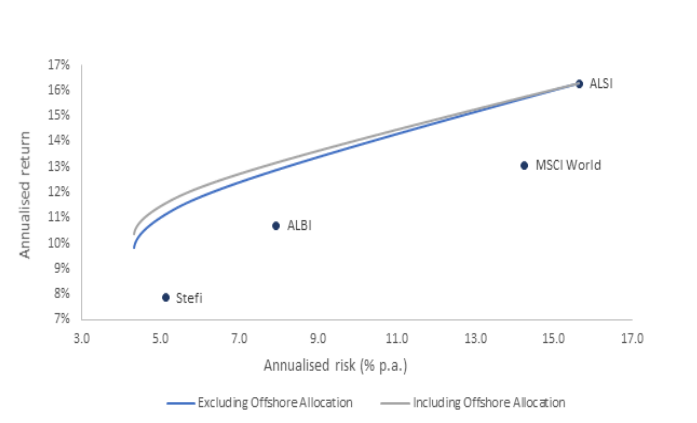 In Figure 1 above, we present two efficient frontiers, one inclusive of an offshore allocation and the other excluding any offshore allocation. We have reviewed data from 2003 to 2018 for the four asset classes under consideration.
It is clear from the results shown in Figure 1 that the inclusion of a foreign investment in the asset pool resulted in the efficient frontier shifting. The shift upwards of the efficient frontier implies that the inclusion of an offshore allocation in a portfolio has return-enhancement benefits.
We are also able to look at those portfolios that comprise the efficient frontier and consider their composition. This composition of the efficient portfolios (lowest risk to achieve a desired outcome) is given in Figure 2 below.
Figure 2: Portfolio composition along the risk spectrum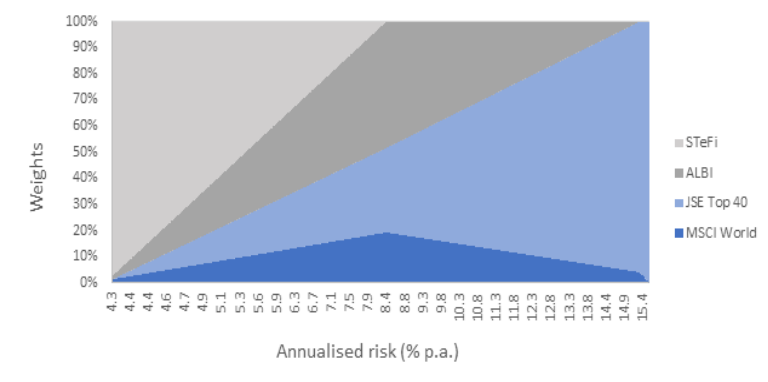 Given these data, we now consider the optimal weight for a low-equity balanced portfolio, a medium-equity balanced portfolio and a high-equity balanced portfolio.
In Figure 3 above, we found that the optimal range for offshore allocation over the time-period in question was between 15% and 20% for most portfolios. This is, in part, because local equities have outperformed global equities over the timeframe in question (see Figure 4 below). This could be attributed to the rise of Naspers, the emerging market (EM) premium that is earned on South African assets and the commodity boom (until 2007). These factors have combined to make SA equities more compelling over the period from 2003 until now.
Figure 4: In-sample back-tested results

Conclusion:
Any mathematical process is only a guide and can be influenced by model parameters, the data period used, etc. A mathematical model should therefore not overrule common sense. Portfolio managers should be cautious of managing a portfolio for the future, while looking in the rear-view mirror by way of a back-tested model.
There are a few inferences that we can draw from this study, whilst also understanding its limitations. A higher allocation to offshore assets does not necessarily mean a higher return. The risk-diversification benefits of an allocation to offshore investments is obvious, but it does not follow that it is optimal to invest more offshore in an attempt to increase the targeted return.
Our view is that an optimal, long-term benchmark allocation towards offshore assets is c. 20% of the portfolio. A tactical allocation in times of material offshore equity growth and rand weakness would necessitate a full utilisation of this 30% offshore allocation and can add significant value. However, our long-term neutral benchmark remains at around 20%.