The year started with a bang for global equities – the MSCI World Index was up 5.3% MoM, its best January since 1994 and the 15th consecutive positive month. In the US, almost half of S&P 500 companies reported earnings during January, with earnings growing around 12% higher relative to 4Q16. Earnings growth exceeded expectations as global earnings were boosted by a weak US dollar and synchronised global growth. A key driver of January equity market performance was the upgrading of analyst earnings expectations. Most of the companies reporting gave guidance on the likely boost they would receive from US tax cuts, which was enough to see analysts upgrade their S&P 500 earnings expectations for 2018 by about 4.5% during January. Earnings for S&P 500 companies are now expected to grow by about 26% YoY in 2018.
Figure 1: S&P 500 Index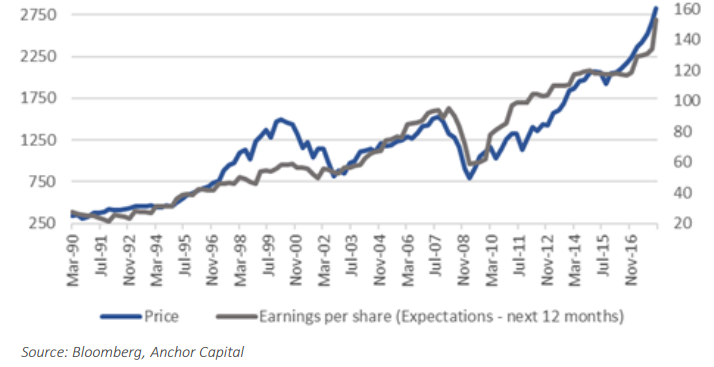 Emerging markets (EMs) also continued their strong run – the MSCI Emerging Markets Index was up 37% in 2017 and added another 8% in January, with the Brazilian and Russian stock market indices up 15% and 11% MoM in US dollar terms, respectively. The Hang Seng Index of Hong Kong-listed Chinese companies also rose over 15% for the month. Most major Chinese banking stocks surpassed pre-Global Financial Crisis highs in January as well as their more recent mid-2015 highs achieved before a currency devaluation and the introduction of some clumsy regulations saw a collapse of most Chinese stock prices. The rally in Hong Kong-listed Chinese companies has been driven, at least partially, by an increase in purchases by mainland Chinese investors utilising a link to the Hong Kong stock exchange that Chinese authorities approved in 2014.
Figure 2: Industrial & Commercial Bank of China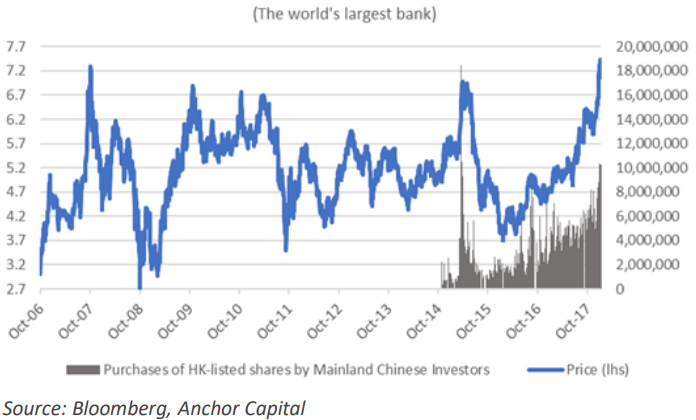 Bonds had their worst month since the election of US President Donald Trump in 2016 as US 10-year bond yields jumped 0.4%, to levels last seen during 2014 after the "Taper Tantrum" (when the US Federal Reserve [Fed] surprised investors with the announcement that they would imminently be halting bond purchases). European bond yields also spiked, but not as much as the euro, which was up over 3% in January after a 14% rally in 2017. Despite the US dollar's still significant yield advantage, investors seem willing to look through the current low European yields with economic growth and inflation starting to exceed expectations. The British pound also had a sterling month, up 5% against the US dollar, on the back of reports that Spain and the Netherlands may be supportive of a soft Brexit deal.
At a sector level, the high-yielding sectors were the laggards in January as the bond sell off dragged the S&P 500's real estate and utilities sectors down for the month, while consumer staples companies were barely positive. Banks, which tend to benefit from higher interest rates, were one of the bestperforming sectors, along with consumer discretionary companies, which are expected to benefit from increased US consumer spending as disposable income gets a boost from wage gains and lower tax rates. Higher demand expectations on the back of improving global growth were also enough to briefly drag Brent crude oil above $70/barrel during January – a level not seen since 2014 when US shale oil supply started overwhelming demand.
Pandora
Pandora reported their Q4'17 and FY'17 results on Tuesday 6th February. Revenue grew 15% in constant currency for the year, representing mostly organic growth (11%). Earnings growth was essentially flat, however this is a function of a rebasing of group margins as the business invests in broader manufacturing capabilities and shifts toward a company-owned retail store model. Post FY'18, once the higher costs are in the base, we expect a similar rate of revenue growth to drive 10%-plus earnings growth over the next few years. The longer-term growth objectives communicated by management at the Capital Markets Day held on the 16th January also reinforce this growth equation. The opportunity for investors lies in Pandora's current valuation, which we believe prices in negative earnings growth. This obviously stands in stark contrast to our growth forecast.
Pandora's business is also highly cash-generative, with management flagging the return of excess capital to shareholders as a priority. To this end, DKK 6'bn has been committed to shareholders for FY'18 in the form of DKK 2'bn in dividends (DKK 18 per share) and DKK 4'bn in share buybacks (7% of shares in issue). This places Pandora on an attractive 12-month forward P/E of 8.5x, and a 12-month fwd dividend yield of 3.5% on a payout ratio of just 27% (which we believe will be increased over time).
If we break out the segments, the charms business grew at 10% in constant currency for FY'17. This is significant, as management's growth targets require no growth from the charms business. The all-important rings, earrings, necklaces & pendants categories collectively grew at a constant currency rate of 28% – well ahead of the 18% required for management to deliver on their communicated growth strategy.
We continue to believe that widely-held concerns around Pandora's growth in the USA (formerly their biggest market) are overblown, with negative like-for-like sales in their physical retail channel more than offset by strong growth momentum in their US ecommerce channel (revenue growth of 27% YoY for Q4). Additionally, the USA now accounts for just 23% of revenue as the EMEA and Asia Pacific regions continue to gain scale.
On a DCF basis, we value Pandora at DKK800 – implying that the share is currently 38% undervalued and hence we reiterate our strong buy recommendation.
Yoox- Net-A-Porter
On the 22 of January, CFR Richemont announced its intent to purchase the remaining shares it doesn't already own of online luxury retailer Yoox Net-A-Porter. The offer price is to be at a 26 percent premium to the closing price the day before the announcement. This came as a welcome surprise to us, and we elected to sell our shares into the strength that followed.
When we entered the position mid-way through 2017, the thesis was clear, we believed the market was undervaluing the growth inherent in the YNAP offering. Sceptics argued that luxury would never move online, a view that manifested itself though the large short interest that had built up in the stock. We understood that this was a distinct possibility but also felt the pessimism around the thesis was priced in.
The relationship between CFR and YNAP gave us increased comfort that YNAP was on the right track. The synergies between the two business are clear, YNAP will form the cornerstone of CFR's ecommerce ambitions. We never factored in a potential takeover from CFR, especially so soon after CFR had orchestrated the merger between Yoox and Net-A-Porter (this took place in in 2015), however with the valuation of YNAP being far below that of other ecommerce businesses and CFR holding excess cash reserves, the stars had aligned for the move. With our entry price of c.Eur27 and the takeover price of Eur38, the investment yielded a pleasing 40% return over the 8 month investment horizon.