Its been a pretty unpleasant ride for investors in the South African equity market over the past few years. The total return for the Top 40 Index over the past 3 years has been about 8.5% p.a., but once you've stripped out the impact of Naspers (which was responsible for about 40% of that performance), the rest of the market has barely been able to keep pace with inflation over that period.
The ANC's December elective conference, which delivered a Cyril Ramaphosa victory and a healthy dose of hope for the trajectory of the local economy, also provided a huge boost to domestically focussed investments like The Foschini Group, which rallied around 70% in the wake of the conference. Unfortunately, the tangible benefits were slow to follow and, as pressure mounted in emerging markets globally, most of the "Ramaphoria" gains were reversed.
Figure 1: The Foschini Group – a South African story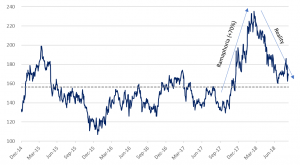 Source: Bloomberg, Anchor Capital
With this recent experience fresh in our collective memories, it seems an opportune time to revisit the research of renowned behavioural psychologist and Nobel prize-winner Daniel Kahneman, who has spent a lifetime devoted to helping us avoid making irrational decisions. Kahneman was convinced that our memories of events often ignore the duration of those events and found several novel ways to test his thesis. The one we'll explore today involved patients undergoing colonoscopies (which seems appropriate given the recent experience of South African investors!). Kahneman created a test which allowed colonoscopy patients to record their level of discomfort at each minute during the procedure and then at its conclusion record an overall level of discomfort for the procedure. Kahneman found that patients consistently ignored their cumulative level of discomfort when recording their memory of the overall procedure, instead placing too much emphasis on how the experience ended – a cognitive bias he called "recency bias".
Figure 2: Colonoscopies and cognitive biases – perception vs reality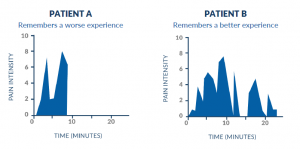 Source: Daniel Kahneman
In light of the above, we think investors will do well to remind themselves of the long-term benefits of remaining invested in equity markets, especially when the most recent memory of that experience makes you want to throw in the towel. At times like these investors should remember that the FTSE/JSE Shareholder Weighted Index has delivered a 17% p.a. return over the last 15 years (a period which included the 2008 global financial crisis and the past 3 years of lacklustre local returns) – even measured in US dollar terms that was a 12% p.a. return. Thus, we believe that investors with patience (and liquidity) will ultimately be rewarded with healthy compound investment growth if they can stay the course.