Figure 1: SA inflation, January 2019 to date (YoY % change)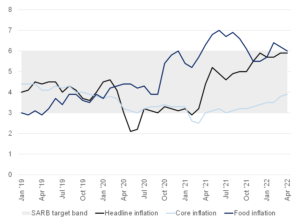 Source: Thomson Reuters, Anchor
Printing at 5.9% YoY for April (unchanged from March's level), the main contributors to annual headline inflation, as measured by the consumer price index (CPI), were, once again, food and non-alcoholic beverages, housing, and utilities as well as transport – all the usual suspects that have been driving prices of late. Interestingly, April core CPI printed slightly higher at 3.9% YoY (vs 3.8% in March) as headline pressures slowly trickle down through to the more stickier, entrenched categories. Nonetheless, core inflation remains contained – signalling that domestic inflationary pressures are muted.
Overall, we do not expect this latest print to meaningfully influence the SA Reserve Bank (SARB) Monetary Policy Committee's (MPC's) inflation assessment at its meeting on Thursday (19 May) as it does not include any particularly important non-monthly surveys. Nonetheless, while SA does not have the same inflation problems that the US is currently facing, the SARB is going to have to contend with a faster pace of accommodation removal in advanced economies, which has led to a risk-off environment and exacerbated rand weakness. The MPC is likely to cite capital outflow concerns and risks of higher import inflation stemming from currency weakness at Thursday's MPC meeting.
So, while the bank would ideally prefer to withdraw monetary accommodation very gradually, we do believe that we will see a 50-bpt hike rather than the usual 25-bpt increments that we have seen thus far in the rate-hiking cycle. Interestingly, the domestic inflation and growth forecasts do not necessitate such an acceleration yet, with the inflation forecasts only temporarily breaching the 6% inflation target ceiling and demand-pull inflation suppressed by real GDP that is still below its pre-pandemic peak, a negative output gap, and a weak labour market. However, the upside inflation risks have increased materially given the rand weakness, persistently high oil prices, and the recent spike in global food prices. Furthermore, the rand has depreciated by 4.8% in trade-weighted terms since the March MPC meeting, with the committee likely to see this as worsening the risks to inflation. We believe that, at this point, the committee would argue that frontloading of the inevitable rate hikes would have a more potent impact on inflation expectations without a materially harsher impact on economic growth.