Music streaming's emerging oligopoly
The necessity of scale has moved the music streaming market towards an oligopoly. In this note we examine the competitive dynamics which make the market challenging for new entrants. First, the music streaming market already resembles an oligopoly with only a handful of players enjoying the majority of market share. Second, music streaming platforms require scale to negotiate decent licence agreements with licence rights holders. Third, the revenue received from the streaming oligopoly has become vital to music labels. Fourth, as entrenched music subscription businesses mature, their increased proportion of longer-tenured customers should bring operating leverage via reduced marketing costs. Finally, several major music streaming platforms are not huge profit centres for their companies, meaning that their core businesses can subsidise losses that new entrants would struggle to endure.
The market already resembles an oligopoly
The music streaming market already resembles an oligopoly. As Figure 1 shows, the three largest providers (Spotify, Apple and Amazon) enjoy a roughly two-thirds share of the market. Although some have described Spotify and Apple as a duopoly, Amazon and Alphabet (holding company of Google and YouTube) represent legitimate competition.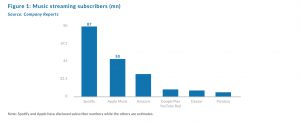 Streaming platforms require scale to negotiate decent licence agreements
Streaming platforms require licence agreements from rightsholders to stream music to their users. These platforms incur royalty costs based on a rate negotiated with music labels and other rightsholders. The high degree of concentration of rights amongst music labels gives these labels significant bargaining power. This is illustrated by the high concentration of the industry's revenue between the three major labels – Universal Music Group, Warner Music and Sony Music. These three labels constitute over 80% of the industry's revenue (see Figure 2).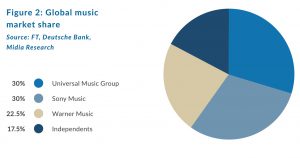 This dominance is also exemplified by 85% of music streamed on Spotify being owned by either the three major labels (Universal Music Group, Warner Music or Sony Music) or Merlin, which represents many independent labels.
Given this bargaining power, streaming platforms require major scale to negotiate decent licence agreements with labels. Spotify, for example, was able to move gross margins from 15% to 25% by negotiating better license agreements with labels. This was only achievable thanks to the company's scale.
Smaller streaming companies, on the other hand, will struggle to achieve the scale necessary to be competitive.
Revenue received from the streaming oligopoly has become vital to music labels
The rapid growth of streaming platforms has made them vital to music labels. Not only is streaming the largest contributor to music industry revenue, it is the fastest-growing segment by some distance. Streaming has grown from 3% of global music revenue in 2009 to 38% in 2017 (see Figure 3). Physical sales remain the second-largest segment of the industry. Physical sales have relentlessly declined from $25bn in 1999 to just over $5bn in 2017. At one stage, digital downloads appeared to be the future of the industry. Digital downloads peaked, however, in 2012 at $4.4bn and have since shrunk alongside physical sales. Even with physical sales and digital downloads coming under pressure, total industry sales entered a growth phase in 2015. That growth is being driven by the streaming market, which has grown 42% p.a. since 2009.
The major record labels now generate over half of their revenue from streaming services (see Figure 4), making the streaming players vital to the music labels. This has resulted in the music labels needing the streaming platforms for the revenue they provide just as much as the streaming platforms need the music labels for the labels' licence rights.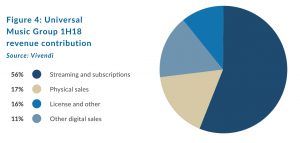 Operating leverage on marketing spend 
Barriers to entry rise over time for new entrants as operating leverage improves marketing efficiency for incumbents. A music streaming platform incurs customer acquisition costs to attract new subscribers. As the average tenure of subscribers on the platform lengthens, the proportion of the subscriber base that was recently acquired and to which marketing dollars were recently devoted, falls.
The marketing cost associated with these long-tenure subscribers is lower than the marketing cost to acquire new subscribers. This process should allow the company to achieve operating leverage with regards to its marketing costs. As Figure 1 demonstrates, new entrants will have to compete with incumbents that already enjoy a large lead in this respect.
Music streaming platforms are not profit centres for their companies
Table 1 shows that, with the exception of Spotify, these companies derive the vast majority of their revenue from non-music related businesses.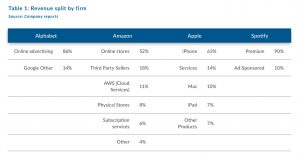 Music streaming platforms are also unlikely to become profit centres for most of their companies because the size of the music market is small, despite its cultural significance. Global industry revenue totalled $17.3bn in 2017. Compared to other sectors in which major techology firms operate, such as global advertising ($585bn) or smartphones ($458bn), the addressable market for music is tiny.
If Apple, for example, were to capture all $17bn of the music market, that would equate to only 7% of additional revenue growth for the company. Clearly, the market opportunity is not the sole motivator to enter this space.
Apple's CEO, Tim Cook, has intimated as much. The large-cap tech companies may view their streaming offerings as a way to entrench their respective businesses. While Apple may not be in music for the limited market opportunity, it most likely views it as a way to support its 1.4bn active devices in its ecosystem and increase switching costs for those users. For Amazon, music streaming serves as one of numerous value-adds for its Prime membership (we note that you must subscribe separately to Amazon Music Unlimited even if you are a Prime member) rather than a meaningful revenue driver for the company. Spotify is an exception here as it is solely focused on the music streaming market.
For new entrants, it is very difficult to compete with incumbents providing a competing service if those incumbents do not view the market as central to their own bottom line. These incumbents may use their much larger balance sheets to subsidise losses that new entrants cannot sustain for meaningful periods of time.
The music streaming market is still young, yet an oligopoly amongst providers has emerged. This note has examined the advantages of scale, operating leverage and adjacent businesses that serve as barriers to entry for incumbents against new entrants.
We are monitoring the music streaming market to keep abreast of investment opportunities for stand-alone services, such as Spotify, and to glean further insights on the larger-cap technology firms in the emerging oligopoly we have described (Apple, Amazon and Alphabet). Given the competitive advantages we have discussed, we expect incumbent firms to continue to dominate the music streaming market.