In 2013, Seleho completed his BCom in Economics and Finance at Wits University, where he received the SASFIN Securities Prize. The next year, he was awarded the Postgraduate Merit Award upon enrolment for Honours. Seleho joined Cannon Asset Managers in January 2015 and moved to Anchor in November 2015. He is a CFA charterholder.
The video game industry is unusual in that it remains the only major form of entertainment that has not fully transitioned to a streaming model. All other major forms of entertainment (TV, film and music) were disrupted in the 2010s by streaming services that offered access to, rather than ownership of, content. The music industry transitioned to streaming due in large part to Spotify and Apple Music. Home video, pay TV and cinemas were disrupted by streaming in the past decade by Netflix and Amazon Prime initially, with subsequent over-the-top (OTT) cinema and television content offerings coming from Apple and Disney towards the end of 2019. The video game industry, however, has not undergone a similar transition. While several video game streaming services exist, none have gained meaningful traction yet. In this note, we examine the viability of the video game industry moving towards a full streaming model. We find that the industry's large and growing addressable market, high proportion of revenue from digital channels, heavy sales concentration amongst major franchises and the emergence of free-to-play games makes a potential shift to streaming viable.
The video-game industry is big enough to make it attractive for large tech companies with the resources to offer streaming services to find it financially attractive to do so. Google launching its streaming service, Stadia, in November 2019, is the latest illustration of this. The gaming market is significant in size at over $130bn in annual revenue. The video game sector is also now the second-biggest subsector of the entertainment market, behind only pay TV. Indeed, the video game market is larger than the cinema box office and music industries combined and is also more than six times the size of the global music industry in terms of revenue. Given the fact that the $19bn worldwide music market was viewed as large enough for companies such as Spotify, Apple and Amazon to offer music streaming services, it appears likely to us that the c. $130bn global video game market is sizeable enough for the streaming opportunity in video games to be financially viable. Furthermore, not only is the videogame industry large, it is also growing quickly. The industry has grown by 12.6% p.a. from 2013 to 2018 (see Figure 2). This is a significantly faster rate than the music and film sectors, which grew by 5.2% and 0.3%, respectively, over the same period.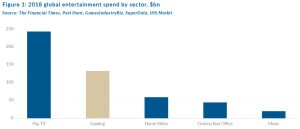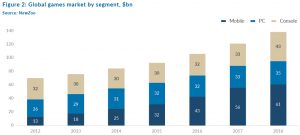 The high proportion of video game industry revenue that is digital also makes a potential shift to streaming viable. Figure 3 shows digital revenue as a percentage of total revenue for the three largest US video game publishers. From 2011 to 2019, digital revenue increased from less than 40% of revenue to between 60% and 80% of revenue. This trend increases the viability of video game streaming for two reasons: First, a high proportion of digital revenue indicates that consumers are already accustomed to engaging with video game content primarily via digital channels rather than through physical CDs; and second, this trend is positive for video game publishers' margins, which should increase the very same publishers' appetite to see the industry move towards streaming. Figure 4 demonstrates the improvement in free cash flow margins for the three largest standalone US video game manufacturers from 2011 to 2019. We believe that the increasingly digital nature of revenue was an important contributor to this margin improvement.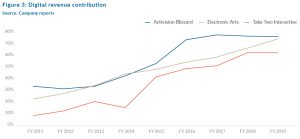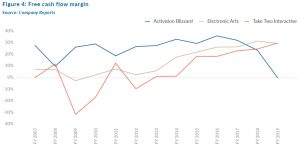 The heavy sales concentration among major franchises in the video game industry also makes the shift to streaming feasible. Figure 5 illustrates the heavy sales concentration that characterises the industry. The top-ten titles accounted for 38% of US retail sales in 2018. This concentration of sales in major titles can also be seen in individual video game companies. As Figure 6 shows, the large US video game publishers have a small handful of titles which contribute to between 40% and 60% of each's annual revenue. Traditionally, video game studios have had to focus on their biggest franchises because of the high degree of sales concentration amongst these titles. A streaming service would help to alleviate this issue by reducing the cost of distribution and allowing video game studios to devote more resources to niche audiences. As things currently stand, gamers are playing fewer games for longer periods of time as the industry becomes increasingly concentrated around major hit titles.
"Gamers are playing fewer games longer, creating and sustaining new franchises remains one of the most difficult tasks in the entertainment industry."
Bobby Kotick,
Activision Blizzard CEO
First quarter 2019 earnings call, Bloomberg
The incentive for gaming companies to risk financial and human capital to develop new games is low, especially given the industry's high sales concentration. Gamers are unlikely to divert portions of their gaming budgets for unknown, new titles if the business model remains one of ownership of, rather than access to, content. Streaming may potentially change this paradigm. Under a streaming model, gamers will be able to access a lesser known niche title without having to take on the risk of paying for it specifically and gaming companies can better serve these niche audiences.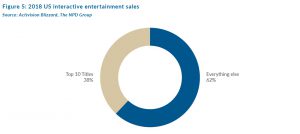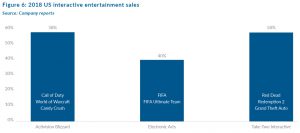 The emergence of free-to-play games makes a potential shift to streaming viable. In recent years, free-to-play titles such as Fortnite have disrupted the traditional business model of the industry.
"If I think about Battlefield 5… we were never truly able to catch-up…as our competitors continued to build momentum whether that was Fortnite or Red Dead Redemption 2 or Call of Duty"
Andrew Wilson, EA CEO
Third quarter 2019 earnings call, Bloomberg
Titles such as Fortnite can be played on multiple platforms (PC, console or mobile). Unlike traditional AAA titles such as Call of Duty (Activision Blizzard), Battlefield (Electronic Arts) or Grand Theft Auto (Take-Two Interactive), free-to-play games are not monetised by the gamer paying for the game upfront to access it. Instead, free-to-play games are monetised by gamers' in-game spending. Large publishers such as Activision Blizzard or Electronic Arts have worked to counteract the free-to-play phenomenon by offering free-to-play titles of their own. A shift to streaming would assist the major publishers in counteracting the free-to-play phenomenon. Publishers would no longer need to rely on consumers paying upfront for titles as they currently do. Instead, these companies could monetise their titles through subscription fees, giving consumers access to a wealth of content without requiring payment for individual titles.
Video games are unique in that they remain the only major form of entertainment to not have made a meaningful move towards streaming. In examining the viability of the video game industry moving towards a streaming model, we found that a potential shift to streaming is indeed viable due to the industry's large and growing addressable market, the high proportion of revenue from digital channels, heavy sales concentration amongst major franchises and the emergence of free-to-play games.