Figure 1: Rand vs US dollar gauge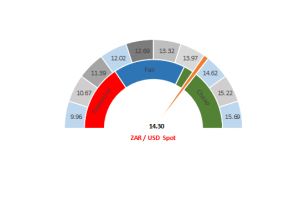 Source: Anchor
The rand has been on the front foot against the US dollar for the past week or so gaining c. 4.6% since the public holiday (17 June) to yesterday (27 June). Several factors have supported the local currency against the greenback including:
A dovish US Federal Reserve (Fed) statement last week, which left borrowing costs unchanged (as expected) but signaled that it was ready to cut rates in the future if it became clear that global growth was weakening;
a weaker dollar (which benefits emerging markets [EM] currencies in general); and
a stronger gold price– gold exports are an important foreign-exchange earner for SA. The price of the yellow metal reached a six-year high earlier this week.
The US Fed is not the only central bank to make headlines recently – the European Central Bank (ECB) also indicated earlier this month that quantitative measures are being considered to aid the European economy.
While trade war fears remain in focus, US President Donald Trump and Chinese President Xi Jinping are set to meet on the sidelines of the G20 summit, which starts on Friday (28 June) in Japan. Markets will be closely watching any developments for a sign that the two countries may move closer to an agreement to end the ongoing US-China trade war. Conversely, any escalation in trade-war rhetoric (from either side) could put further pressure on global markets (including SA), and weigh on the rand.
Figure 2: Actual ZAR/$ vs rand PPP model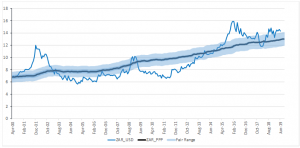 Source: Bloomberg, Anchor