Figure 1: Rand vs US dollar gauge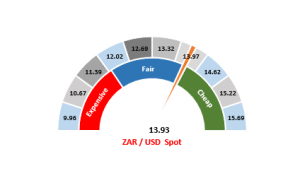 Source: Anchor
We find ourselves in a strong US dollar environment currently, with the dollar having gained c. 1%-plus against the euro over the past few days. Locally, this manifests itself as rand weakness and we see the rand trading at around R14.40/$1 this morning (25 April).
Globally, we have seen poor economic data coming out of both Europe and Asia, with the Bank of Japan pledging to keep interest rates low and monetary policy accommodative even as the negative effects of this stance are beginning to pile up. The zero interest rates that are available in the rest of the world are making US bonds look more attractive at their 2.57% yields. This has also been providing some support to the dollar. Additionally, we are working through the current earnings reporting season in the US and, although US economic data have been soft, it is looking like the listed companies are performing well. Thus far it has been a positive earnings season, again making the US look like an attractive investment destination.
Against this backdrop, emerging markets (EMs) have been experiencing a more difficult time. While it looks like Chinese growth is bottoming, there are market rumours that Turkey has been rather creative in overstating the extent of the nation's foreign exchange reserves. The senseless bombings in Sri Lanka have also put a dampener on EMs. The focus on Wednesday (24 April) was Argentina's election and a sell-off in the Argentine peso. With a strong dollar environment and weaker EM sentiment, it was inevitable that the rand would weaken.
Unfortunately, South Africa has also been complicit in helping the rand weaken with a massive Eskom government bailout at the beginning of April the clearest sign yet that the utility has run out of money. Politicking is also in full swing at the moment, as various political parties vie for seats in parliament after the 8 May general election. Consumers remain under pressure and the slump in consumer confidence is yet another sign that our economy is not well.
As mentioned earlier the rand is back in slightly cheap territory at R14.40/$1. However, until the global environment changes, we believe that there isn't likely to be much in the way of support for the currency getting meaningfully stronger.
Figure 2: Actual ZAR/$ vs rand PPP model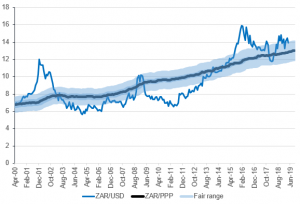 Source: Bloomberg, Anchor