On Monday (24 February), Sasol reported disappointing results for the six months ended 31 December 2019. Headline earnings per share (EPS), fell 74% YoY to R5.94, with the combination of weak oil (a 9% YoY drop in the rand per barrel price of Brent crude) and chemicals prices as well as heavy Lake Charles Chemicals Project (LCCP) capital expenditure (capex) continuing to pressure the balance sheet. Sasol did say that it is anticipating that LCCP will start generating positive earnings before interest, tax, depreciation and amortisation (EBITDA) in 2H20.
Capex spending should ease going forward, as it is guided to nearly halve (-46%) from R56bn in FY19 to R30bn in FY21 (FY20 guidance: R38bn). As a result of weak oil and petrochemical markets and LCCP capex, Sasol is at the upper end of its balance sheet guidance ranges. Gearing is at 65% (vs Sasol's guidance of 55%–65%), while net debt/EBITDA is at 2.9x (vs guidance of 2.6x–3.0x). Unsurprisingly, the dividend has been cut for this period and a final dividend is also very unlikely.
Figure 1: Sasol capex, Rbn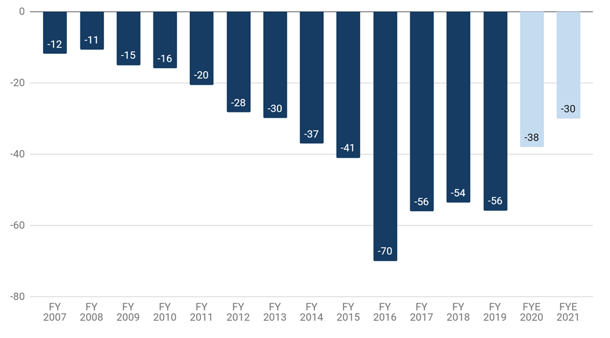 Source: Sasol
LCCP now has 80% of its installed output online and the project is 99% complete (LCCP capex tracking is at $12.8bn). LCCP also recorded a negative impact of R2.8bn on EBITDA for the half-year. There was a further R2.0bn in interest expense (c. R3.20/share) that hit the income statement for the half-year. Looking ahead, Sasol is guiding for $600mn-$700mn in FY21 LCCP EBITDA. At the midpoint, that would equate to R10/share in EBIT (c. R3/share in EPS), if achieved.
In our view, the share is cheap if one assumes a relatively normal environment for oil and chemicals prices. We calculate that Sasol should be able to generate R30 HEPS in FY21 if oil averages $60/bbl and with only a moderate recovery in chemical prices. At a R200/share price it is attractive if achieved (6.7x multiple on FY21 earnings under this scenario). The challenge between now and then is the risk to the balance sheet if oil and chemicals prices decline. If oil averages below $55/bbl for an extended period (and chemicals prices are similarly weak) then the company is likely to breach its covenants (which have already been lifted for December 2019 and June 2020 from 3.0x to 3.5x for net debt/EBITDA). Sasol is a highly leveraged cyclical company at a time where its commodities are under pressure. Nevertheless, if Sasol can get through the next 12-to-18 months, the share is notably cheap (trading below 7x on earnings that don't have demanding oil or chemical price assumptions).
Why is Sasol's core HEPS so much larger than its reported HEPS?
The difference is mostly driven by LCCP losses incurred during the current ramp-up phase – see the reconciliation in Figure 2 below.
Figure 2: Core headline EPS reconciliation

Source: Sasol
On Monday's investor call, most of the discussion focused on LCCP and Sasol's balance sheet. Below, we highlight some main points from the call.
What does the ramp-up of LCCP look like?
The company said that January was very good, with EBITDA exceeding any other month of 1H20 (July–December 2019).
Sasol has also seen an uplift in EBITDA in January and February 2020.
LCCP EBITDA broke even in January, while February recorded a positive contribution – the company said that its $50mn-$100mn FY20 LCCP EBITDA guidance was on track.
Sasol also noted that it was "very comfortable" in terms of the current EBITDA run-rate (the LCCP EBITDA monthly run-rate is at $30mn).
Sasol has downgraded its LCCP EBITDA guidance due to lower prices.
At what point does Sasol get close to breaching its debt covenant?
Rand weakness has not been positive for translation of US dollar-denominated debt.
In terms of the oil price, Sasol said it can "stomach" R800/bbl or higher (spot: R841/bbl).
Sasol cited an oil price below $50/bbl as being able to hurt the business if sustained for any meaningful period of time. Net debt/EBITDA would then exceed 3.5x covenant at those levels.
What happens if Sasol breaches the covenant? 
The net debt/EBITDA covenant is 3.5x for December 2019 and June 2020.
The net debt / EBITDA covenant is 3.0x from December 2020 onwards.
If, in December 2020, the ratio is 3.1x for example (i.e. breaching a then 3.0x covenant), Financial Director (FD) Paul Victor said that Sasol would look to engage with its bankers, to potentially lift the covenant at that point.
However, management still believe Sasol is on track to reach the $2bn target from asset disposals although they didn't provide any information beyond an 18-to 24-month timeline.
Victor described reports of a potential rights issue as being "premature".
What will trigger a resumption of dividend payments? 
Gearing below 50% would be the first port of call (it stood at 65% as at 31 December 2019).
Sasol believes that it is likely to take longer than 12 months to get to that point. In the FD's words, "The probability of us paying a final dividend is extremely remote."