The COVID-19 pandemic and the various ensuing enforced lockdowns have placed an already struggling South African (SA) economy under even more severe strain. And, unfortunately, it does not appear that this pressure will be alleviated any time soon. According to the latest BankservAfrica Take-home Pay Index (BTPI) data, released on 29 July 2020, the number of monthly take-home salaries paid in June 2020 decreased by 20.7% YoY. That is a staggering number! BankservAfrica writes that just over one-fifth of SA employees did not receive a salary in June. The combined decline of total take-home pay and pensions was 23.5% YoY. BankServe collects payroll data from most large businesses and a fair number of medium-sized businesses served by payroll service providers and firm-owned payroll administrators, to construct the BTPI. In this environment, we can imagine that consumers will be very reluctant to part with their money. Luxury items are being shunned and any discretionary spending is being postponed. Local consumers are also extremely reluctant to take on any credit for non-essential items.
This is supported by the sales updates being released by various SA retailers, which shows that YoY sales growth is down significantly over the past quarter (2Q20). If we exclude some of the various consumer segments in these retail groups e.g. food for Woolworths, electronics and building materials for Pepkor, and we focus only on apparel trading, for example, we see that SA consumers have been tightening their belts even further.
Figure 1: YoY sales growth for SA retailers by business segment, 2Q20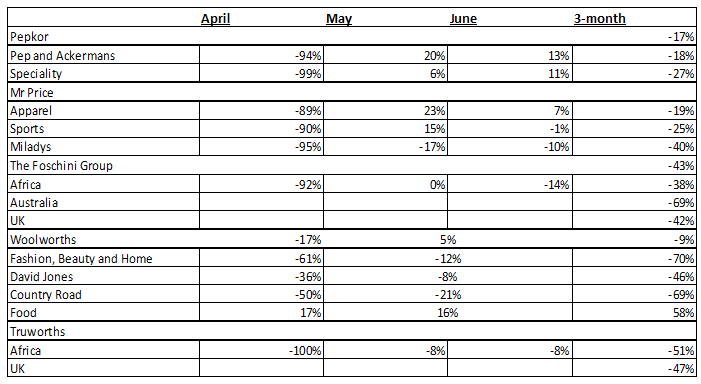 Source: Bloomberg, Company data, Anchor
Higher-priced fashion retailers such as Woolworths and Truworths have significantly underperformed the lower-priced value retailers like Mr Price and Pepkor. Although Pep, Ackermans, and Mr Price all reported negative YoY sales growth during the lockdown period (2Q20), these retailers nevertheless recorded a robust performance since the hard lockdown was lifted slightly, while the higher-priced retailers continued to struggle.
We believe this trend could continue over the medium term as the local economy struggles through the post-COVID economic consequences. However, we also highlight that this is already reflected in the valuations of the apparel retailers with the valuation metrics of the value retailers currently trading at a premium.
Figure 2: YoY sales growth by retailer, 2Q20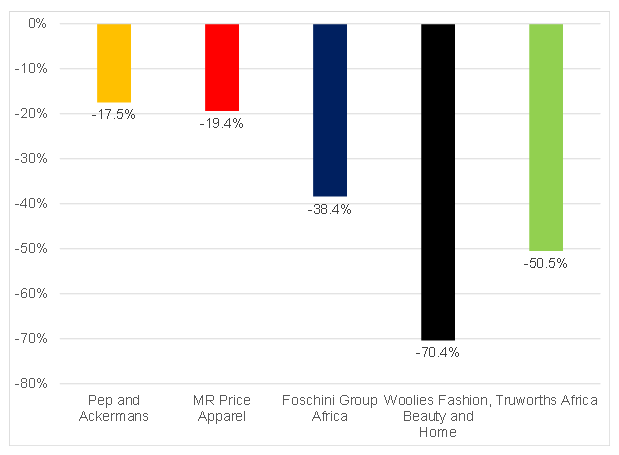 Source: Bloomberg, Anchor
Figure 3: 12-month trailing PEs – selected SA retailers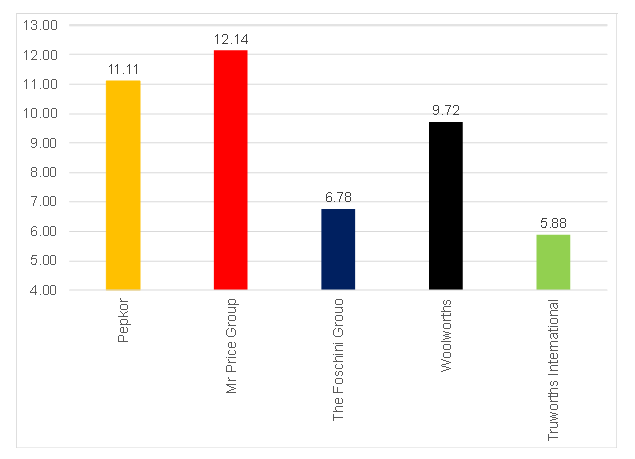 Source: Bloomberg, Anchor.
Given the stress that the SA consumer is under currently, we remain underweight the retail sector until we can see a clearer economic recovery path for SA.