Raubex released solid interim results for the six months ended 31 August 2021 (1H22) on Monday (8 November). However, we note that, while these results (1H22) were solid, they cannot be compared with the previous year's comparable period as 1H21 was significantly impacted by COVID-19, while 1H22 was mostly unaffected by the pandemic. Compared to normalised operations in 2H21, 1H22 results showed an improved operational performance over the six-month period. Although Raubex achieved a record order book of R17.1bn at its FY21 results, the order book has been relatively flat since then as there has not been any announcements on project wins for the company.
The order book is now at R16.6bn and Raubex has kept it relatively stable by securing smaller projects. Overall, nothing from these results changes our view on Raubex and we continue to believe that its secured order book could increase as the company has unsecured contract opportunities that are significant in value and pending adjudication. An announcement on any contract wins by Raubex will be positive for the share price. We also remind our readers that contracts that are pending adjudication have been bid at slightly better margins and consequently our investment thesis on the counter is intact and we remain holders of the share.
Result highlights
It is important to note that these interim results cannot be compared to 1H21 as the previous year's comparable period was significantly impacted by COVID-19-effects. Against the normalised trading period of 2H21, Raubex's 1H22 results showed an improvement over the six months from that lower base.
Revenue increased by 52% YoY.
The Group operating margin rose to 7.3% from 0.6% in 1H21.
Earnings per share (EPS) soared 657.9% YoY to ZAc140.6 vs a loss per share of ZAc25.2 in 1H21.
Headline EPS jumped 615% to ZAc137 (the upper end of the Group's trading statement guidance), compared to a loss per share of ZAc26.6 in 1H21.
Raubex declared an interim dividend of ZAc47/share.
Cash generated from operations rose to R4.87bn vs R4.51bn in 1H21, with capital expenditure increasing to R287.3mn.
All three of Raubex's operating divisions delivered solid performances over the six-month period.
Figure 1: Raubex segmental revenue, R'000

Source: Anchor, Bloomberg
Figure 2: Raubex segmental operating profit, R'000

Source: Anchor, Bloomberg
Figure 3: Raubex segmental operating margin, %

Source: Anchor, Bloomberg
The order book
The Group currently has a secured order book of R16.6bn compared to R17.1bn as at FY21. However, here we highlight the following:

Despite a relatively stable orderbook, Raubex's order book could increase further if it is successful in securing further contract opportunities.

Raubex has tendered for several projects that are significant in value and the company is awaiting adjudication on those contracts.
Figure 4: Raubex order book by customer, Rmn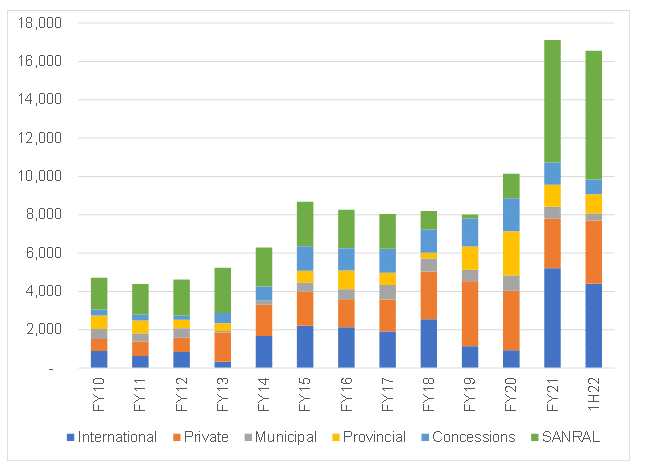 Source: Anchor, Company data
On Bid Window 5 for renewable energy independent power producers (IPPs), government has announced c. 25 preferred bidders. Raubex has partnered with some of these preferred bidders, and it will update the market once commercial close is finalised and the projects are awarded.

Overall, we think that Raubex is well placed to benefit from increased infrastructure investment in SA and we see the general outlook for the company as being positive.
Other developments
Raubex has acquired a 23.08% stake in Bauba Resources, a 27.73% stake in Arcadia Minerals (a Namibian diversified explorer), and a 9.56% stake in Vanadium Resources.

All the above are strategic partnerships with the aim of securing materials handling contracts at these mines over the life of mine (typically 10-15 years). In addition, Raubex has first right of refusal for materials handling projects at all of the abovementioned mines.

The rationale given by management is that these investments are a stake in the operations of the mine and have been made to secure materials handling contracts. Any equity upside from these investments will be a bonus for the company.
Earnings performance
Management has indicated that it expects a similar second-half performance. Therefore, FY22E HEPS could be between R2.60 and R2.80.

The FY22 consensus estimate of R3.31 appears to us to be incrementally bullish.
Valuation based on Bloomberg consensus estimates
Figure 5: Raubex valuation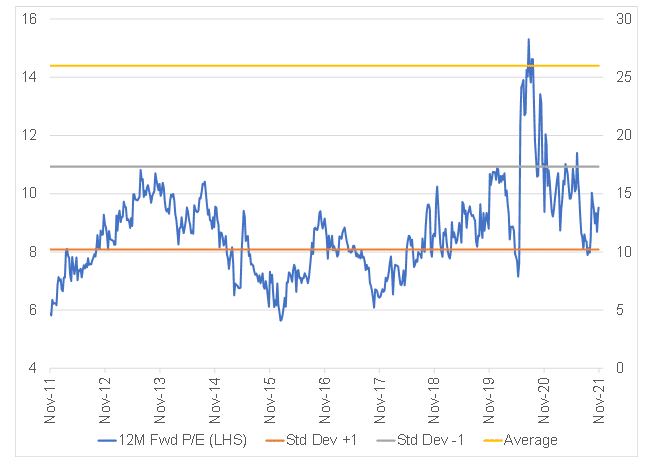 Source: Anchor, Bloomberg
Outlook
Overall, management was relatively optimistic and indicated that developments within the construction sector continue to point towards tailwind effects for Raubex and for the construction industry in general. We believe that the general outlook and operational momentum for Raubex remains positive as RBX delivers on its secured orderbook. We remain holders of the share.