Figure 1: Rand vs US dollar gauge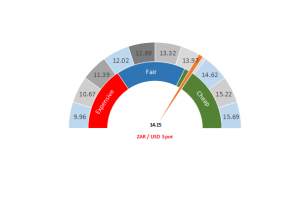 Source: Anchor
After a tumultuous few days, the rand was trading back at c. R14.15/$1 on Tuesday (30 July). The rand was a lot stronger last week but the local currency has reacted negatively to a slew of bad news on the domestic front. If you spend more money than you earn, then you are on the path towards bankruptcy. Yet, if you are Eskom, this has been a business model for some time now. Eskom is setting all kinds of South African (SA) records these days and the utility announced the largest ever loss (of R20.7bn) by a state-owned enterprise (SOE) on 30 July – who would have thought Eskom could outdo SAA? We have already seen the largest SOE bailout in the country's history and Eskom is now also working hard on the most CEO changes in a five-year period and it has have severely dented the country's economy. Unions are hard at work trying to convince us that the issue is modernisation of the business model and that the use of renewable energy (as is done in most of the developed world) is pure madness. Meanwhile, government is trying to persuade us that this will all change once it finally appoints a chief restructuring officer (ex SA Institute of Chartered Accountants [SAICA] CEO Freeman Nomvalo was eventually announced as CRO late on Tuesday). Government has already appointed 50,000 employees at Eskom, yet we are expected to believe that employee 50,001 will make all the difference and things will change. Bottom line – these are indeed very challenging times for Eskom and consequently SA.
Government's track record with SOEs has been dismal. Denel, SAA, Eskom, Transnet, Sanral, etc. are all stark reminders of why too much government involvement in the economy has failed globally. Big government crowds out the private sector and, in the end, it does more harm than good. Regrettably, the SA government continues on this path with its latest ill-advised endeavour being to nationalise the entire medical industry so that they can run that as well. Unfortunately, when government failed with Eskom the lights went out but when government eventually fails in its management of a medical scheme people will die! Let's not forget that the last time government was intricately involved in managing people's medical requirements, 144 psychiatric patients died in the Life Esidimeni tragedy.
The rating's agencies have already reacted, with all three of the major agencies (Moody's Investors Service, Standard & Poor's [S&P] and Fitch Ratings) pointing out that the Eskom bailout is credit negative for SA. None of the ratings agencies see any meaningful traction on Eskom and all three expect the deterioration of government finances to continue. Meanwhile, our finance minister has hinted that his plan might be to tax us to prosperity.
It is difficult to feel positive when you look at what has been done to the infrastructure on which we rely. It is equally horrifying to think that government wants us to hand more infrastructure over to them to manage. Nevertheless, we do believe that this situation can be rectified and that SA can prosper. However, we need to see decisive action. Government needs the political will to stop repeating economic and social experiments that have failed elsewhere in the world to see if these experiments will fail here too. The changes we need are obvious, but unfortunately uncomfortable for government and the various interest groups it wants to appease.
This all means that SA financial assets are likely to trade with a risk premium attached to them. We think that the markets are now pricing in an 80% probability of at least a negative rating outlook from Moody's. While the rand and domestic bonds are cheap, they are likely to remain so for a while.
Figure 2: Actual ZAR/$ vs rand PPP model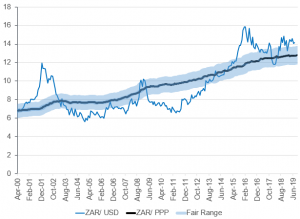 Source: Bloomberg, Anchor