In an increasingly contentious global inflationary environment, with record price spikes abroad as supply bottlenecks and the Northern Hemisphere's energy crunch take their toll, South Africa's (SA's) latest inflation data were released on 17 November. The October inflation print came in as expected, with headline CPI unchanged at 5%. Core CPI inflation (which excludes the more volatile categories of food and energy costs) also remained steady at 3.2%, and services inflation stood at just 3% YoY – both indicative that demand-pull inflation remains subdued.
Food prices have been a key driver of SA's higher inflation prints over the past few months but, for October, the food and non-alcoholic beverages inflation categories eased for a second-consecutive month to a seven-month low of 6.1%. Unfortunately, its disinflationary impact on the headline print was offset by higher fuel price inflation.
Figure 1: SA inflation, YoY % change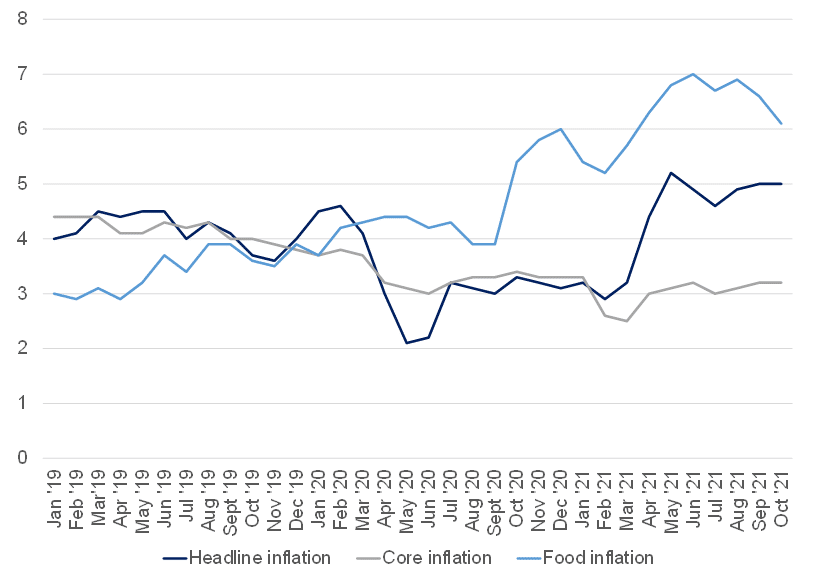 Source: Anchor, StatsSA
Figure 2: SA CPI basket weights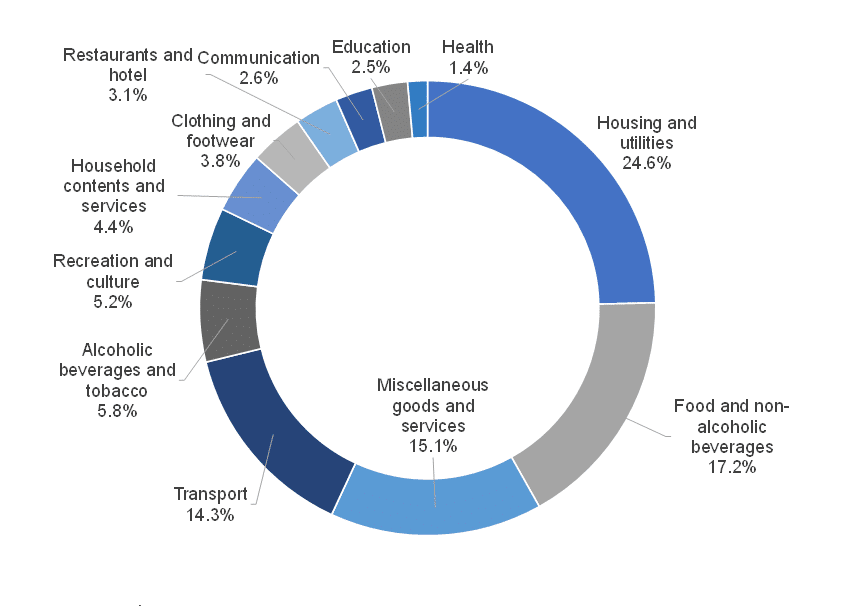 Source: Anchor, StatsSA
Interestingly, most of the key factors that have been driving food inflation over the past few months remain. For example, although meat inflation has moderated to 9.1% YoY, the rise in prices and its expenditure share in the CPI food basket still make it the largest driver of inflation over the past month. Market stakeholders are, however, reporting that producers are continuing with herd rebuilding, which constrains calf supply for feedlots. This, along with high input costs in the form of feed, has resulted in lower slaughter numbers, which in turn kept retail prices for meat at elevated levels compared to 2020. Slaughterings in September 2021 are c. 3% lower YoY. Notably, the livestock industry is still in the herd-rebuilding process due to the 2015 to 2016 drought. Moreover, the excellent performance in crops production in the 2020/2021 season may have helped to provide some financial breathing room for diversified farmers to rebuild their herds rather than to sell more meat to the domestic market. Overall, it is expected that prices will remain firm but that inflationary rates for meat will ease over the coming months.
In addition, SA is a net importer of oils and fats, and these products' prices have remained elevated in the global market. Those global factors leading to high prices are still at play and are expected to remain at play for the foreseeable future. These factors include high demand for oilseeds used as feedstock for biofuel, strong growth in global energy costs (specifically crude oil prices), and supply constraints over the past year in key production areas globally. This is being exacerbated further by sharp shipping cost increases, which drive up the cost of imported vegetable oils. The FAO Vegetable Oil Price Index averaged 185 points in October 2021 – up 10% MoM and marking an all-time high.
Over the past month, there has also been a significant uptick in vegetable inflation. This is largely attributed to high potato prices because of low volumes during September and early October. Since then, volumes have increased significantly, and prices are now more than 30% lower compared to early October. We expect that vegetable prices will continue to come down and, as a result, also cause inflation for this group to trend lower for the remainder of 2021. Over the coming months, cost pressures in the rest of the value chain, such as increased manufacturing and distribution cost, are likely to limit the downward scope in food inflation. In that respect, movements in the rand vs US dollar exchange rate and the price of crude oil will be key to watch.