Afrimat reported 1H22 results on 4 November, with the building materials and mining company recording a 55.4% YoY rise in first-half revenue to R2.4bn (from R1.6bn), while headline EPS jumped 60.5% YoY to ZAc295.1, albeit from a low base. The company said that the momentum will carry into the second half of this financial year (FY22). Still, the 1H results were a bit softer than what we had expected, especially considering the record iron ore prices and the fact that its Industrial Minerals and Construction Materials segments were locked down for a good part of the comparative period. The 60.5% YoY rise in HEPS looks solid at face value but when you think of the drivers of the business during this half-year vs. the comparative period, we think it should have been a lot better.
A couple of points that stood out for us in these results included the following:
First, the split of the business (see Figure 1) gives a sense of the relative materiality of each division. The fact that the company is listed in the Industrials industry grouping of the JSE is looking increasingly unclear to us, as Afrimat is becoming more of a diversified miner and is likely to move even further in this direction, based on possible acquisitions it is looking at.
Figure 1: Afrimat 1H22 revenue and operating profit by segment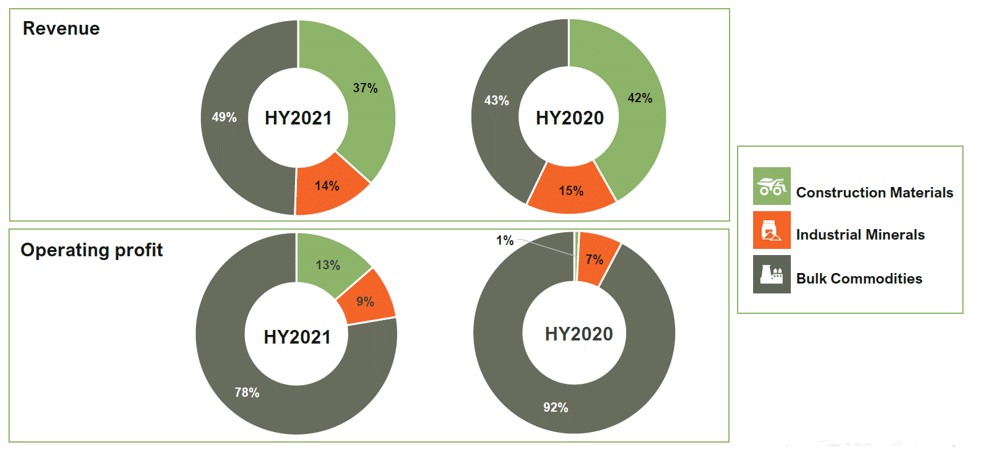 Source: Afrimat
Second, in 1H22, Afrimat generated an operating profit of R583mn, which is important to give context to the various one-off items, which we highlight below:
The Construction Materials segment was relatively subdued, with the company blaming the bad Cape winter and noting that the much-talked about local construction recovery that many of us are hoping for is yet to be evident in terms of what it is seeing in its business. It did say that it is seeing some tentative signs of an improvement – certainly a low base as it stands. During 1H, it wrote off R30mn in stock and assets that got stuck in Northern Mozambique when heavily armed Islamic State-affiliated insurgents began attacking Palma in the province of Cabo Delgado and everyone pulled out (one of the non-recurring negatives during this first-half).
Industrial Minerals: Topline growth was good but margins disappointed. The company said that it is confident that this will improve in 2H22.
Bulk Commodities is where all the focus is at the moment, the reason for this should be pretty clear given the operating profit split above. It was in this area that there were several items that dragged on the 1H22 result, which we highlight below:

The Demaneng iron ore mine, which is the operation that Afrimat has had for several years, did fine and benefitted from the high iron ore price, as expected.

It has been ramping up the newly acquired Jenkins mine which, at full production, will slightly more than double the Group's iron ore output. It only produced 57k tons from this mine out of an expected 500k tons for the full year. This means Jenkins only contributed a very small amount in 1H, but it will be much more material in 2H. This should materially offset the drop in iron ore prices recently.

The Nkomati anthracite mine, which Afrimat bought last year and which it has been bringing back into production, lost R107mn in 1H22. It turned profitable in August and has remained profitable every month since then. According to the company, there should be a big swing profit-wise in 2H.

Last year, Afrimat acquired the Gravenhage manganese mining rights in the Northern Cape. It expects this to start contributing to revenue in FY24, with the plan to ramp-up production (over time) to 1.5mn tons.
The Group generated R806mn in net cash in 1H22, which is about double what it has generated in any previous half-year. This has put it in a stronger position balance sheet-wise than it had planned to be, which bodes well for its ability to pay for recent acquisitions and to fund bringing these acquisitions into production. Afrimat is also looking at opportunities in the rare earth space at present.
The above highlights the swing in performance we are likely to see in 2H22, as Nkomati starts to contribute positively to earnings, Jenkins begins to contribute meaningfully and the one-off issues from Northern Mozambique fall away. Next year, we have the annualisation of the aforementioned. Hopefully, the construction upturn also starts to make itself felt.
The following year (FY24), the manganese project will start to kick in. Obviously, there is a degree of execution risk around these events all happening without incident, but this is a management team that has a good track record and the various deposits it is developing are not particularly complex (open cast for the most part). The appeal in Afrimat continues to lie in the very strong production growth it is set to deliver over the next few years, which sets it apart from other materials plays, which could be considered as being mainly a call on commodity prices, owing to their muted production growth prospects.