Oil prices fell in Asia over the weekend following Saudi Arabia's announcement of a massive discount in prices (ranging from $6-$8/bbl) to customers in Asia, the US and Europe. Analysts have described the cut as "the start of a price war." The move in the oil price came after OPEC's 14 members led by Saudi Arabia met with its allies Russia and other non-OPEC members on Friday (6 March) to discuss its response to falling oil demand on the back of the growing spread of the novel coronavirus (COVID-19). According to media reports, Russia, a non-OPEC member, refused to agree to OPEC's demand to cut 1.5mn barrels of oil production a day, leading recently listed Saudi Arabian state oil giant, Aramco to announce it would open the spigots and cut its oil prices by upwards of $6/bbl. This saw oil prices fall c. 32% on Sunday (8 March) to c. $28/bbl, after initially dropping to below $50/bbl on Friday. Early on Tuesday (10 March), Brent crude was trading slightly higher at around $36/bbl. Still, this was its lowest level since February 2016 according to CNBC.
Below, we look at Sasol's balance sheet given the sharp downwards move in oil prices and in the Sasol share price, which dropped c. 46% on the JSE on Monday (9 March). The huge drop in oil prices comes at a difficult time for Sasol following the delays and overspending at its Lake Charles Chemicals Project (LCCP) in the US. We believe that Sasol will try to raise capital in the markets to improve its situation (or even sell assets). We highlight that, if the current oil price persists, Sasol will be in breach of its debt covenants which means it has to repay some debt earlier.
Figure 1: Sasol balance sheet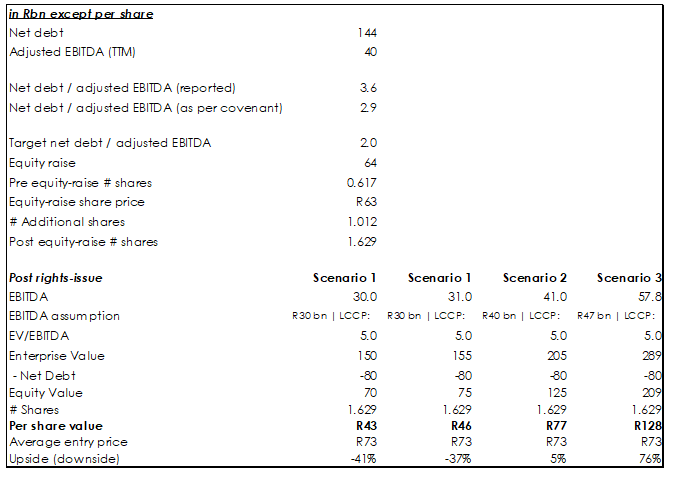 Source: Anchor, Company data
We note that our equity raise number (R64bn) in Figure 1 is a "guesstimate" since the net debt/EBITDA covenant differs to what is reported in the results. Assuming Sasol wants to reduce its net debt/EBITDA to 2.0x and its trailing twelve-month (TTM) EBITDA remains at around R40bn, that implies R80 bn of net debt, which would require a R64bn equity raise by our calculations. We further highlight that, if anything, the R40bn EBITDA assumption looks optimistic going forward.
The takeaway message is that a capital raise looks very likely at present. If we assume that the existing business' EBITDA recovers to its four-year average of R47bn and we use the midpoint of the Lake Charles Chemicals Project's (LCCP's) 2021's guidance of between $600mn and $750mn ($675m), the share would be attractive post a rights issue. However, we highlight that these assumptions seem optimistic to make in the current operating environment.
Figure 2: Sasol trailing 12-month EBITDA, Rbn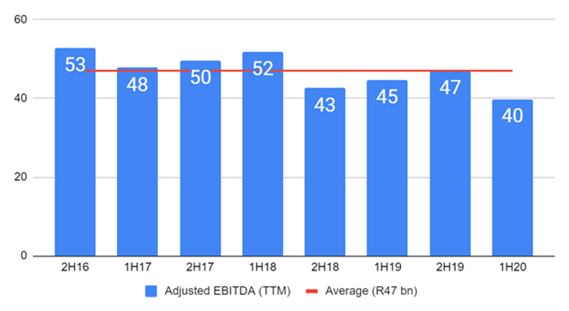 Source: Company data