Globally, the novel coronavirus (COVID-19) pandemic and the ensuing lockdowns have, for the most part, negatively impacted companies, and sectors around the world, with physical businesses such as travel, restaurants, cinemas, bars, etc. especially hard hit. However, there are those companies and sectors that have "benefitted" from the disease and the resultant quarantines. Online businesses (including shopping, video games, streaming, etc.) are not only operating normally in most countries but are thriving. The video gaming industry especially is booming during these periods of self-isolation.
This has resulted in console, PC, and mobile video games all recording impressive revenue growth during the global lockdowns as more people stayed home for longer and utilised gaming as a diversion and a way of staying connected with their family and friends. The large increase in the global audience available to video game publishers (due to COVID-19) is because gaming is an ideal at-home activity which, importantly, also allows for social interaction.
In early May, the gaming and esports analytics provider, newzoo updated its forecasts for the global video game market (excluding esports), which it now expects to generate revenue of $159.3bn (+9.3% YoY) this year. This is nearly four times last year's box office revenues of $43bn and just under three times 2019's total music industry revenues of c. $57bn. Newzoo writes that it expects COVID-19 lockdown measures to result in "… higher consumer spending on games, especially mobile." It forecasts that the mobile and smartphone segments of the gaming market will show the strongest growth (see Figure 1), with smartphone gaming jumping  by 15.8% YoY to $63.6bn and mobile gaming increasing 13.3% YoY to $77.2bn. Expectations for gaming consoles come in third, with a 6.8% YoY rise to $45.2bn.
In terms of revenue generation, the world's largest gaming market is Asia-Pacific, with a c. 50% market share, followed by North America (with a c. 25% share of total global revenue).
Figure 1: Video gaming industry market share, 2020 estimates by device/segment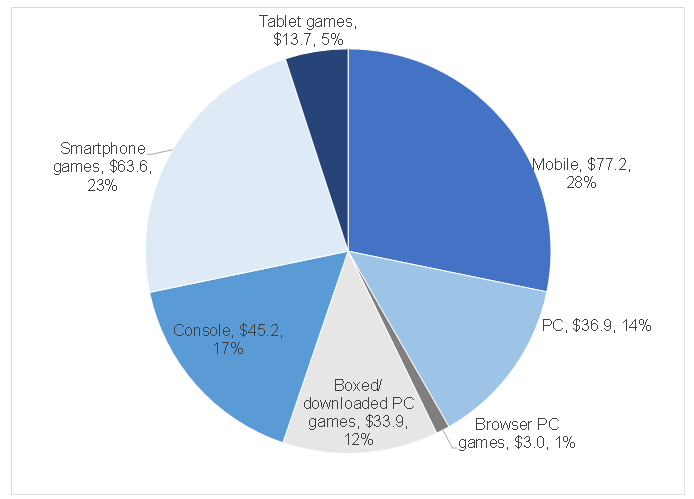 Source: Newzoo, Anchor.
Note that the dollar amount in Figure 1 is in billion.  
Figure 2: Global video gaming market revenue forecasts, 2019-2023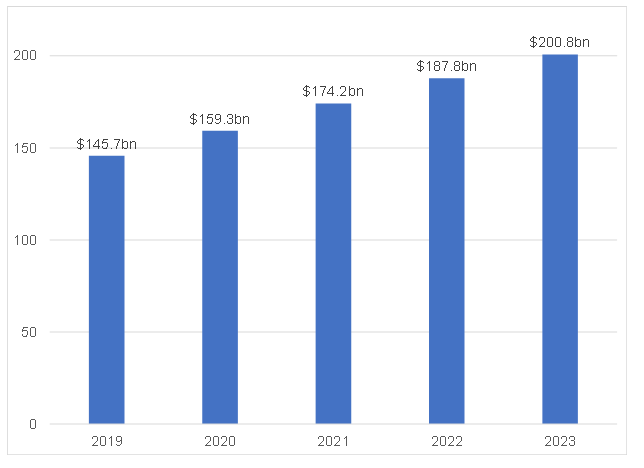 Source: newzoo
Gaming giants have benefitted from the lockdown, with Nintendo and Tencent, which both reported results recently, showing impressive sales growth in 1Q20. Nintendo's 4Q20 results (the company's January-March 2020 quarter) saw a threefold profit surge. Its Animal Crossing: New Horizons game, released on 20 March, sold over 13mn copies in its first six weeks of release – the fastest-selling title ever for Nintendo's Switch console and the second best-selling game of 2020 (in the year to 21 April). Media reports have attributed its success to gamers wanting a sense of escapism under lockdown. Nintendo has sold 168.72mn copies of games in the past year, for a total of 356.24mn in the Switch's lifetime, which means that FY20 (or the year to end March) accounted for nearly half of all its Switch software sales since March 2017 (when the Switch was launched).
Tencent's 1Q20 online gaming revenue was also very strong, rising 31% YoY with sales across its 50 key markets jumping 63% YoY, according to GamesIndustry.biz. The fact that most of China was under lockdown in 1Q20 means that one should probably not be surprised by this. This is also Tencent's most globalised business and it was pointed out that there is a c. two-month lag in lockdowns in China vs the rest of the world, meaning that strong gaming trends seen in China during 1Q20, will likely be mirrored elsewhere in the world in 2Q20, albeit not to the same extent.
Activision Blizzard is another company that reported impressive 1Q20 earnings in early May, beating consensus analyst estimates by c. 59% – EPS came in at USc58 on revenue of $1.79bn (consensus had expected EPS of USc38 on revenues of $1.32bn). The reason for the beat was largely on the back of the mobile version of its Call of Duty title. When Call of Duty: Warzone launched on 11 March, the US was just going into lockdown. In its first month, the free-to-play game was downloaded over 50mn times as social distancing and self-isolation contributed to its success.
Globally, digital video game spending hit a record high in March as total revenue for the month topped $10bn – the highest-ever total for a single month and an 11% YoY rise according to Nielsen SuperData. Consumer spending on the premium console (+64% MoM, from $883mn to $1.5bn) and PC games (+56% MoM, from $363mn to $567mn) segments also jumped sharply for the month. Mobile games thrived, with revenue rising 15% YoY to $5.7bn for March.
Figure 3: March spending on video games worldwide by type, $bn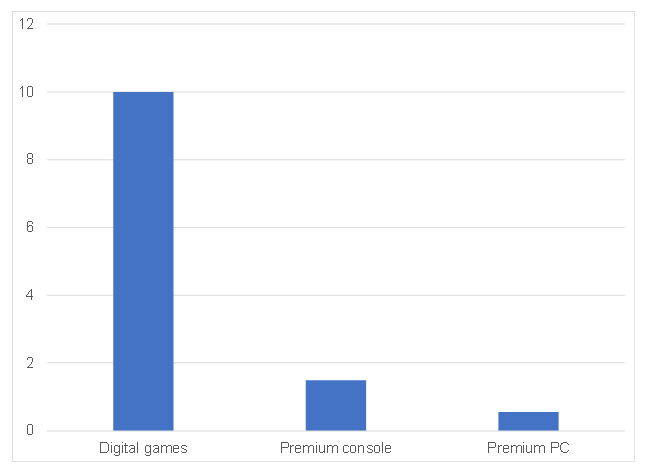 Source: Statista, SuperData
For 1Q20, NPD Group data show that overall US-only consumer spending on games and gaming products hit a record $10.86bn – up 9% YoY. Sales of games and in-game micro-transactions accounted for $9.6bn of the $10.9bn quarterly total. Gains were seen across console and PC content, mobile and subscription spending and even in hardware (a segment which had been slowing). The US hardware market rose 2% YoY to $773mn, led by strong growth in Nintendo's Switch hardware and software. Sales of accessories (headsets, gamepads, cases etc.) advanced 1% YoY to $503mn.
In March alone, due to large parts of the US being quarantined because of COVID-19, demand for video games grew dramatically with all game-related purchases totalling $1.6bn – up 35% YoY. According to the NPD Group this was the highest monthly amount spent since March 2008 (when $1.8bn in monthly  spending was recorded on gaming and related purchases).
Time spent playing video games in March jumped by 45% YoY in the US, with Statista data indicating that the US ranked as the leading country globally in terms of the increase in time spent playing video games. The US was followed by France in second place, with a 38% YoY increase in time spent, and the UK in third position, with a 29% YoY rise (see Figure 4).
Figure 4: Percentage increase in time spent playing video games during COVID-19 by country, March 2020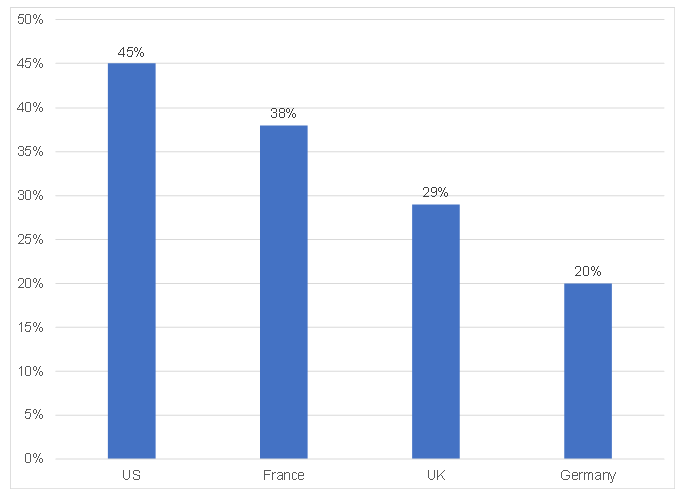 Source: Statista