The Walt Disney Company (Disney) on Thursday (8 November) reported 4Q18 results, which easily topped consensus analyst expectations on both the top and the bottom line. EPS of $1.48 (+38% YoY) was above the $1.34 Refinitiv consensus forecasts had been expecting, while revenue of $14.31bn (+12% YoY) was also ahead of the $13.73bn Refinitiv consensus had estimated. In 4Q17, Disney reported adjusted earnings of $1.07/ share on revenue of $12.78bn. Net income came in at $2.32bn (+33% YoY). A reduced tax rate boosted results by $1.2bn. Once again, Disney showed impressive growth in its Studio Entertainment (YoY studio revenue grew by 50% to $2.15bn) and Parks and Resorts segments, which the company said were also significant contributors to the 24% growth in adjusted EPS for FY18. For FY18, Disney posted adjusted earnings of $7.08/ share on $59.43bn in revenue – both above the Refinitiv consensus estimates of $6.94/share in earnings on $58.87bn in revenue, respectively.
Disney: 4Q18 vs 4Q17 revenue by segment, $mn:

Source: Company data, Anchor
Disney: 4Q18 vs 4Q17 operating income, $mn:

Source: Company data, Anchor
Disney: Revenue contribution by division, 4Q18: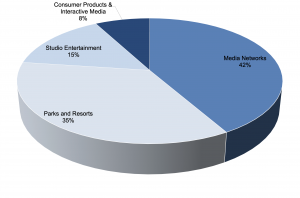 Source: Company data, Anchor
Disney: Operating income contribution by division, 4Q18: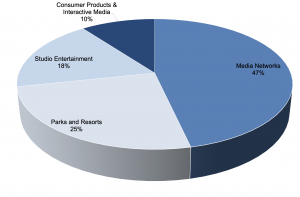 Source: Company data, Anchor
In terms of Disney's four operating segments, we note the following:
Media networks (42% of revenue [+9.1% YoY]; 47% of operating income [+3.6% YoY]): Disney's largest division (which houses ESPN) saw revenue advance by 9.1% YoY to $5.96bn for the quarter, vs a StreetAccount estimate of $5.70bn, while operating profit rose 3.6% YoY to $1.5bn. Disney has also been building its streaming service offerings and it launched $5/month ESPN Plus streaming service with sports in April. On the conference call, CEO Bob Iger said that the new streaming service will be called Disney Plus with family-friendly shows and movies. The streaming service will feature five categories of material: Disney, Pixar, Marvel, Star Wars and National Geographic, but no pricing has been disclosed yet. Disney plans to keep investing in Hulu and use it as a home for more general programming. Although the firm said the online investments have yet to be profitable, Iger indicated that he was pleased with results so far, especially at ESPN Plus, which currently has more than 1mn subscribers. "The early growth trajectory of ESPN Plus is very encouraging and we believe it bodes well for our global… strategy," Iger noted. Total Media Networks affiliate revenues were up 5% in the quarter as a result of growth at both Cable and broadcasting.
Parks and Resorts (35% of revenue [+8.61% YoY]; 25% of operating income [+11.1% YoY]): Parks and Resorts, its second-biggest segment, recorded quarterly revenue of $5.1bn (+8.6% YoY) while operating income of $829mn spiked 11.1% YoY as attendance and guest spending rose at its domestic and international parks. Attendance at domestic parks rose 4% YoY, and per capita spending was up 9% YoY on the back of higher admissions, food and beverages and merchandise spending. The results at its international operations were comparable to 4Q17, with the total segment operating income margin up 40bpts YoY. We note though that 4Q17 had weather-related issues which should be borne in mind when comparing 4Q18's performance with the same period of last year.
Studio Entertainment (15% of revenue +50.2% YoY]; 18% of operating income [+173.4% YoY]) –The Studio Entertainment business reported $2.5bn (+50.2% YoY) in revenue and $596mn (+173.4% YoY) in quarterly operating income. Disney's movie studio continued to churn out blockbusters, with growth driven by the "exceptional performance" of "Avengers: Infinity War", "Incredibles 2" and the latest "Ant-Man" movie. The studio segment is likely to continue its successes into the next fiscal year and beyond – upcoming features in 2019 include the sequel to Frozen, a fourth Toy Story, and highly anticipated films in the Star Wars and Marvel universes.
Consumer and interactive (8% of revenue [-7.6% YoY]; 10% of operating income [-9.7% YoY])– Consumer and interactive, its smallest business unit, posted $1.1bn in revenue – down 7.6% YoY, while operating income in this segment dropped by 9.7% YoY to $337mn. Lower income from licensing activities was due to a decrease in revenue from products based on Star Wars and Cars.
In 4Q18, Disney didn't repurchase shares given the pending acquisitions of 21st Century Fox (Fox). For FY18, however, Disney repurchased a total of 34.6mn shares for $3.6bn.
With the Fox deal expected to close at the beginning of 2019, Disney will take a controlling stake in streaming service Hulu, which is jointly owned by Disney, Fox, Comcast and AT&T. Disney will also get Fox TV and film studios, Marvel's X-Men and Deadpool, along with programmes shown on such Fox channels as FX Networks and National Geographic.
Disney's share price jumped c. 3% in early trading Friday (9 November 2018), reaching a new 52-week high of $120.20/share during Friday mid-day trading on the back of the better-than-expected results. From Thursday's close to Tuesday (13 November) the share price is up by 0.7%.
The firm has a market cap of $173.8bn and a PE ratio of c. 14.