The Walt Disney Company (Disney) on Tuesday (5 February) reported 1Q19 results, which easily topped consensus analyst expectations on both the top and the bottom line. EPS of $1.84 (-3% YoY) was above the $1.55 Refinitiv consensus forecasts had been expecting, while revenue of $15.31bn was slightly down from the $15.34bn reported in 1Q18 but still ahead of the $15.14bn Refinitiv consensus had estimated.
Last year, Disney announced a reorganisation of the company into four segments, Media Networks, the combined Parks, Experiences & Consumer Products, Studio Entertainment, and the newly formed Direct-to-Consumer & International. For the first time, Disney included a line item for its fledgling direct-to-consumer business, which currently mainly comprises Disney's interests in Hulu and BAMTech, its international channels and its ESPN+ sports-streaming service (which started in April 2018). These assets generated $918mn of revenue – c. 6% of Disney's overall sales and lost $136mn during the period due, for the most part, to the cost of investing in streaming. However, this business will eventually be led by Disney+, a Disney version of streaming service Netflix which is due to launch late this year.
Disney: 1Q19 vs 1Q18 revenue by segment, $mn:

Source: Company data, Anchor
Disney: 1Q19 vs 1Q18 operating income, $mn:

Source: Company data, Anchor
Disney: Revenue contribution by division, 1Q19: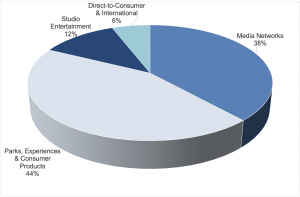 Source: Company data, Anchor
Disney: Operating income contribution by division, 1Q19: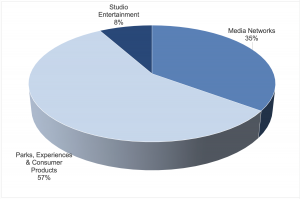 Source: Company data, Anchor
In terms of Disney's four operating segments, we note the following: 
Media networks (c. 38% of revenue [+6.6% YoY]; 35% of operating income [+7.0% YoY]): 
Revenue in Disney's media networks business, which includes its cable and broadcast divisions and ESPN, rose 7% YoY to $5.92bn, above the Bloomberg consensus forecasts of $5.83bn. 
Parks, Experiences and Consumer Products (44% of revenue [+4.6% YoY]; 57% of operating income [+10.1% YoY]):
This unit was the standout in terms of profit as Disney navigates its transition to streaming with recorded quarterly revenue of $6.8bn (+4.6% YoY) while operating income of $2.2bn spiked 10.1% YoY. This as attendance and guest spending rose at its domestic parks, with per-capita spending up 7% YoY. The parks division should get a further boost this year from the opening of the new Star Wars lands in Orlando, Florida, and Anaheim, California. However, Disney said that results at its international operations were lower YoY in the quarter as growth at the Hong Kong Disneyland Resort was offset by lower results at Shanghai Disney Resort and Disneyland Paris.
Studio Entertainment (12% of revenue -27.3% YoY]; 8% of operating income [-62.5% YoY]): 
The Studio Entertainment business' revenues fell 27% YoY to $1.8bn, mainly due to the solid base year (1Q18) – the strong performances of Star Wars: The Last Jedi and Thor: Ragnarok in 1Q18 compared with Mary Poppins Returns and The Nutcracker and the Four Realms this year. Nevertheless, it was still above Bloomberg consensus estimates of $1.75bn. On the earnings call, Disney said that given the studio's record performance in FY18, the difficult studio comparatives will continue in 2Q19.
Direct-to-consumer and international (6% of revenue [-1.4% YoY]):
Disney's newly introduced direct-to-consumer and international segment, posted revenue of $918mn (-1% YoY) and an operating loss of $136mn in 1Q19 due to increased costs related to ESPN+ and the upcoming launch of its Disney+ streaming service. On the earnings call, Disney said that it expects investment in those ventures to negatively impact the segment's YoY operating income by $200mn in 2Q19. CEO Bob Iger noted that ESPN+ had doubled its subscribers in the past five months, adding that direct-to-consumer "remains our No. 1 priority." Disney launched ESPN+ last year and plans to launch Disney+, a streaming service of its movies and original programming, later in 2019. In a January SEC filing, Disney said its stake in Hulu and its ownership of BAMtech, the streaming technology that powers ESPN+, led to a loss of $1bn-plus in FY18. 
Looking ahead, Disney has warned that FY19 will be a tough year as the company takes over most of 21st Century Fox (Fox) in a $71.3bn acquisition, which Disney sees as aiding its streaming strategy. The deal is expected to provide Disney with additional media assets for its new streaming service and will also give Disney a larger stake in the streaming service, Hulu.