The Walt Disney Company (Disney) on Thursday (7 November) reported 4Q19 results, which came in above consensus analyst expectations on both the top and the bottom line. EPS of $1.07 (-28% YoY) was above the $0.95 Refinitiv consensus forecasts had expected, while revenue of $19.1bn (+34% YoY) was slightly higher than the $19.04bn Refinitiv consensus had estimated. Disney's movie studio business was the star of the quarter, while its parks and recreation segment also turned in a good performance. The Twenty-First Century Fox (Fox) acquisition, which closed in March, added to the top line but negatively impacted profits on the back of integration-related costs. Heavy spending in advance of the launch of its Disney+ streaming service also weighed on the results.
For FY19, Disney's revenue rose 17% YoY to $69.57bn, and adjusted EPS fell 19% YoY to $5.77.
Looking ahead to 1Q20, CFO Christine McCarthy said that Disney's direct-to-consumer (DTC) & International segment was expected to post an operating loss of $800mn, but to be EPS accretive for FY21 "and realise cost synergies" of $2bn-plus from operating efficiencies by 2021. She noted that the release of the movie, Frozen II should be a positive driver for the studio division and offset Fox results, while anti-government protests in Hong Kong are expected to impact parks income by c. $80mn in 1Q20.
Figure 1: Disney key data

Source: Company data, Anchor.
Figure 2: Disney: 4Q19 vs 4Q18 revenue by segment, mn

Source: Company data, Anchor
Figure 3: Disney: 4Q19 vs 4Q18 operating income by segment, mn

Source: Company data, Anchor
Figure 4: Disney: Revenue contribution by division, 4Q19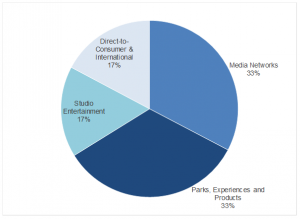 Source: Company data, Anchor
Looking at Disney's four operating segments, we highlight the following:
Media networks (33% of revenue [+22.3% YoY]): Disney's largest division (which houses ESPN) recorded a revenue rise of 22.3% YoY to $6.5bn for the quarter, while operating income declined slightly (-3.2% YoY) to $1.78bn. in terms of the two businesses housed within this segment: 1) Cable networks revenue rose 20% YoY to $4.24bn, while operating income retreated 1% YoY to $1.26bn; and b) Broadcasting revenue jumped 26% YoY to $2.27bn, while operating income fell 4% YoY to $377mn. McCarthy said on the earnings call that the lower cable results were because of a decrease at ESPN, which was partially offset by the consolidation of the Fox cable businesses. Broadcasting's results were negatively impacted by lower programme sales vs 4Q18.
Parks, Experiences and Products (33% of revenue [+8.5% YoY]): Parks and Resorts, Disney's second-biggest segment, recorded quarterly revenue of $6.7bn (+8.5% YoY) with operating income of $1.4bn jumping 17.3% YoY. Profit at Disney's Hong Kong park was likely impacted by the protests in the region. Domestically, CEO Bob Iger said that he believes Disney saw some "delayed visitation" because consumers were waiting for the full opening of its new Star Wars attraction at Disney World and Disneyland. Star Wars: Rise of the Resistance (the second phase of the attraction) will debuts on 5 December at Disney World in Florida and on 17 January at Disneyland California.
Studio Entertainment (17% of revenue [+52% YoY]): The Studio Entertainment business was the star of the quarter, reporting $3.3bn (+52% YoY) in revenue and $1.1bn (+78.6% YoY) in quarterly operating income. Disney's movie studio continued to churn out one blockbuster after the other with operating income growth driven by movies such as The Lion King, Toy Story 4, and Aladdin. The Lion King was the fifth Disney movie this year to generate $1bn-plus in global box office revenues (along with Avengers: Endgame, Toy Story 4, Captain Marvel, and Aladdin).
As with 2Q19, Disney's legacy studio business actually performed even better than the segment results show, but the performance of Fox Studio's releases dragged the overall numbers lower, with McCarthy noting that Fox Studio recorded an operating loss of c. $120mn for the quarter.
DTC & International (17% of revenue [+316% YoY]): The DTC segment posted a revenue print of $3.4bn, but its operating loss widened to $740mn vs a $340mn loss in 4Q18 (a $400mn YoY rise in losses). Disney has been investing heavily in its DTC streaming businesses, ESPN+ and the broader streaming service, Disney+, which is driving losses in this segment. Disney+ was rolled out in the US, Canada, and the Netherlands on Tuesday (12 November), with Disney saying it expects the service "to launch in most major global markets within its first two years." On the earnings call, Iger revealed that ESPN+ now has over 3.5mn paid subscribers vs only 2mn in February 2019 – quite a feat for a service that's only around 18 months old. Iger would not disclose pre-sale numbers for Disney+ on the call. However, on Wednesday (13 November), the company confirmed that Disney+ had hit 10mn signups since its 12 November launch (this backs up reports that glitches on launch day were because of high demand).
Earlier this year, at its April investor day, Disney outlined subscriber targets for each of its DTC services for FY24, projecting 60mn-90mn subscribers for Disney+; 40mn-60mn for Hulu; and 8mn-12mn for ESPN+. Various analysts have also forecast that Disney could gain as many as 18mn subscribers for Disney+ in the first year. This is on the back of Disney's deal with Verizon which gives 12 months of the service for free. Analysts are predicting that Disney+ will have 82mn subscribers by 2024 – in line with Disney's own estimates.
Disney+ has a relatively low subscription price of $6.99/month and offers a triple bundle option which includes Hulu (Comcast and Disney announced a deal in which Comcast will sell its 33% Hulu stake by January 2024 but Disney already gets full operational control of Hulu ) and ESPN+ for $12.99/month. Disney also broadened device support for its streaming service to nearly every available platform including Apple OS, Android, Fire TV (Amazon), Roku, LG and Samsung smart TVs. As a comparison, in the US, Netflix charges $15.99/month and the Basic plan (one non-HD stream) is $8.99/month.
Shares of Disney are up c. 26% YTD as investors have loaded up on the share ahead of the Disney+ launch. Following its results release (after the market closed on 7 November), the share was up 3.6% on Friday (8 November).