The US National Retail Federation (NRF) said on Wednesday (3 October) that it expects US holiday retail sales (excluding automobiles, fuel and restaurants) during November and December to increase by between 4.3% and 4.8% YoY to a total of $717.5bn-$720.9bn. While this year's forecast is higher than an average annual increase of 3.9% over the past five years, it remains below 2017's impressive 5.3% YoY jump. US holiday sales in 2017 totaled $687.87bn (+5.3% YoY) and was the biggest increase since the 5.2% YoY gain seen in 2010 after the end of the recession. NRF's holiday forecast is based on an economic model using several indicators including consumer credit, disposable personal income and previous monthly retail sales. The number includes online and other non-store sales.
Historic holiday sales and 2018 forecast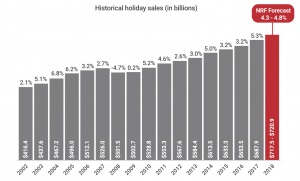 Source: US Census. Reflects 25 May 2018 Census revisions for 2013-2017.
NRF holiday spending is defined as the months of November and December.
NRF forecast excludes automobiles, fuel and food services.
Holiday sales by sector, 2017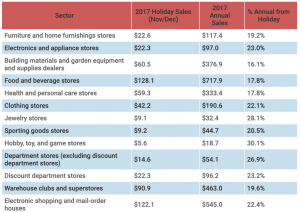 Source: US Census.
NRF's Chief Economist, Jack Kleinhenz noted that last year's robust results were on the back of "growing wages, stronger employment and higher confidence, complemented by anticipation of tax cuts that led consumers to spend more than expected,". Kleinhenz goes on to say that, with the 2018 forecast, "we continue to see strong momentum from consumers as they do the heavy lifting in supporting our economy. The combination of increased job creation, improved wages, tamed inflation and an increase in net worth all provide the capacity and the confidence to spend."
The NRF also forecast that retailers will hire between 585,000 and 650,000 temporary workers during this year's holiday season (vs 2017's 582,500), despite the tight labour market. The November and December holiday shopping season is the busiest of the year for US retailers, accounting for up to 40% of annual sales in the case of some retailers.