Figure 1: Home Depot metrics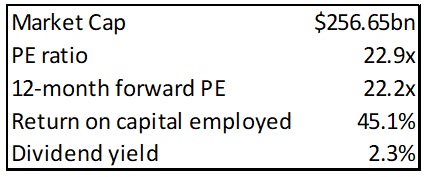 Source: Company data, Anchor.
On Tuesday (25 February), US home improvement retailer ,Home Depot reported 4Q19 results which exceeded market expectations, despite the retailer posting a decline in YoY revenue. Earnings per share (EPS) came in at $2.28 (up 9.1% YoY from $2.09 reported in 4Q18) vs the Refinitiv consensus analyst expectation of $2.10, while revenue was down 2.7% YoY at $25.78bn – but still slightly outpacing the Refinitiv consensus analyst forecast of $25.76bn. For the full year (FY19), Home Depot recorded 3.5% YoY EPS growth and a 1.9% YoY advance in revenue, with marginal margin compression. The company did note that 2018 had an extra week, contributing $1.7bn to the prior full year (FY18). Management also reiterated their full-year (FY20) guidance.
Home Depot highlighted several pleasing aspects in these results, which gave us (and the market) confidence, while the quarter under review also marked a change in sentiment from management who have lowered guidance in the prior two results releases. Although sales declined YoY, the result was above expectations – a not-as-bad beat. Strong positives to come out of the release included the growth in big-ticket items (those items priced at over $1,000), which grew in excess of 10% YoY to account for c. 20% of sales. These items generally consist of flooring, roofing and appliances. We see this as a positive in the professional space, along with retail investment into housing.
Home Depot also recorded a same-store sales increase of 5.2% YoY vs an expected 4.8% YoY increase (as per the Refinitiv consensus forecast) and it achieved 3.5% YoY same-store sales growth for the full year – a good result in the retail space. One Home Depot, the Group's online/extended aisle store, which is only in its second full year, exceeded $9bn in revenue, approaching 10% of total Group revenue. We note that a retail business that can capture the online space adds to the moat and competitive position of a business. It also shows the benefit to Home Depot's expansion and store/distribution expenditure over the past few years.
Looking ahead, Home Depot guided to EPS of $10.45, implying low single-digit growth for the year (with estimates of 8%-10% YoY EPS growth in 2021 and 2022) and 3.5% to 4.0% YoY growth for same-store sales.
Home Depot trades on a trailing 22.9x PE, roughly in-line with the 5-year average. Forward guidance puts it at a 22.2x forward PE. The consensus target price is $250.54, a potential return of 6.5% from Wednesday's (26 February) close of $235.28.
In terms of the share price performance, Home Depot is up 7.7% YTD, while the S&P 500 is down 3.5% over the same period. YoY, Home Depot's share price has risen by 31.6% vs the S&P 500's 11.6% YoY gain.
We continue to see Home Depot delivering, albeit at a slower rate in 2020. We believe that the company is a standout in the retail space, benefiting from the current positives in the US housing market. A 22.9x multiple for low single-digit growth is expensive, but looking beyond 2020 we see the business in a strong position and with a 19x multiple in 2022.
Figure 2: Home Depot medium-term metrics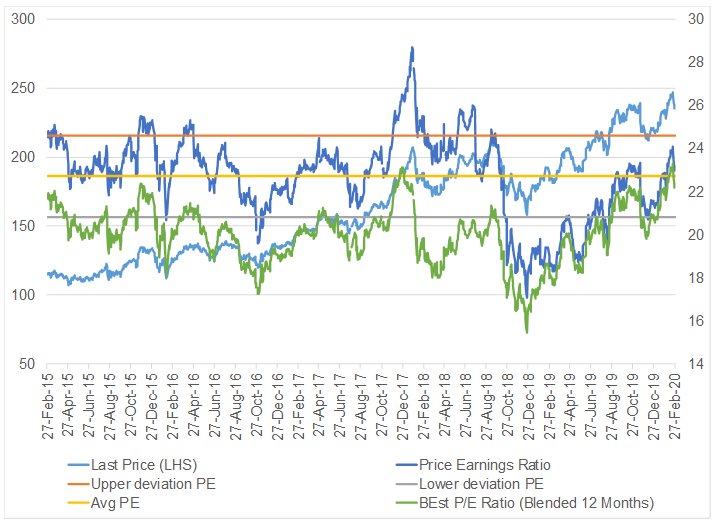 Source: Bloomberg, Anchor.