According to a Counterpoint Research report released last week (entitled, Market Monitor Q2 2018), the global, premium smartphone segment (those mobile phones selling for $400-plus) grew much faster (+7% YoY) than the overall smartphone segment (-1% YoY) in 2Q18. The increase was driven by higher shipments from Chinese players such as OPPO, Vivo, Huawei, OnePlus and Xiaomi. The report also shows that the premium smartphone segment contributed to one-fifth of the total global smartphone market during the quarter and within this premium segment, the $400-$600 price-band accounted for 45% of total premium segment sales by volume. Oppo and Apple tied in the $400-$600 price band, with a 22% market share each, followed by Samsung (16%), Huawei (14%), Xiaomi (6%) and OnePlus (5%)
However, Apple's share of global handset profit remained ahead of the combined earnings of all other smartphone manufacturers globally. Apple sold 43% of all mobile phones priced at $400 and above, followed by Samsung (24%), OPPO (10%), Huawei (9%), Xiaomi (3%) and OnePlus (2%). In addition, Apple's iPhone earnings were over 3.6 times that of Samsung and over three times the profit of the top-four brands in China, as the company sold 43% of all "premium" phones worldwide. Apple's 62% share of profits generated in 2Q18 was significantly ahead of Samsung's 17% and was over three times the profit share of China's Huawei, OPPO, Vivo and Xiaomi put together. The remaining profits of more than 600 other handset brands amounted to less than 1%.
Global handset profit by brand, 2Q18: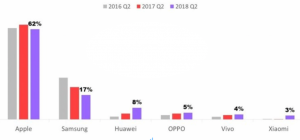 Source: Counterpoint Research Market Monitor Q2 2018
Around 95% of premium smartphone original equipment manufacturers (OEMs) have a presence in the $400-$600 price band. Going forward,Counterpoints highlights that it expects competition in this segment to increase as Chinese brands, with their flagship offerings, expand their presence further. One such brand, OnePlus was one of the fastest-growing in the $400-$600 segment, driven by India, China and the UK. In India, OnePlus surpassed both Apple and Samsung to become the top premium smartphone OEM in 2Q18 with a 40% market share. It was also amongst the top-five premium smartphone OEMs in France (at no. 4), Germany (also no. 4), Italy (no. 5), the Netherlands (no. 4 again), Sweden (no. 3) and the UK (another no. 4 ranking) on the back of robust initial sales of its OnePlus 6.
However, in the $600-$800 segment, Apple and Samsung alone contributed to 85% of shipments, while Huawei trailed by a big margin. In the $800+ segment, Apple dominated with an 88% market share during the quarter under review.
Counterpoint highlights that "aggressive" efforts by Chinese brands to sell higher-end flagships smartphones resulted in their combined profits reaching $2bn for the first time. This suggests that Apple's 62% market share amounted to c. $6bn (Apple reported iPhone revenues of $29.9bn in its last fiscal quarter [3Q18]). Meanwhile, Samsung's smartphone profit declined by c. 21% YoY due to weaker-than-expected sales of its Galaxy S9 (the S9 series shipments declined by 24% YoY in 2Q18). Apple and Samsung sales were driven by the US, China, Japan, Korea and countries in Western Europe.
Premium smartphone segment – 2Q18 rankings of OEMs by regions:

Source: Counterpoint Research Market Monitor Q2 2018
Looking ahead, the report notes that the premium smartphone segment is likely to become "more competitive" and, in addition, Counterpoint writes that it expects "vertically integrated companies to leverage their expertise to gain share in the segment." Counterpoint also points out that with 5G coming soon and major market players like Apple pushing price points higher, Chinese OEMs " … have a good chance of entering new price tiers in the premium segment to drive both increased revenue and profit."