FedEx reported 1Q19 results on Monday (18 September), which revealed a YoY revenue advance of 11.8% to $17.70bn. This was just above the Thomson Reuters consensus estimate of $16.9bn for the quarter. Diluted EPS stood at $3.46 vs $2.51 reported in 1Q18, but it was still well below the Thomson Reuters estimate of $3.81. We note that the earnings of $3.46/share, excluded the cost of combining its Dutch acquisition TNT Express into its own business — significant costs that FedEx said it expects will continue "over the next few years." Quarterly profit missed consensus expectations as the company's employee compensation and other expenses weighed on results. Reuters reports that FedEx accelerated $200mn in annual pay increases to April from October, following the passage of US President Donald Trump's Tax Cuts and Jobs Act last year, with c. two-thirds earmarked for hourly workers and the remainder going to performance-based incentive plans for salaried employees. This contributed to compensation-related charges and other items that lowered results by $0.48/share.
FedEx Express segment's package results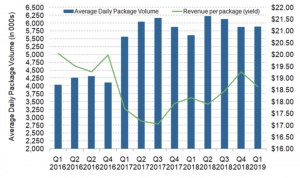 Source: Market Realist
At 56.2%, FedEx Express accounted for most of the company's total revenue, although this was down 0.9% from 57.1% in 1Q18. FedEx Express revenues rose 10% in 1Q primarily due to international package and freight volume recovery from the NotPetya cyberattack, higher freight pounds, US domestic package volume and yield growth and higher fuel surcharges. Meanwhile, its Ground segment revenue rose 13% YoY due to volume growth and increased yields (average daily volume increased 7% in 1Q, primarily due to continued growth in commercial and residential services driven by e-commerce growth). The FedEx Freight segment revenues jumped 18% YoY on the back of higher revenue per shipment and average daily shipments.
Looking ahead, the company raised its forecast of earnings for FY19 by $0.20/ share, to between $17.20 and $17.80/share. Prior to the report, consensus analysts had expected $17.38/share.
Chairman and CEO Frederick W. Smith, commented that management were " … very optimistic about … prospects for profitable growth" and said they "remain confident we will reach our goal to improve FedEx Express operating income by $1.2bn to $1.5bn in fiscal 2020 vs fiscal 2017."
With the results falling short of Wall Street expectations, FedEx shares fell in after-hours trading on the day the results were released and the share price is down c. 6.5% from its close on Monday(18 September) up to Tuesday's (25 September's) close. However, CNBC writes that FedEx and its main rival United Parcel Service "are benefiting from strong pricing power as online shopping continues to boom." Some analysts predict that growing global demand, along with consumers' expectations for quick delivery of online purchases, will buoy these companies heading into the crucial US Christmas shopping season.