Facebook reported 3Q18 results on Tuesday (30 October) and while it beat consensus expectations on earnings by a wide margin, its revenue number, daily active users (DAUs) and monthly active users (MAUs) failed to meet consensus analysts' expectations. Facebook also said that investors should expect increased expenses in 2019. EPS came in at $1.76 vs the Refinitv consensus estimate of $1.47, while revenue rose c. 35% YoY from $10.14bn to $13.73bn, slightly below the $13.78bn Refinitiv consensus analysts were expecting. Facebook's main source of revenue is advertising, which brought in $13.54bn, up from $10.14bn in the year-earlier period, while its payments and other fees category (including its Oculus virtual-reality hardware) recorded revenue of $188mn vs $186mn in 3Q17. More than 92% of Facebook's advertising revenue for the quarter came from mobile advertising, up from 88% YoY.
DAUs came in at 1.49bn while FactSet had estimated a 1.51bn print. Meanwhile, MAUs came in at 2.27bn vs a FactSet consensus estimate of 2.29bn. In 2Q18, Facebook said it expected revenue growth rates to decline but 3Q18 earnings did not show as much of a slowdown as projected. Worldwide average revenue per user (ARPU) increased by 2% QoQ, while US and Canada ARPU rose by 7% QoQ. Overall, ARPU of $6.09 was in-line with the Street Account estimate.
MAUs (mn):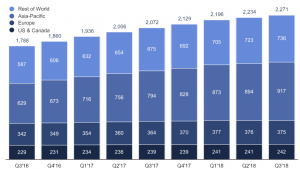 Source: Facebook
Revenue by user geography (mn):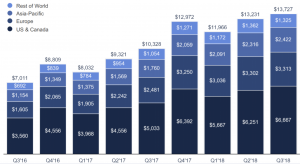 Source: Facebook
Total costs and expenses grew by 53% YoY to $7.95bn in 3Q18, while profits grew by 9% YoY. Facebook continued to add to its workforce, growing its headcount 45% YoY to 33,606 in the quarter under review. On the conference call, CEO Mark Zuckerberg said the company plans to invest significantly in the business in 2019 as it focuses on building out new products (Facebook Watch, Instagram TV and Facebook Marketplace) and improving cyber security. Total 2019 expenses are expected to grow 40%-50% YoY.
Zuckerberg also discussed Facebook's challenges with user safety and harmful content, noting that Facebook has made progress but it will likely not have a firm grasp on the problem until the end of 2019.
CNBC reports that currently c. 2.6bn people use Facebook's family of apps, including Facebook, Instagram, WhatsApp and Messenger per month – up by 100mn from last quarter. Every day c. 2bn people use at least one of those apps.
Following the results, Facebook's shares were initially down as much as 6% before swinging back to a c. 3% after-hours increase following the conclusion of the earnings call.