On various occasions over the past c. 80 years, the demise of cinema has been predicted. Initially it was thought that going to the movies would become obsolete with the introduction of television in the early 1940s and during the US television boom of the 1950s, it again happened in the 1980s with the advent of home video in the US. Then US cable TV and home theatres arrived in the 1990s, but still moviegoing survived. More recently, streaming has been growing at an impressive rate. However, despite the increasing number of streaming platforms in 2019 (Disney+, Apple TV Plus, HBO Max etc.) joining such established players as Netflix, Amazon Prime and Hulu, it would appear the notion of the movie industry dying remains misguided.
Media measurement and analytics firm,Comscore's data show that in 2019, global box-office revenue was at an all-time high of $42.5bn (+2% YoY), despite a mixed performance from North America. The North American box office recorded $11.4bn in revenue – down 4% from 2018's historic high of $11.88bn, but still its fifth straight year of revenue above $11bn and its second-biggest year ever. Comscore writes that growth was seen in most major international territories including China, Japan, South Korea, Germany, France, Russia and Spain.
IMAX, listed on the New York Stock Exchange, also had an impressive 2019, recording its highest grossing year with $1.04bn in box office revenue and breaking sales records in 22 countries including China, India, Japan, France and Germany. IMAX has 1,500 theatre systems in 81 countries and territories.
Globally, 2019's top-ten movies in terms of box office revenue were Avengers: Endgame ($2.79bn), The Lion King ($1.66bn), Frozen 2 ($1.44bn), Spider-Man: Far From Home ($1.13bn), Captain Marvel ($1.13bn), Toy Story 4 ($1.07bn), Joker ($1.07bn), Star Wars Episode IX: The Rise of Skywalker ($1.07bn), Aladdin ($1.05bn) and Jumanji: The Next Level ($779.7mn). Meanwhile, in North America, the box office takings of the top-five movies were as follows: Avengers: Endgame ($2.79bn), The Lion King ($1.66bn), Frozen 2 ($1.44bn), Spider-Man: Far From Home ($1.13bn), and Captain Marvel ($1.13bn). For the US alone, the top-15 box office hits for 2019 can be seen in Figure 1 below.
Figure 1: Top-15 US box office hits in 2019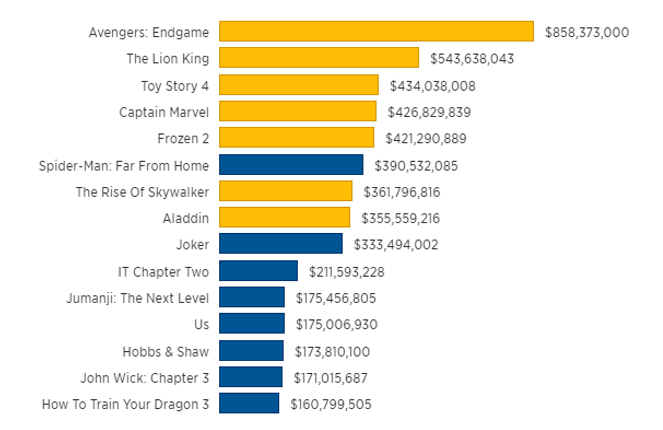 Source: Comscore, CNBC
Note orange bars denote a Disney movie.
The Walt Disney Co. (Disney) was by far the biggest winner among the major US studios, with its global box office takings coming in at $11.12bn – a 43% worldwide market share. In North America, Disney had a c. 27% market share and, in the US alone, Disney accounted for 40% of the domestic box office. We note that these figures exclude any titles from 20th Century Fox, which is now part of Disney. According to Comscore, it's the first time since 1999 that a single studio has commanded this much box office revenue in the US and Canada. In addition, it appears that Disney's box office domination will continue well into the new decade – its updated release calendar shows that, with the exception of April 2023, it will release at least one film every month for the next four years.
Looking at other major studios, for 2019, Warner Bros generated $4.42bn (a 16.6% market share); Universal $3.67bn (for 12.6% share); Sony $3.35bn (for 11.7%); Fox $2.03bn (for a 8.6% share), Paramount $1.35bn (for 4.6%) and Lionsgate $1.27bn (for a 2.9% market share).
Figure 2: Top-10 studios in 2019, by box office revenue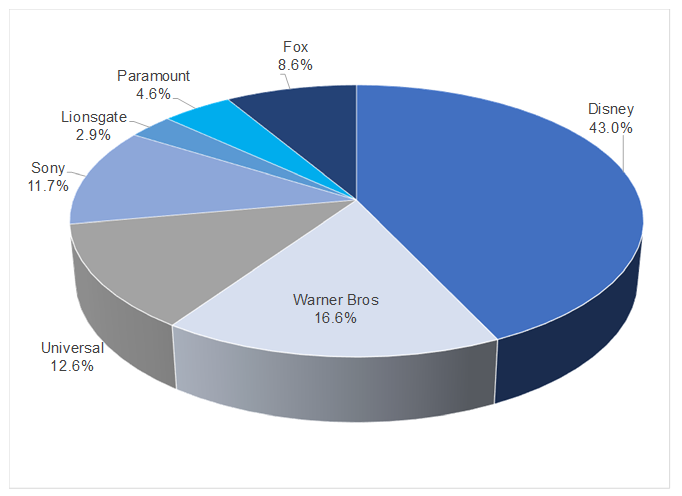 Source: Anchor, CNBC, Hollywood Reporter, Comscore,
Despite concerns around alternative platforms chipping away at theatrical revenue, the movie business has shown resilience for the past 80 years or so. When a new threat emerged, cinemas have adapted and evolved (3D, IMAX, 4D etc.), while going to the movies remains one of the most popular forms of entertainment available. In addition, as US cinema ticket sales slow, global audiences (especially countries such as China and Japan) seem to be having an increased appetite for the theatrical moviegoing experience, helping to pick up the slack.