According to data released on Monday (14 January) by China's Association of Automobile Manufacturers (CAAM), vehicle sales in that country contracted for the first time in over two decades last year. CAAM data show that China car sales fell 13% YoY in December to 2.66mn vehicles, the sixth-straight monthly decline (see Figure 1 below), bringing its annual sales to 28.1mn – down 2.8% vs 2017. China is the world's biggest auto market. Reuters reports that this was also against a 3% annual growth forecast set at the start of 2018.
Prior to this, auto sales in China have been declining since June (-4.0% YoY) with November's 13.9% YoY retreat being the biggest decline since a 26.4% YoY drop in January 2012. Total Vehicle Sales in China averaged c. 1.2mn from 1997 until 2018, reaching an all-time high of 3.1mn in December 2017 and a record low of 88,416 in January 1998.
Figure 1: China auto sales, January-December 2018, YoY % Change: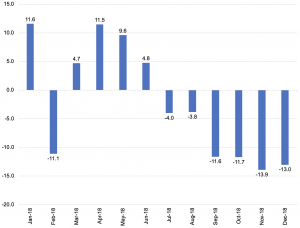 Source: CAAM, Anchor
Annual passenger car sales dropped 4.1% YoY to 23.7mn units, while annual production last year also fell 5.2% YoY to 23.5mnn units, the association said
CAAM attributed the weak 2018 sales to the phasing out of purchase tax cuts on smaller cars, Beijing's trade war with the US (which saw the imposition of a 40% duty on imports from the US from July) and weakening consumer sentiment as a result of slowing economic growth. The association said that it expects the weakness to continue and it has forecast flat sales of 28.1mn vehicles for 2019, which would be the same as in 2018 (other government and industry bodies have forecast a 0%-2% growth).
Among global car manufacturers, Ford was the worst performer in China last year – its sales plummeted 37% YoY. However, Geely, China's most successful carmaker, recorded a 20% YoY sales increase but this was still significantly lower than the 63% YoY growth the firm achieved in 2017. For 2019, Geely is forecasting flat sales. Toyota also bucked the trend, with a 14.3% YoY rise in sales in China – an improvement on the 6% YoY growth it achieved in 2017, buoyed by improved demand for its luxury Lexus brand and better marketing efforts on the company's part.
New energy vehicle (NEV) sales jumped 61.7% YoY to 1.3mn units, CAAM said, adding that it expects NEV sales to hit 1.6mn this year. So, amid sluggish overall sales, the NEV sector has become the industry's sales engine. During 2018, more than 1mn passenger NEVs were sold, up 88.5% YoY, according to China Passenger Car Association (CPCA) data. China has been supporting NEV development and electric vehicle (EV) manufacturer, Tesla started construction on its Gigafactory in Shanghai at the start of January. Tesla will be manufacturing its electric Model 3 at this factory.
The CPCA described the decline as "normal" after "continuous high-speed growth in the past few years." The Global Times writes that when China cut the auto purchase tax from 10% to 5% four years ago, auto sales boomed. However, the tax rate was restored to 10% at the beginning of 2018, which curbed consumers' purchases.
China's state planner has said it will introduce policies to lift domestic spending on items such as automobiles, without providing specifics. Beijing has also made changes to the income tax threshold to hike incomes and personal spending power which could help resolve the industry's current issues of unsold inventory, drive sales growth and provide relief to the economic pressures according to research firm, Jefferies. Jefferies believes that with those measures in place "…, car sales growth could recover to as high as 7%" this year.
The vehicle market is also expected to be one of the key beneficiaries of government stimulus in 2019 as the Chinese central government looks to stimulate consumer spending to help the Chinese economy avoid a hard landing.