A report from ArcView Market Research and BDS Analytics' GreenEdge Service (which studies the legal cannabis industry) released in October and entitled The Tasty Future of Cannabis Edibles, forecasts that the cannabis edibles market in the US and Canada will rocket to a $4bn-plus industry over the next four years, albeit at the cost of smoked marijuana. We note that the use of medical marijuana has been legal in Canada since 2001, while the country legalised recreational marijuana in October this year. The edibles share of the overall cannabis market has already more than doubled, from a 5.4% market share in 2011 to the current c. 12% share and BDS writes that in 2017, consumers in the US and Canada spent an estimated $988mn on cannabis edibles, or 11.4% of the total $9.1bn in consumer spending on consumable cannabis in those two markets. Of this c. $1bn spent, the most cannabis-infused edibles sold are in the candy ($405mn) and chocolate ($193mn) categories, while general foods accounted for $122mn, beverages for $58mn and pills, tinctures and other edibles for the remaining $209mn, according to BDS.
Cannabis-infused edibles by category: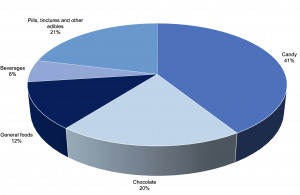 Source: BDS Analytics
Edible marijuana seems to have moved into the mainstream at such a rapid rate that in April this year it was listed eighth among the top-10 2018 food trends in the US by the Specialty Food Association. The Specialty Food Association's panel of experts predicted that, for cannabis, there would be a "continued interest and acceptance in a host of snacks, treats and beverages with a little something extra." According to a report by California-based marijuana delivery company, Eaze, edible sales have increased as more people learn best practices for proper dosing. Using information gathered from its database of 350,000 customers and a survey of 15,000 respondents, Eaze found that among the US population, Generation Xers (those born from the early 1960s to late-70s) ordered the most edibles, followed by Generation Z (born between 1995 and 2010), millennials (young adults) and baby boomers (born in the years following the World War 2).
Earlier this year, BDS estimated that the edible cannabis market in four US states alone (California, Colorado, Oregon and Washington, which have legalised marijuana for recreational and medical use) stood at $66mn. At the time, BDS calculated that c. 40% of edible sales were from marijuana-infused candy, with 21% going to infused chocolate products. Edibles are also projected to grow from 12% to 14% of the total cannabis market in the US by 2022, while flower (the flowering part of the cannabis plant) drops from 50% to 36%. Worldwide sales of cannabis-based products are expected to reach $32bn by 2022 (it stood at $9.5bn in 2017).
All of the above signals opportunity for investors and entrepreneurs who want to get in early on what ArcView and BDS expect to become one of the biggest areas of growth in the adult-use cannabis industry. As the report notes, branding and standing out from competitors is also easier with edibles, where individualised packaging and marketing can distinguish a brand on a dispensary shelf. With more US states switching from medicinal-only to recreational cannabis usage and as consumers look to healthier ways of consuming marijuana, while also avoiding the stigma associated with smoking, the edibles category could be an early opportunity investment in a cannabis sub-sector that is brand-focused and growing rapidly. However, it is also important to bear in mind that risks exist and, in the US, at a federal level the sale of marijuana remains illegal which means the Department of Justice (DoJ) could clamp down at any time on cannabis businesses operating in states that have legalised marijuana for either medical or recreational purposes.
Nevertheless, the potential for edible marijuana sales has reportedly already attracted the attention of several large (mainstream) companies in the consumer-packaged goods (CPG) industry, according to ArcView's editor-in-chief and MD of BDS Analytics, Tom Adams. Adams highlights several recent developments in the marijuana-infused beverage market as proof, including a $4bn investment by Constellation Brands into Canada's Canopy Growth Corp., the plan at Molson Coors Brewing Co. to develop a cannabis beverage and the fact that Heineken's Lagunitas brand already sells a non-alcoholic, tetrahydrocannabinol (THC; or the chemical responsible for most of marijuana's psychological effects) infused beverage. Beverage sales currently account for only c. 6% of edible cannabis sales in the US so it would seem that these companies see big growth potential. Adams goes on to say that this is "…  just the start of what will be a product innovation explosion as major CPG companies come rushing into the legal cannabis market in the years ahead,".