Bidcorp released 1H21 results on 24 February, with the Group's first-half characterised by a solid performance in Australasia, offset by a poor performance from its UK and European operations because of second-wave COVID-19 lockdown restrictions in Bidcorp's second quarter (4Q20). We previously expected Bidcorp's operations to normalise in FY22 and we maintain our view that the business will continue to benefit from out-of-home eating habits as the world returns to normal. We are pleased to hear that Bidcorp is already gaining substantial new business wins and contract extensions, indicative of market share gains in many of the regions in which it operates. Thus, we believe that these market share gains, the swiftness at which operations return to normality (given vaccination rollouts in most of the Group's regions), and possible acquisitive opportunities in the near future, will stand the company in good stead. Although a degree of uncertainty does lie ahead, any positive newsflow on vaccine rollouts prompting a fast-paced recovery and a return to normality will likely be a catalyst for the share. We therefore recommend holding the share at current levels.
Key takeaways from the results
Revenue growth declined by 10.9% YoY and by 21.9% YoY in constant currency terms (its performance independent of currency fluctuations).

Group sales (in constant currency) reached 87% of the comparative period for the week of 2 August 2020. However, it then declined to a low of 68% vs the corresponding week of 29 November 2020. Its UK and Europe regions were especially negatively impacted and in 2Q21 their sales tracked c. 41% lower YoY.

The gross profit margin declined slightly to 23.4% from 23.8%, driven by a combination of some operations liquidating inventories because of the suddenness, and severity, of government-imposed lockdowns and price discounting to gain market share.
Group trading profit fell 37.4% YoY, while the trading margin declined to 3.7% from 5.2%.
Headline earnings per share (HEPS) from continuing operations dropped 46.2% YoY to ZAc391.6 from ZAc728.3 (the comparative period was pre-pandemic and thus excluded the impact of COVID-19).
Basic EPS from continuing operations were down 38.1% YoY to ZAc449.2 from ZAc725.4 previously.
An interim dividend was not declared considering the difficult operational environment in the Northern Hemisphere. Particularly because many workers in the Northern Hemisphere are still furloughed and the company is receiving some government support for the affected workers.
Exceptional free cash flow from continuing operations came in at R2.7bn from R900mn in the comparative period of the previous year.

Bidcorp's cash flow performance was driven by a focus on working capital management, a reduced capex programme, as well as proceeds from the sale and leaseback transactions of two properties. These two properties were sold to maximise the company's strategy relating to end-of-useful-life properties, where Bidcorp sought to take advantage of very low yields being achieved in many markets on industrial property – the pre-tax headline capital profit realised on the sale and leaseback transactions was R686mn.

Receivable provisioning was maintained, with most businesses in the Group's regions meeting their payment plans as government and banking support for COVID-19 affected business operators has been decent, thus far.
Still, we believe that Bidcorp remains well-capitalised and retains adequate headroom for further organic and acquisitive growth.
Growth guidance was not given due to the uncertainty relating to the extent of the recovery in the Northern Hemisphere.
Outlook by segment
Figure 1: Bidcorp segmental revenue and trading profit performance, 1H21 vs 1H20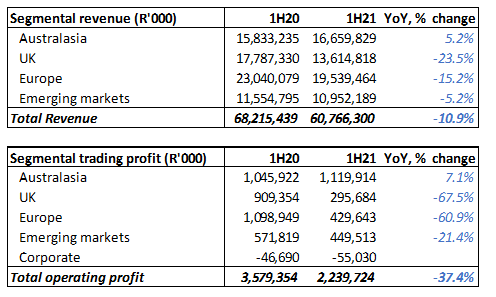 Source: Company data, Anchor
Australasia
Revenue grew by 5.2% YoY and trading profit rose by 7.1% YoY, driven by market share gains and a newly implemented, more-focused strategy.

Sales in Australasia were initially negatively affected by the COVD-19 pandemic in April 2020, but steadily recovered over the half-year to end December, nearly matching FY19 trading levels, albeit on a smaller market, with no international tourism or travel, or any large-scale catering type events.
UK
Revenue declined by 23.5% and trading profit fell 67.5% YoY.

The UK reached sales levels equal to c. 85% of the comparative FY19 period (pre-COVID) levels in Bidcorp's 1Q21, but waned as lockdown measures were once again implemented. Sales activity levels dropped to c. 40% YoY by December 2020.
Encouragingly, the UK region has experienced new business wins and the strengthening of key account relationships has been positive. In addition, the UK government this week announced a roadmap to lifting lockdown restrictions (and all legal limits on social contact) by 21 June 2021, if certain conditions are met. This is positive for the region going forward.
Europe
Revenue declined by 15.2% YoY and trading profit dropped 60.9% YoY, driven by the negative effects from lockdown restrictions in Bidcorp's second quarter (4Q20).
 Emerging markets
Revenue was down 5.2% YoY and trading profit declined by 21.4% YoY. We note that the region has since experienced a gradual recovery in sales activity levels, with prior-year sales volumes being surpassed by year-end.
Although the region has recovered nicely, uncertainty remains, and further lockdown restrictions could negatively impact the current positive momentum.
Company outlook
The company did not provide guidance given the uncertainty ahead but was nevertheless positive on its regions bouncing back relatively quickly from the easing of lockdown restrictions in affected regions. Management was adamant that they do not expect major long-term fundamental shifts in eating out-of-home but highlighted that the company is continuously looking to adapt and modify its business model to meet changing consumer requirements. Bidcorp is already experiencing market share gains in many of its markets as a result of a combination of its actions in FY20, as well as the exiting of competitors that were negatively impacted by the pandemic.
Valuation
We have adjusted our estimates slightly and we now forecast R15.50/share earnings for FY22 (down slightly from our previous forecast of  R16.70/share)
Although we have adjusted our FY22 earnings expectations, given the uncertain operating environment, we think that Bidcorp could achieve earnings higher than R15.50 in FY22, depending on the pace of its recovery and return to normality, as well as the magnitude of market share gains. Using an exit PE ratio of 20x, we forecast a share price range for Bidcorp of between R310 and R340.