BHP Group released impressive interim results (for the six months ended 31 December 2020) on 16 February, reporting its best 1H profit in c. seven years according to Reuters. The 1H21 underlying profit (from continuing operations) jumped to US$6.04bn from US$5.19bn in 1H20. This as a significantly higher iron ore price (iron ore prices soared c. 88% in 2020) and, to a lesser extent, copper prices (up c. 26% in 2020), buoyed the Group's interim earnings. Underlying EBITDA came in at $14.7bn, while net operating cash flow stood at US$9.4bn.
However, probably the biggest takeaway from these results is the higher-than-expected (and record) dividend the company declared – US$1.01/share (vs 1H20's $0.65/share). BHP has a policy to pay a minimum of 50% of earnings out as a dividend. The company is also trying to maintain a net debt range of between $12bn to $17bn. We note that it is currently at the lower-end of that range (at just below $12bn net debt), implying to us that there is a good chance of BHP returning most of the cash it generates in the foreseeable future to shareholders, either through dividends or share buybacks.
Figure 1: BHP Group 1H21 results overview, US$bn unless otherwise indicated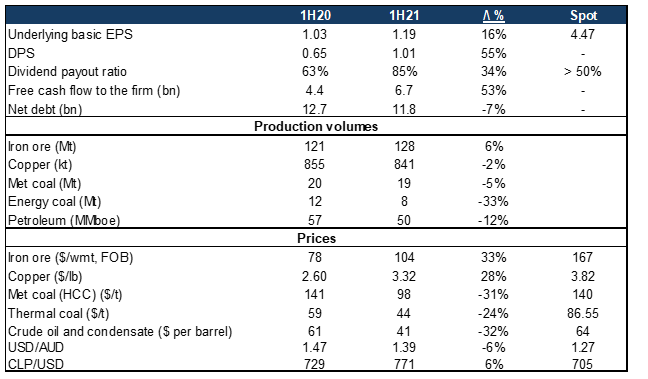 Source: Anchor, Company data
Figure 2: BHP Group's operating profit contribution by commodity, FY18-1H21

Source: Company data, Anchor
Figure 3 below shows the different measures of growth for each part of BHP's portfolio. Again, iron ore and copper are benefiting from stronger pricing (volume growth was not a meaningful contributor).
Figure 3: Various growth measures for different parts of BHP Group's portfolio, FY18-1H21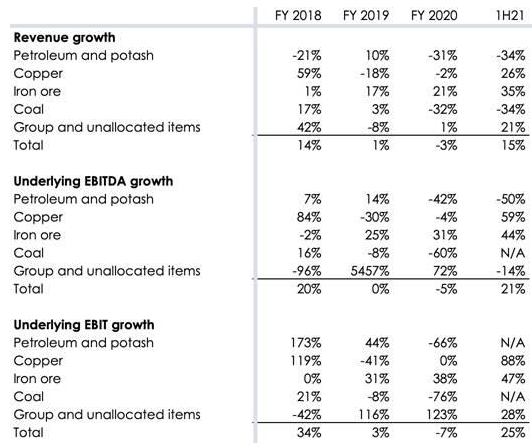 Source: Company reports
What does BHP look like currently?
Volume growth is unlikely to be material. Instead, pricing is doing the heavy lifting. BHP is a much lower unit-cost iron ore miner than any of its JSE-listed peers. Its iron ore unit cost is currently just above $13/tonne.
In our view, it seems likely that BHP will return the majority of the cash it generates to its shareholders, at least for now.
BHP is currently trading at a 6.5x spot multiple.
We are not particularly bullish on iron ore prices going forward and, given that c. 80% of BHP's underlying EBIT comes from iron ore, that is a valid and sizeable concern. However, we note that within the context of the JSE, BHP should be able to deal with iron ore price declines better than its peers, given its position at the very low-end of the cost curve. If iron ore prices decline, but still remain reasonably high (for example, above $120/tonne), BHP should continue to generate significant cash. Because of its position on the cost curve, in addition to the bullet points we highlighted above, we would be buyers of BHP at current share price levels.