Last week, Interbrand released its 2018 Best Global Brands rankings, which provides estimated values for the world's top-100 brands in billions of dollars. Interbrand ranks companies based on their products and services' financial performance, their role in purchasing decisions, and their competitive strength and ability to retain and sustain future demand and profits. For the sixth consecutive year, Apple and Google came in at the top (number one and two spots, respectively) of the world's most powerful brands, while Amazon was the top growing brand gaining the most value since 2017 (+56% YoY). Netflix (+45%), Gucci (+30%), Salesforce.com (+23%), and Louis Vuitton (+23%), accounted for the remainder of the top-5 growing brands.
In contrast, General Electric, which was excluded from the Dow Jones Industrial in June, is among those companies who have lost the most value, while Facebook, which was caught up in the Cambridge Analytica and other data privacy scandals, recorded a 6% value drop from 2017.
More than half of the Best Global Brands came from five sectors: Automotive (16), Technology (13), Financial Services (12), Luxury (9), and Fast-Moving Consumer Goods (9). Luxury was this year's top-growing sector in percentage terms (+42%), replacing Retail, which came in second with an impressive growth rate of 36%. Electronics (+20%) was in third spot, followed by Sporting Goods (+13%) in fourth position and Financial Services (+10%) rounding out the top-five.
The combined total value of the Top-100 came in at $2.02trn – up 7.7% from 2017.
Figure 1: Top-20 companies by brand value, $bn: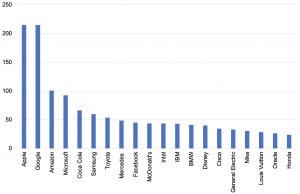 Source: Interbrand, Anchor
Figure 2: Brand value of top-10 companies, YoY % change: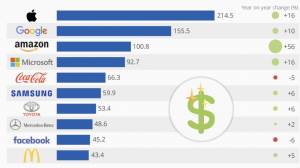 Source: Interbrand, Statista
Note brand value is in $bn
Below, we highlight the 5-year share price performance of those companies in the top-10 (by brand value) as well as the annual revenue of each of these firms (see Figure 3 and 4), before counting down Interbrand's 10 most powerful brands in the world for 2018.
Figure 3: Five-year share price performance of top-10 companies by brand value, %: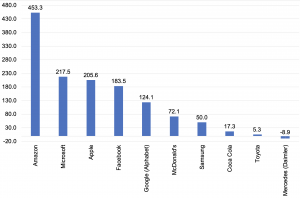 Source: 24/7 Wall Street, Bloomberg, Anchor
Share prices calculated from 16 October 2013 to 16 October 2018
Figure 4: Annual revenue of the top-10 companies by brand value, $bn: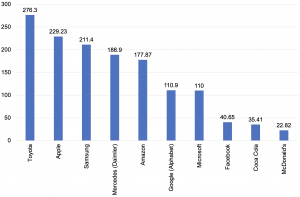 Source: Bloomberg, Google, Anchor
Note revenue data have been converted to US dollars, reflects latest FY for each company
10. Fast food giant, McDonald's, valued at $43.42bn, increased its brand value by 5% since 2017, landing in tenth position.
9. After five years as the Top Growing Brand, Facebook recorded a 6% YoY loss in brand value to $45.17bn, coming in at ninth position. The firm had a difficult year, coming under fire for several data and privacy breaches. Nevertheless, Facebook reportedly still has 2.2bn-plus users (c. 30% of the world's population).
8. Daimler AG's Mercedes, valued at $48.6bn, increased its value by 2% since last year. The German company sold over 300,000 cars in the US alone last year, according to USA Today.
7. Toyota, one of the largest and most successful auto manufacturers, recorded a 6% YoY rise in its brand value to $53.40bn. The company sells 10mn-plus vehicles globally p.a.
6. South Korea's Samsung grew its brand value 6% YoY to $59.89bn. Samsung became the global leader in smartphone sales as at 1Q18 and in 2Q18 its smartphone shipments amounted to 7.5mn units, according to Statista. Newzoodata show that Samsung has 893mn active devices and a market share of 27%, with Samsung's lead (vs Apple) due to the company's selection of budget devices, which sell well in emerging markets such as India.
5. In fifth position, soft drinks company, Coca-Cola, with a brand value of $66.3bn, lost 5% of its brand value since last year. Nevertheless, it remains one of the most popular beverages in the world and, according to the company's annual report, of the 60bn servings of beverages consumed worldwide every day, Coca-Cola-owned brands accounted for c. 2bn. 
4. Microsoft, founded in 1975, recorded a rise in brand value of 16% and is now worth $92.7bn, claiming fourth position. Estimates put the number of PCs with Windows at over 1bn worldwide.
3. In third spot, Amazon has grown by an impressive 56% YoY in brand value to $100.8bn – this year's fastest-growing brand. Interbrand writes that, "… in an increasingly service-driven economy, the top-performing brands continue to be those offering the best access to products and services. No company has adopted this approach more successfully or widely than Amazon." Amazon was also only the second company (after Apple) to reach a $1trn market cap (in early September). 
2. In second place, with a $155.5bn brand value, Alphabet's Google was again a close contender for top spot, having upped its brand value by 10% since last year. While it trails Apple in brand value, Interbrand describes the tech giant's reach and impact on society as "unrivaled." Google has the world's biggest video platform in YouTube, the world's most widely adopted smartphone software in Android, and one of the world's largest distributors of advertising, DoubleClick (to name just a few).
1. Apple came out on top again this year, increasing its brand value by 16% (to $214.5bn) since the 2017 ranking – far ahead of its closest competitor, Google. Apple, which is able to price some of its premium iPhone models at c. $1,000 and still sell millions every month, continues to dominate the premium end of the smartphone and technology markets.