Apple reported impressive 4Q18 results on Thursday (5 November), with both earnings (+40.6% YoY) and revenue (+19.6% YoY) coming in above expectations. Diluted EPS of $2.91 was above the $2.78 expected by a Refinitiv consensus estimate, while revenue of $62.9bn was also ahead of the Refinitiv consensus forecast of $52.34bn. In 4Q17, Apple reported revenue of $52.6bn and earnings of $2.07/share. A striking average selling price (ASP) of $793 (+28% YoY) is significantly higher than the $724 it reported in the prior year's June quarter and was also above the FactSet estimate of $750.78. However, iPhone shipment estimates were below consensus expectations (46.89mn vs 47.5mn expected), Apple's guidance disappointed and the firm announced major changes to its reporting structure which saw the share price drop by over 7% in after-hours trading to below its $1trn market cap. Apple said on the conference call that starting in 1Q19 it would no longer break out individual sales numbers for the iPhone, iPad and Mac – these will be wrapped into one reporting number.
The Services segment reported revenue of $9.98bn – up 27% YoY, but slightly below consensus estimates of $10.2bn. This category includes revenue segments such as App Store sales, Apple Music subscriptions and iCloud storage. Services revenue also includes the company's digital payments system, Apple Pay, which Apple said had surpassed PayPal mobile in transactions during the quarter under review. CEO Tim Cook highlighted on the earnings call that the installed base for all Apple's major product categories is "at an all-time high."
Apple's Other Product revenue (HomePods, AirPods and Apple Watches), came in at $4.23bn – up 31% YoY. We note that Apple doesn't break out specific revenue figures for wearable devices, but the firm said that this category grew by 50% YoY.
Apple's cash on hand fell to $237.1bn (vs $243.3bn in 3Q18) in the quarter under review, with its net cash position standing at $122.6bn, once you subtract debt from its cash pile.
Looking ahead, Apple guidance for next quarter (1Q19) disappointed, coming in as follows:
1. Revenue between $89bn and $93bn (consensus had expected $59.5bn),
2. a gross margin between 38% and 38.5%,
3. operating expenses between $8.7bn and $8.8bn,
4. other income/(expense) of $300mn and;
5. a tax rate of c. 16.5% before discrete items.
Apple announced a dividend of $0.73/share, payable on 15 November.
Apple's share price closed at $203.77 on Tuesday (6 November) but the share price is down 8.3% since its Thursday (1 November) close (before the results were released). The share is currently trading at a 17.2x PE.
4Q18 revenue by operating segment, $mn:

Source: Company data, Anchor
Apple reported double-digit YoY revenue in all of its geographic segments with Japan leading the charge as it recorded 33.8% YoY revenue growth, while the Rest of Asia Pacific (ex. China) was up 22% YoY. Importantly, China again recorded impressive sales with the Greater China region posting double-digit sales growth with revenue of $11.4bn (+16.4% YoY, +19% QoQ) – good news for the company's China business. On the conference call, Cook said that Apple's business in India was flat. He pointed to currency weakness as well as import duties on most of its products as part of the challenge in that country but said that he was a "big believer" in India and "very bullish" about Apple's future there.
Revenue contribution by operating segment, 4Q18: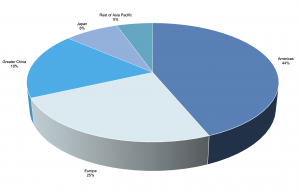 Source: Company data, Anchor
Apple product sales, units in thousands (4Q18):

*Includes deferrals and amortisation of related software upgrade rights and non-software services.
Services includes revenue from Digital Content and Services, AppleCare, Apple Pay, licensing and other services.
Other Products includes sales of Apple TV, Apple Watch, Beats products, iPod and Apple-branded and third-party accessories.
Apple products contribution to revenue, 4Q18: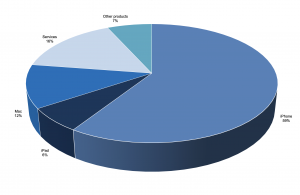 Source: Company data, Anchor
iPad unit sales stood at 9.7mn (-6% YoY) for the quarter, Mac's were 5.3mn (+3% YoY), Software and services revenue came in at c. $10bn (+17% YoY) and Apple's Other Products revenue was $4.2bn (+31% YoY).
By segment the company reported the following:
iPhone (59% of revenue vs 56% in 3Q18):In the quarter under review, iPhone revenue rose 29% YoY (+24% QoQ) and unit sales were basically unchanged YoY, but up 14% QoQ to 46.9mn units compared with 41.3mn units in 3Q18 and 46.7mn units in 4Q17. The higher ASP of $793, beating 4Q17's figure of $617.99, is the reason for the rise in revenue, as Apple sold 46.9mn iPhones in the period, barely higher than 4Q17's 46.7mn. The higher ASP is explained by the continued sales of the high-priced iPhone X during the period, followed by the more expensive iPhone XS in the last few weeks of the quarter.
Apple iPhone sales 4Q13-4Q18, units in thousands: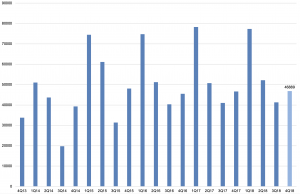 Source: Company data, Anchor
iPad (6% of revenue – vs 9% in 2Q18):4Q18 iPad sales were down 15% YoY in terms of revenue and 6% YoY in terms of units. On a sequential basis, iPad sales were also lower – -16% in terms of units sold and by 14% in terms of revenue.
Mac (12% of revenue – vs 10% in 3Q18):The Mac PC business revenue was up 3% YoY at $7.4bn (with 5.3mn Mac units sold in 4Q18 [-2% YoY]). 4Q18 saw the introduction of new MacBook Pro models which likely buoyed this number.
Services (16% of revenue vs 18% in 3Q18):Services revenue, which includes the App Store, iTunes, Apple Music, Apple Pay and iCloud, was close to $10bn (the segment's highest quarterly revenue to date) -up 5% QoQ and 17% YoY (Apple also noted that it shipped its 2 billionth device running iOS in the quarter). This was also the 14th quarter in a row where the Services segment's growth has been in double figures. During the period, Apple said it tripled its Apple Pay transaction volumes YoY, while Apple Music and the App Store also achieved quarterly records. CFO Luca Maestri said that the company wants to double services from 2016 by 2020, and Apple is still on pace to achieve that.
Other Products (7% of revenue unchanged from 3Q18):This segment, which includes the Apple Watch, Airpods, headphones, other accessories, Apple TV (and iPod), and the HomePod smart speaker recorded revenue of $4.2bn (+31% YoY). This segment will be renamed to "Wearables, Home, and Accessories" going forward.