Alibaba reported better-than-expected 3Q20 results on 13 February, with earnings of RMB19.55/share, up 55% YoY, while revenue came in at RMB161.5bn ($23.19bn), 38% higher YoY, driven by strength in Alibaba's China commerce retail business and cloud computing (which topped RMB10bn in quarterly revenue for the first time). Looking ahead, however, Alibaba said that the new coronavirus (COVID-19 or Wuhan Flu) outbreak in China was having a "negative impact" on its commerce business in the current quarter as packages aren't being delivered on time.
Looking at Alibaba's four reportable segments, we note that:
Core Commerce's revenues totaled RMB141.5bn ($20.3bn) in the quarter under review, reflecting a 38% YoY rise.
Cloud Computing recorded a 62% YoY jump in revenue to RMB10.7bn ($1.54bn), on the back of increased revenue contributions from Alibaba's public cloud and hybrid cloud business.
Digital Media and Entertainment posted revenue of RMB7.4bn ($1.06bn) – up 14% YoY.
Innovation Initiatives and others made RMB1.86bn ($268mn) in the quarter – up 40% YoY.
Key takeaways
Management gave cautious guidance (directional, rather than specific) around the operating and financial impact of the new coronavirus in the near term. That said, they also indicated that it may have longer-term benefits in terms of shifting consumer and corporate behaviour – similar to severe acute respiratory syndrome (SARS) in 2003. More consumers are being forced to experiment with delivery services, while businesses and employees are being driven to use digital productivity tools. We note that Alibaba stands to benefit from both of these trends.
Revenue growth in the core marketplace segment is decelerating – no doubt due to base effects – but losses in other segments are also stabilising. Hence profit growth remains strong.
On a P/E basis, Alibaba is trading roughly in-line with its own history (see Figure 1).
Figure 1: 5-year history of Alibaba's one-year FWD P/E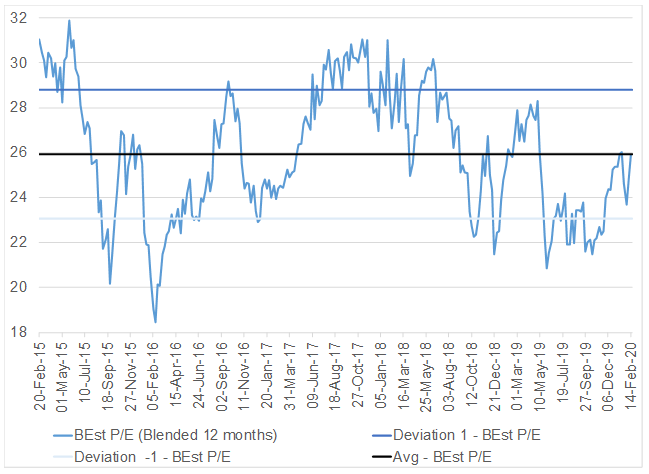 Source: Anchor, Bloomberg.
Highlights
Key metrics:

We note that organic growth (ex-acquisitions, which are likely to continue) was 33% YoY.

As mentioned, Alibaba's core marketplace revenues (customer management and commission) are slowing, while its other divisions (Cloud Computing, Digital Media and Entertainment, and Innovation Initiatives) are picking up the baton.
Operating costs are under control and Alibaba's operating expenses (product development + sales and marketing + general and administrative) of RMB34.3bn increased 27.7% YoY.
In terms of its business segments, Core Commerce remains super profitable. Cash flows from this segment are used to fund investments in other segments. The underlying Marketplace business (just Taobao and Tmall – i.e. stripping out International, Logistics, brick and mortar etc.) is extremely profitable – instead of a 41% EBITA margin, the pure Marketplace margin is closer to 78%.
We note that despite all the other segments delivering robust revenue growth, YoY operating losses have stabilised (in the case of the ecommerce-related businesses) or fallen (in the case of all the non-ecommerce businesses, like Cloud etc.).
Management commentary on the impact of the new coronavirus
Relief measures being granted by Alibaba (together with Ant Financial) include:

Reducing business operating costs on Alibaba's platforms.
Financial support – lowering interest rates.
Subsidies for delivery personnel.
The provision of flexible job opportunities to guarantee income.
Additional tools to accelerate digital realisation; and
Remote working management for enterprises.

In terms of the business impact:

Ecommerce: A delay in employees returning to work following the spring festival holiday is making it harder for merchants and logistics companies resuming operations.
New retail: The average basket size increased significantly as consumers migrated online. However, limitations in delivery capacity is a constraint.
For local consumer services, restaurant visits and the food delivery orders declined noticeably YoY, because many restaurants have not resumed normal operations as yet.
Fliggy (travel services) recorded a significant number of cancellations.
DingTalk, a remote working tool, has seen explosive growth by corporates and it is also being used for education purposes.
Food and daily necessities are growing rapidly. However, other categories such as clothing and consumer electronics have seen a demand slowdown, which should pick up again.

Alibaba said that the company's "… overall revenue growth rate will be negatively impacted for this quarter. Some of our businesses that rely on physical means of production, on supply side will even show negative revenue growth for the quarter, such as China retail marketplace (Taobao and Tmall – CMR and commission) and local consumer services."
The company noted that it is seeing a increased uptake by online users in lower-tier cities and less developed regions in terms of buying daily necessities online.
According to Alibaba, it is starting to see more staff (in the big cities) returning to work. Logistics networks are also starting operations, especially sorting centres in the big cities.