Activision Blizzard reported 3Q19 results on 7 November and, while revenue and earnings were lower YoY, they came in higher than consensus forecasts had expected. Net revenue of $1.28bn (-15% YoY), beat the firm's own outlook of $1.11bn and was ahead of consensus estimates of $1.17bn. Net income fell 22% YoY to $204mn, or USc26/share, in the quarter, vs $260mn, or USc34/share, in 3Q18.
Figure 1: US sales concentration among major gaming franchises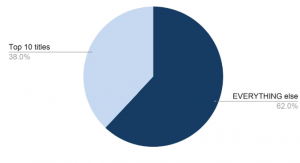 Source: Company data
The company's performance by segment was as follows: 
Activision Publishing revenue came in at $209mn (operating income of $26mn and an operating margin of 12%). Key quarterly contributors were Call of Duty: Black Ops 4 in-game content (or sales of items a player can buy to improve or enhance the video game experience) and ongoing sales of its Crash Team Racing game.
Blizzard Entertainment's revenue was $394mn (operating income of $74mn and an operating margin of 19%). This was on the back of the launch of World of Warcraft (WoW) Classic on 26 August which, according to the company, "drove the biggest quarterly increase to subscription plans in franchise history,".
King Digital Entertainment's revenue of $500mn was roughly flat YoY (operating income of $194mn and an operating margin of 39%). Candy Crush's mobile reach continued to grow, driven by Candy Crush Friends Saga.
Its esports venture, the Overwatch League's second season, recorded 30%-plus YoY growth in US average minute audience (AMA), according to Nielsen data. The league's finals were sold out and 11,000 fans watched the Grand Finals in person.
Figure 2: Revenue contribution of major gaming franchises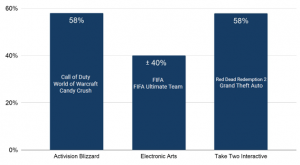 Source: Company data
Monthly active users (MAUs), or the number of unique visitors to a website/online game per month, is an important metric for video game companies as it reflects a company's popularity and earnings potential. In 3Q19, Activision Blizzard had a total of 316mn MAUs, with Activision accounting for 36mn MAUs (better-than-expected, but down YoY due to the exclusion of Destiny, after its creators [Bungie] parted ways with Activision in January), Blizzard at 33mn, and King at 247mn. Overall, MAUs fell YoY from 345mn (in 3Q18), and was also down QoQ from 2Q19's 327mn MAUs.
Figure 3: A digital tailwind (digital revenue contribution) …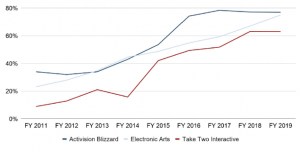 Source: Company data.
King continued to lead the way in mobile gaming with Candy Crush again the top-grossing game on the US mobile app store in 3Q19. However, Call of Duty Mobile's launch on 1 October (which will be reflected in the 4Q19 results), saw 100mn-plus people download that game in only its first month. The title also reached the top of the mobile app download charts in over 150 countries and regions. Activision says that one-third of its business is already on mobile, noting on the earnings call that it has the largest mobile gaming presence in the West -a leadership position it intends building on, referring to it as a massive opportunity.
Figure 4: Mobile gaming driving industry growth (revenues in $bn)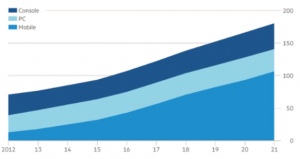 Source: Financial Times, Newzoo
In terms of other popular games moving to mobile, the firm indicated that it was looking at all its franchises, adding that it "wants to do it where it makes sense …". COO and President of Activision Coddy Johnsonsaid on the call that the company would be "reimagining" its intellectual propertyon the mobile platformand then developing "true cross-platform titles that work from the start across mobile."
Looking ahead to 4Q19, Activision Blizzard expects net revenues of $1.81bn and EPS of USc43 – only slightly up from 3Q19. Johnson said that the firm will be able to spend a lot of money marketing Call of Duty Mobile, which will affect profitability in 4Q19.
We note that the trend in terms of engagement and momentum in mobile is good news for the company, indicating that it is heading in the right direction, especially with recent releases off to a sterling start and several new content releases scheduled for the next few quarters.