According to data from market analyst firm, SensorTower, worldwide games, in-app purchases, subscriptions and premium apps revenue grew 22.7% YoY in 2018 to a combined c. $71.4bn on Apple's App Store and the Google Play Store. In 2017, the combined amount stood at $58.2bn globally.
Worldwide app revenue 2015-2018, $bn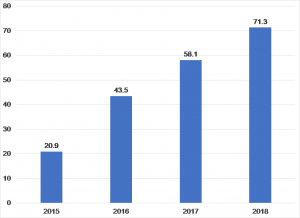 Source: SensorTower
Apple's App Store accounted for an estimated $46.6bn (+20.4% YoY) in 2018 – 88% higher than the $24.8bn (+27.3% YoY) spent on Google Play, according to the report. Apple's App Store recorded 34.7% YoY growth in 2017, but growth slowed last year "… due in large part to a slowdown in Chinese consumer spending over the past 12 months." We note that estimates for Google Play revenue do not include Android revenue from China – its Play store is not available in that country.
Worldwide total revenue by app store, 2018 ($bn):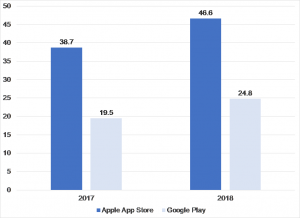 Source: SensorTower
SensorTower also writes that first-time app installs exceeded 105.3bn last year, representing combined growth (for both stores) of 11.1% YoY. The data show that Google Play app installs grew 13% YoY to 75.7bn, while global App Store downloads were 29.6bn for the year – a 6.6% YoY rise. Google Play's lead in terms of first-time app installs is at 2.6 times that of Apple's App Store, due to Android continuing "to rapidly expand its user base in developing markets." It is worth highlighting that Apple iOS users are more willing to pay for their downloads and, on Android, downloading and installing of pirated apps and games is significantly easier, meaning most developers tend to make their titles available for free on the platform, according to Cult of Mac.
Meanwhile, in terms of gross mobile gaming revenue and downloads globally, worldwide spending reached $54.7bn in 2018 – +15.2% YoY. This means that mobile gaming accounted for a c. 77% of all 2018 app revenue, although it was down from 82% in 2017. App Store gaming revenue rose 10% YoY to $33.2bn (up from $30.1bn), while Google Play gaming revenue jumped 24.2% YoY to $21.5bn vs $17.3bn in 2017.
Average in-app spending per active US iPhone (top-5 categories), $: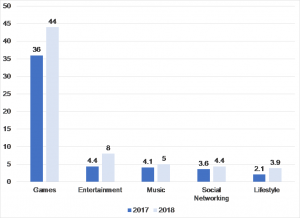 Sources: Sensor Tower data
Note above indicates consumer spending in iPhone apps from 21 January 2017 to 31 December 2018
In the US, iPhone users, on average, are willing to spend more on software, coming in at $79/iPhone user in 2018 – up 36% YoY per iPhone user (vs a 23% YoY gain in 2017 and a 42% rise in 2016). This seems to indicate that Apple pushing developers to build subscription-based apps is having a notable positive impact on App Store revenues. US spending on premium apps and in-app purchases has also more than doubled since 2015 and of the $79 total, $44 (+22% YoY) was spent on gaming. However, more substantial growth took place in the categories outside of gaming — including those categories where subscription-based apps tend to rule, SensorTower found. YoY, iPhone users also spent an average of $21 or more on in-app purchases and paid app downloads — up 36% YoY and vs a 23% YoY increase in 2017, when revenue per device grew from $47 to $58.
SensorTower has, for example, previously estimated, that Netflix made c. $790.2mn in sales for 2018 through Apple's App Store (in the 12 months to end-November 2018), making Netflix the world's highest grossing iOS app.
Highest-grossing iOS apps, $mn (2018):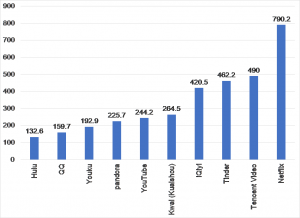 Sources: Business Insider, Sensor Tower data
Note above reflects only data from Apple App Store. These are the 10 apps downloaded from the App Store that brought in the most revenue in 2018.
Data also show that Apple has paid out over $100bn to developers since the App Store opened in 2008. However, it's important to highlight that Apple takes a significant cut from this as it charges developers 30% on app and game purchases, and a 15% cut on subscriptions.
In January, Netflix said it would change how people could subscribe to the service by redirecting iOS users to its own website, instead of letting people subscribe within the App Store. Netflix wanted to avoid the 30% cut that Apple takes from each purchase made via its App Store. Business Insider writes that in May 2018, the streaming service made a similar decision regarding the Google Play app store in order to bypass its 30% fee.
With sales of the iPhone slowing, purchases in the App Store, which falls under Apple's Services segment, is becoming more important. In 1Q18, the Services segment accounted for 13% of revenue coming in at c. $11bn (the segment's highest quarterly revenue to date) and 19.1% higher YoY. TechCrunch reported last week that Apple is preparing low-cost iOS devices that should increase its installed base and therefore the number of people buying apps. Unconfirmed reports suggest an iPod Touch focused on gaming and a new iPad mini.