Walmart released 2Q19 results on Thursday, 16 August, with the company posting its highest US same-store sales growth (+4.5% YoY vs a Thomson Reuters consensus estimate of a 2.4% YoY rise) in over a decade. Excluding one-time items (such as a loss related to the sale of a majority stake in Walmart Brazil), Walmart earned $1.29/share, ahead of Thomson Reuters consensus analysts' expectations of $1.22/share. Total revenue advanced by 3.8% YoY to $128bn, also beating the Thomson Reuters consensus estimate of $125.97bn.
Walmart: Comparable US sales, YoY % change: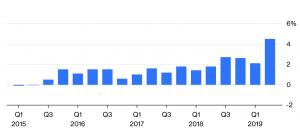 Source: Company data, Bloomberg
The Group's US e-commerce growth ticked higher than in previous quarters, on the back of a website redesign and Walmart's "continued expansion of online grocery offerings." However, sales growth came at a cost as Walmart cited "continued margin pressures driven by cutting prices, higher freight costs due to a shortage of truck drivers and e-commerce investments." Nevertheless, e-commerce sales were impressive, rising by 40% in 2Q19 (up from 33% growth in 1Q19). The firm said that US online sales are on track to also rise by 40% YoY for FY19. The company now offers curbside pickup of online grocery orders in 1,800 of its US stores, and the service is bringing in new customers, according to Chief Financial Officer Brett Biggs. Despite the positive momentum, e-commerce division head Marc Lore said on the conference call with analysts that e-commerce losses could be higher this year than last year as the Group continues to invest in the business. Gross margins fell for the fifth consecutive quarter – down 17 bpts, according to the company.
Walmart US President and CEO Greg Foran noted on the earnings call that the company saw a strong performance in fresh food while "grocery sales rose the most in nine years." Foran said that Walmart also benefited from improved weather in May, the first month of 2Q19, which saw the biggest quarterly gain in customer traffic in over six years. Meanwhile, overseas sales were up 3.1% YoY at $29.2bn on a constant currency basis, buoyed by strong comparable sales in Mexico, the UK, Canada and China.
Separately, Asda Stores, Walmart's UK supermarket arm, reported a 2.6% rise in quarterly sales ahead of its expected takeover by larger rival Sainsbury's (Walmart sold a majority stake to Sainsbury's in April). In June, Walmart sold an 80% stake in its Brazilian operations to a private equity firm and paid $16bn for a majority stake in Flipkart. Walmart has also reached agreements to sell its banking operations in Walmart Canada and Walmart Chile.
Looking ahead, the world's largest retailer increased its sales and turnover outlooks saying it now expects to earn between $4.90 and $5.05/share for full-year 2019, up from a range of $4.75 to $5/share previously. It forecast that US same-store sales should rise by c. 3% YoY in FY19 – up from a prior target of at least 2% YoY.
Walmart's share price soared by more than 9% on Thursday, 16 August after reporting results and the share price is up c. 6% WoW on the back of the better-than-expected results.