Richemont released an incredibly strong 3Q22 trading update (for the quarter ended 31 December 2021) on Wednesday (19 January), with sales jumping by 35% YoY – a solid beat vs Bloomberg consensus analysts' expectations of 18% YoY revenue growth. Growth was strong across the board, but the standout performance continues to come from its Jewellery Maisons business, especially in China and the US. Importantly, for profitability, the fastest growth is happening in its direct retail channel (i.e., its own stores), with sales in Richemont's own stores now accounting for 60% of overall sales (vs 53% pre-COVID):
Figure 1: Richemont sales by market segment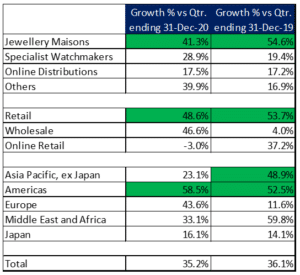 Source: Bloomberg, Anchor
There is no conference call, and no guidance has been provided or any other details on earnings as per normal with these trading updates.
We will have to wait until the year-end (31 March 2022) results (FY22) announcement on Friday, 20 May 2022 for further earnings updates from the company, but we are also waiting for further announcements on its plans to spin-off its online luxury platform, Yoox-Net-A-Porter (YNAP) hopefully in the next couple of months.
Initial comments by sell-side analysts we follow suggest an expectation for earnings upgrades of mid- to high-single digits off the back of this trading update (with one analyst suggesting earnings upgrades of as much as 20% are possible). These upgrades are likely to come, not only on the back of revenue which came in 17% ahead of expectations, but also from the fact that the revenue beat was driven primarily by the Group's most profitable segment, Jewellery Maisons, which should have a big impact on margins.
The share price was up c. 9% on Wednesday following the announcement. The share now trades on 30x FY22 earnings (to 31 March 2022) and 26x FY23 earnings – assuming earnings upgrades of c. 10% then this should unwind to c. 23x, which is a c. 33% premium to the MSCI World valuation to 31 March 2023. The multiple should unwind further once the loss-making YNAP business is sold. We think this is an appropriate valuation premium for a high-quality, high-margin, and high-ROCE company, with strong operating momentum and high pricing power.
Figure 2: Richemont valuation vs MSCI World valuation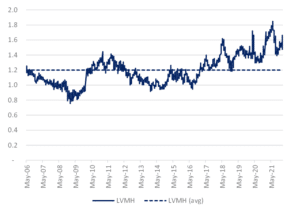 Source: Bloomberg, Anchor
We remain buyers of Richemont, with the main risks to the stock in the short term being the following:
A normalisation in elevated goods spending (relative to services), particularly in the US (c. 20% of sales – up from c. 15% of sales pre-COVID).
Any policy action in China, which disallows/discourages spending on luxury goods (Richemont sales in mainland China account for c. 25% of total sales).
Any disappointment (or significant delay) related to the spin-off of YNAP.