Mr Price (MRP) released its interim results for the period ended September 2021 (1H22) on Thursday (25 November). It was a relatively good set of results, especially considering the various headwinds during the period under review. Growth in these results is reflective of a recovery from the previous period but it also includes acquisitive growth from its Power fashion and Yuppiechef segments. Despite the improvement vs the previous period, July's civil unrest did impact MRP's operations as well as earnings growth. The civil unrest resulted in the looting of 111 of MRP's 1,592 stores. MRP Apparel, the Group's largest division has now gained market share for 19 consecutive months, which MRP attributes to its value proposition for its customers and the business' defensive nature.
1H22 results highlights
Total Group revenue increased by 35.2% YoY to R12.4bn and, excluding acquisitions, total revenue rose by 25.8% YoY.
Group retail sales came in 17.4% higher than pre-pandemic levels.
The total gross profit (GP) margin declined by 230 bpts to 39.7%, with the decline driven by the impact of inventory write-offs amounting to R151.5mn due to the civil unrest in KwaZulu Natal and parts of Gauteng. MRP estimated lost sales due to the unrest at R320mn.

Excluding the impact of the civil unrest, the GP margin decreased by 100 bpts, driven by the dilutionary impact from the inclusion of Power Fashion and Yuppiechef (both businesses trade at lower margins).

Excluding acquisitions and inventory write-offs, the total GP margin decreased by 40 bpts.

The Group operating margin advanced by 120 bpts to 13.9%, despite civil unrest write-off costs.
MRP raised its dividend by 34.4% YoY to ZAc282.4/share, representing a dividend pay-out ratio of 63%.
Diluted HEPS and normalised diluted HEPS increased by 0.6% and 10.4%, respectively, on the 1H20 base (the pre-COVID-19 period).
Figure 1: MRP earnings summary, ZAc

Source: Company reports, Anchor
Figure 2: MRP valuation, 12M FWD P/E rating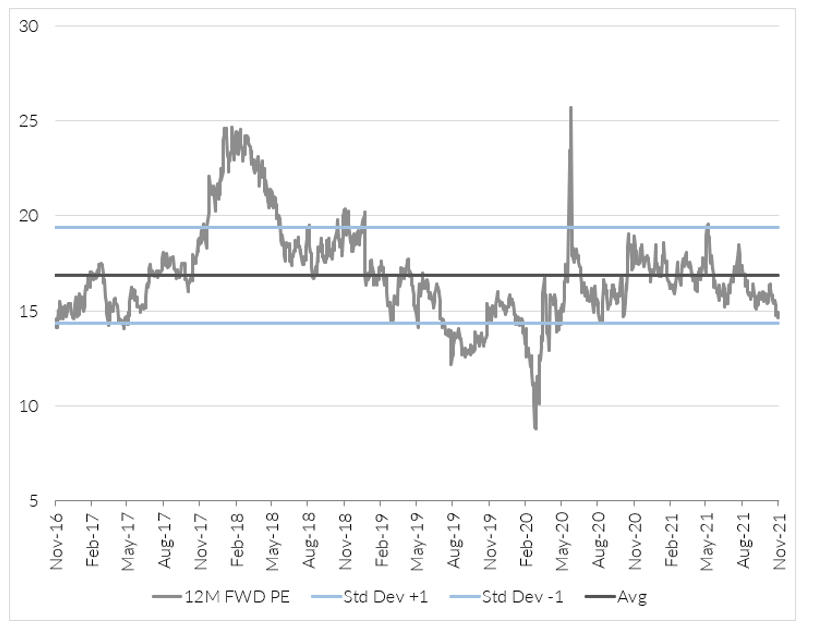 Source: Bloomberg, Anchor
Figure 3: MRP vs SA retail industry competitor ratings, 12M FWD P/E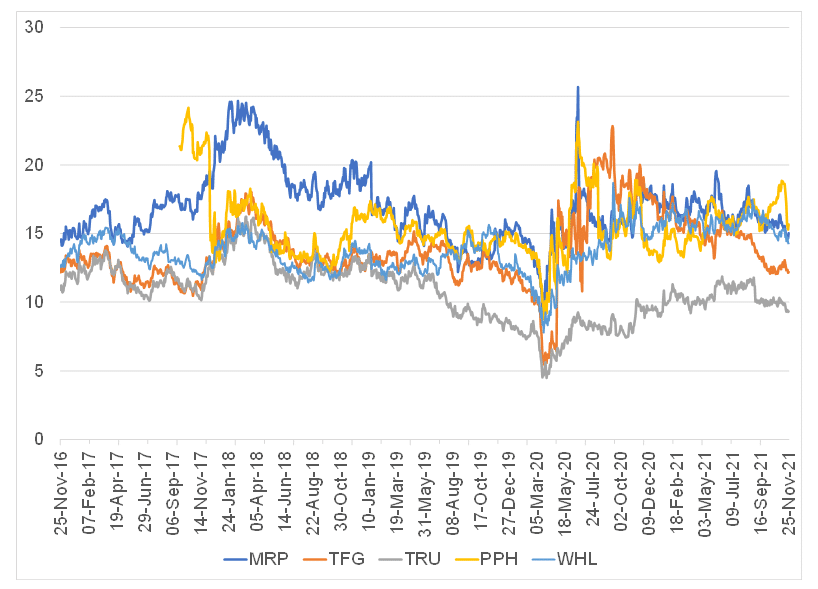 Source: Bloomberg, Anchor
Looking ahead, loadshedding, the possibility of stricter lockdown restrictions and increased pressure on disposable incomes mean that consumers' search for value has increased and retailers could be negatively affected as a result. Considering this, we believe that those retailers operating within the value space have somewhat of a defensive moat in the current economic climate and, in our view, MRP's retail offering lends itself to this value space. Notwithstanding the various headwinds ahead, MRP remains a quality retailer, with excellent free cash flow (FCF) generation and healthy return metrics. In addition, the recent Power Fashion acquisition will be earnings accretive over the long term. As a result, MRP remains our preferred apparel retailer on the JSE, and we recommend holding the share. On valuation, MRP is trading on a 12M FWD P/E of 15x, which is below its 5-year historical average of 16.8x.