In May 2018, eMarketer forecast that the number of smartphone users in India would grow by 15.6% YoY to reach 337mn in 2018. Key factors identified at the time as being behind the growth included an upsurge in smartphone usage and demand for more affordable smartphones in that country's urban areas. This number was also the highest estimated growth rate in the smartphone industry by any country in the world. Now, Counterpoint Research's Market Monitor service, which released its 3Q18 update on Saturday (3 November) shows that, overall, India smartphone shipments grew 24% QoQ and 5% YoY reaching an all-time high during the quarter, driven by strong shipments ahead of the festive season. In addition, the country's smartphone segment contributed to 50% of the total handset market during 3Q18. In contrast, globally, according to Counterpoint, smartphone shipments hit 386.8mn units in 3Q18 – declining by 3% YoY.
Smartphone penetration by region, 3Q18: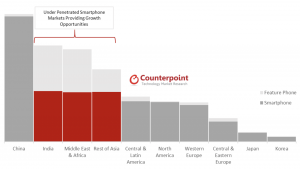 Source: Counterpoint Quarterly Market Monitor, 3Q18
In terms of India,Counterpoint research shows some interesting development in the country's smartphone market. According to the report, Chinese brands dominate with the three major Chinese smartphone companies (Xiaomi, Vivo, Oppo) securing a large market share in India's mobile phone sector in the quarter under review. The top-five brands captured a 77% market share during the quarter and, in the smartphone segment, Xiaomi recorded its highest ever shipments in India in a single quarter. This was driven by Xiaomi's new Redmi 6 series and expansion in its offline channels. Xiaomi shipped more than 12mn smartphones in India during 3Q18 – growth of 32% YoY – making it the largest smartphone vendor in the country. Vivo and Oppo shipped 4.5mn (+12% YoY) and 3.6mn (-2.0% YoY) units, respectively. Along with Lenovo-Motorola, One-Plus and Infinix, these Chinese brands also accounted for 50%-plus of total sales in 2018 YTD. Indian consumers spent a total of $6.8bn on Chinese smartphone brands – double last year's spend. In addition, Chinese brands specifically dominate India's premium ($400-plus) smartphone market, by offering lower prices than those for equivalent Korean, Japanese and Indian devices.
While there was positive news for the Chinese smartphone manufacturers, Apple's India iPhone sales fell for first time in four years and are expected to dip by c. 25% in 4Q18 (India's holiday season quarter), putting the iPhone on course for the first full-year decline in four years, according to Counterpoint. Reuters writes that Apple's "struggle to break through with India's 1.3bn consumers" has come more sharply into focus in the past week. This, after Apple blamed a disappointing set of 1Q19 sales forecasts on a handful of big emerging markets (EMs) in its results release and CEO Tim Cook said Apple sales were flat in India for the company's 4Q18 (July to September). The quarter includes a month-long festive season culminating in Diwali and which is usually "a bumper period" for electronics sales. Counterpoint Research data's channel checks pointed to iPhone numbers for the quarter in the range of 700,000 to 800,000 units, down from c. 1mn in 3Q17.
For FY18, Counterpoint predicts that Apple will sell c. 2mn phones – down c. 1mn YoY due to the high prices of these devices (driven by trade tariffs and a weak rupee). This means Apple's sales in the country are set to drop for the first time in four years on the back of higher prices and the Android install base having grown significantly. Cook on Thursday (1 November) described Apple's issues in India as "speed bumps along a very long journey". Counterpoint adds that, while more than 50% of phones sold this year were older iPhone models (which do better in India, due to price cuts and discounts offered making them more affordable), high selling prices meant Apple's Indian revenue should still be flat or slightly higher than a year ago. Nevertheless, Apple had a 25% (third-place) 3Q18 market share in the country.
Among the large smartphone players in India, Samsung also slipped (by 2% YoY). However, Samsung managed to remain the second-largest smartphone vendor and also recorded its highest shipments ever in the country (globally, Samsung continues to lead the smartphone market with a 19% market share).
Separately, consultants EY forecast in October that the number of smartphone users in India will more than double to 650mn by 2022, with average monthly data usage rising by 500% to reach 18GB/month. By 2022, EY writes, India's digital economy is likely to be worth $1trn and lead to the creation of 10mn jobs. Similarly, a recent report by KPMG-IMC said that India's digital economy was expected to reach $1trn by 2022 and $1.8trn by 2025, adding that despite challenges India, with c. 450mn users, is now the fastest-growing and third-largest telecom market in the world.